Nowadays, selling a job is much like selling a product; employer branding, recruitment marketing, the candidate experience, you've got to stand out… As such, increasing the visibility of your jobs is important for getting enough candidates for your job openings. However, according to Flexjobs, 70-80 percent of job listings are never made public. The statistic may suggest that businesses may be facing some problems in their job distribution, and Hirebee is here to address these problems. In the realm of job distribution, there are numerous strategies and techniques that can amplify the reach and efficiency of your hiring efforts. Let's delve into some strategies.
Job Posting Through a Single Platform
Oftentimes it may get tedious managing your job postings on multiple job sites; having to log in and fill out the requirements for each one, and keeping track of all your job listings on multiple accounts. What you need is a single platform through which you can manage all of your job postings with ease. Not only do you save time through centralizing your job distribution, but you also keep the process more organized and effective.
Showcased below are the features which make job distribution with Hirebee a breeze.
Multipost with ATS Job Board Integration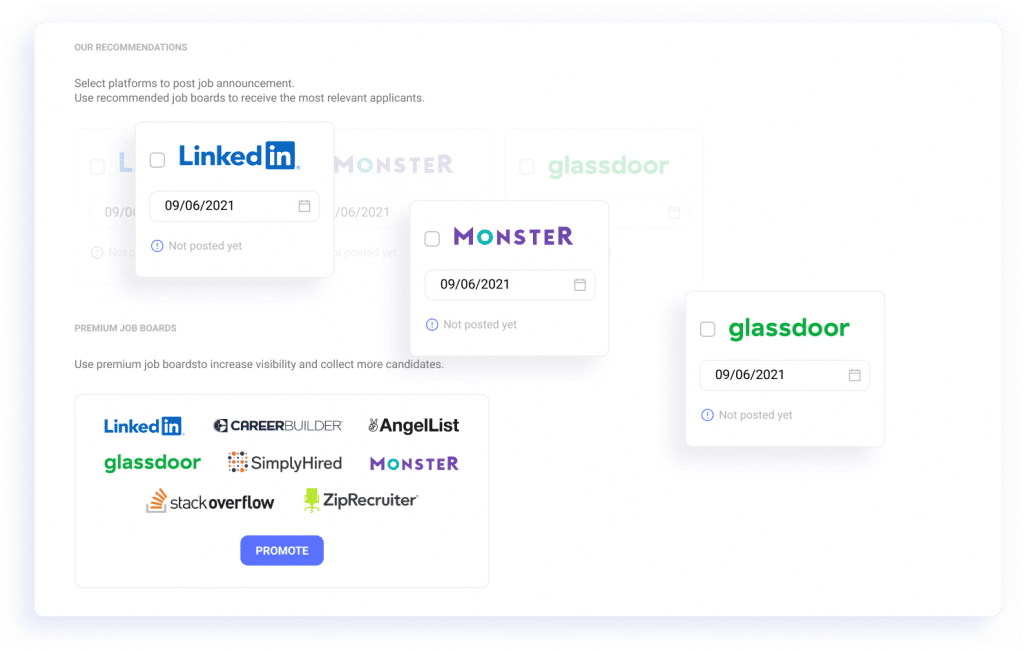 Hirebee has hundred of ats job board integrations, such as Indeed, Monster and HeadHunter. You'll be able to leverage these integrations and post to all your favorite job boards with just a few clicks. You can easily manage your paid and free job postings with Hirebee. And just by simply selecting the job boards you want to post to and putting in an expiry date, you can multipost to all of these job boards and even on social media.
Post Jobs on Social Media with Social Sharing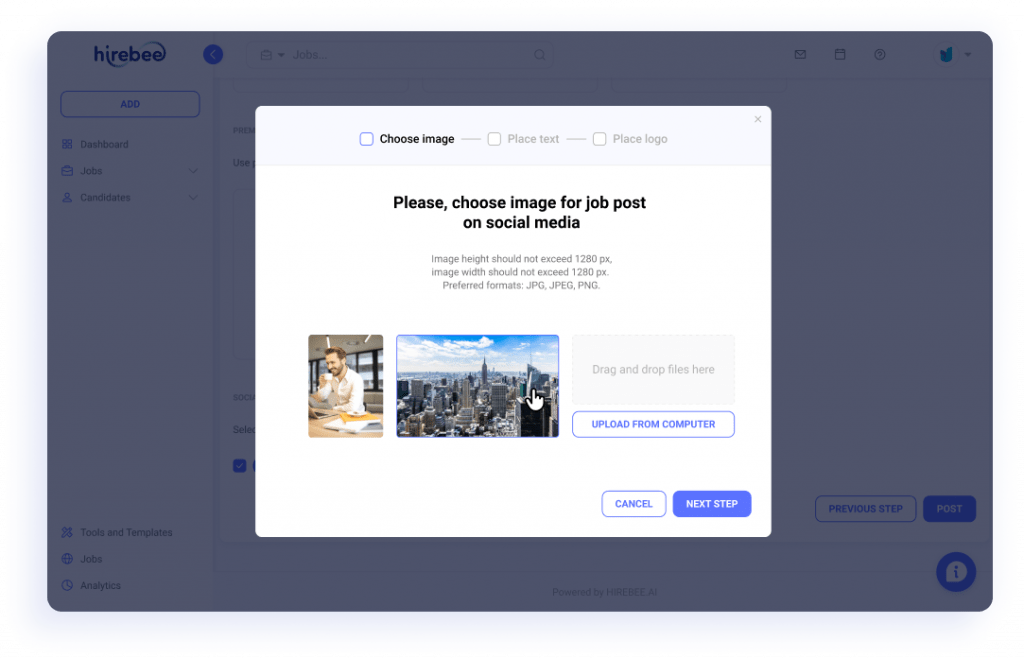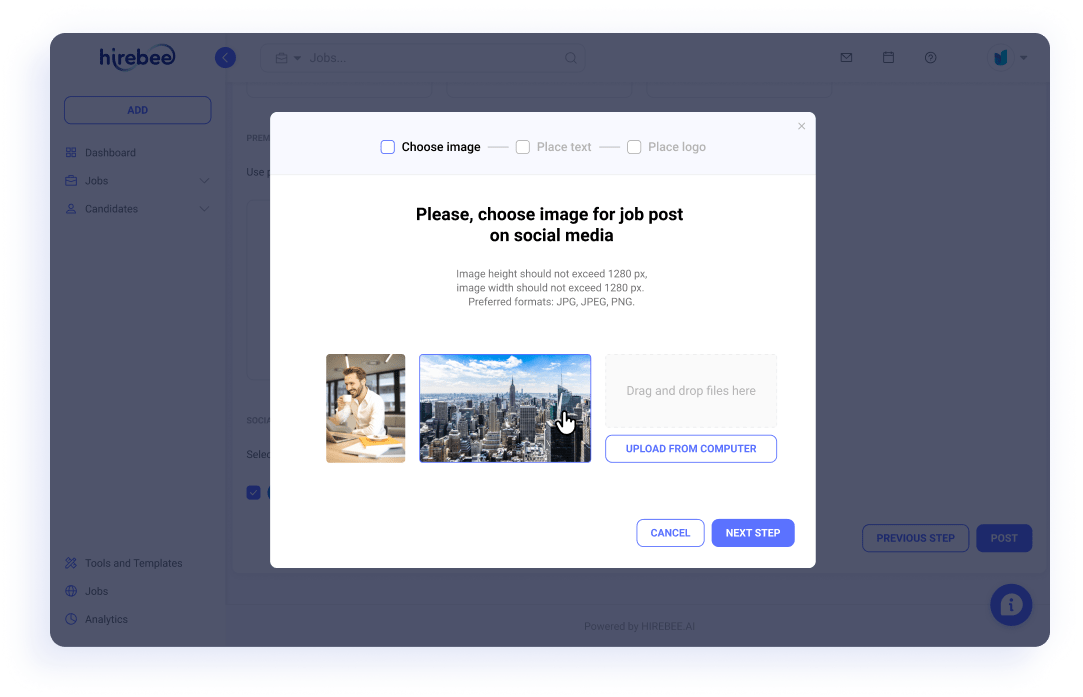 As social media grows larger and larger, companies will find various social media as valuable sources of candidates. Expanding your employer brand to social media and announcing your job posts is a great way to engage with passive candidates. With Hirebee's social sharing feature you can link your job post to Twitter, LinkedIn and Facebook, and keep your followers informed of the available positions.
As it's likely that your target audience is most active on social media, not posting there can be a great opportunity missed. So seize the opportunity and get to managing your social sharing with Hirebee.
Manage Your Job Requisitions
Formal HR departments have a need of orchestrating the hiring process in such a way, that team collaboration is made easy and comprehensible. As recruiting teams collaborate to create and fill vacancies, they need ways to not make collaborated hiring a slow and painful process. And digitized job requisitions are one those ways how you can eliminate the struggles of bureaucracy, paperwork and inefficient communication!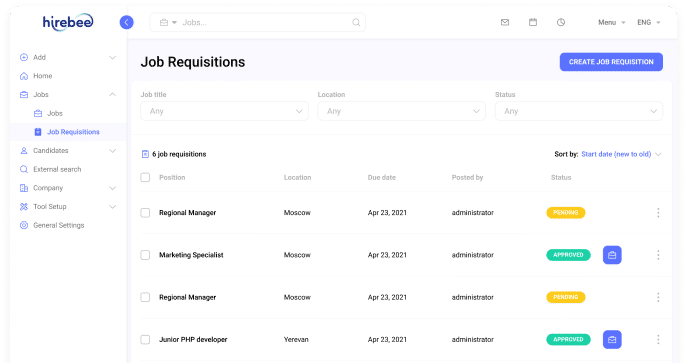 Job requisitions are traditionally formal documents which are used to request the creation of a vacancy. The job requisition includes critical information about the vacancy; such as the job title, why the job is needed and other key information visible in the screenshots above. Basically, the HR team evaluates the job requisition and decides whether to approve it or not. Furthermore, team member roles can be created, customized and assigned with Hirebee, making it even easier to manage your the job requisition process.
Customizable Job Templates
Within Hirebee's innovative job distribution platform, we've introduced a powerful feature that empowers recruiters like never before. These templates allow recruiters to tailor job descriptions and requirements to the unique demands of each role and industry. Whether it's a software developer position or a marketing specialist role, our platform enables recruiters to craft job listings that resonate with the specific skills, qualifications, and expectations associated with the job. This not only streamlines the job distribution process but also ensures that the job listings accurately target the right candidates.
Real-time Performance Analytics
The real-time performance analytics empowers recruiters to gain invaluable insights into the effectiveness of their distribution channels. With real-time analytics, recruiters can monitor application rates, track candidate engagement, and identify trends that guide strategic adjustments on-the-go. What sets Hirebee apart is the recent addition of a survey feature, which further enhances this analytical capability. Recruiters can now gather direct feedback from applicants regarding their experience, preferences, and suggestions. This two-way communication not only helps tailor job distribution efforts but also demonstrates a company's commitment to understanding and catering to candidate needs. The combination of analytics and survey creates a powerful synergy that equips recruiters with the tools needed to fine-tune their strategies and make impactful, data-backed decisions.
Check Out Our Other Features
Hirebee has tones of other cool features, and some of them can even help with the job distribution process itself. For example, Hirebee's reporting and analytics gives you insights on your applicants by source and hire by source, to help you identify your best sources. You can check out all our other features from our homepage or by clicking here. You can also test job distribution with Hirebee by registering for a demo.