What is candidate relationship management?
Candidate relationship management is the recruitment process of engaging with candidates as they are being moved through the recruitment funnel. It is a process most employers struggle with, and a recruitment process most job-seekers want to improve. A 2015 study suggests that 50% of jobseekers have never received updates on the status of their applications.
Whether it's updated on application statuses, follow-up emails, or a smooth interviewing process, it's clear that job-seekers want something most employers are not providing.

This is part of an extensive series of guides about candidate sourcing.
Why candidate relationship management should be a priority in the recruitment process
Job-seekers hate being left out in the cold. After tensely crafting a resume and filling out multiple application forms, it is understandable that most job-seekers would want to receive some kind of inclination as to how they are progressing in the application process. In fact, updating applicants in each stage of the hiring process should be the bare minimum for employers looking to improve their candidate experience. Even for rejected candidates, they would rather be informed of their rejection and its reason as soon as possible, than be ghosted only to find out the hard and long-drawn way.
Improving the candidate experience
But why should employers care about candidates' feelings? Well, for the same reason you should care for your employees and customers. When candidates leave your application process with a bad taste in their mouth, they are:
Less likely to apply again
Going to consider leaving a negative review on Glassdoor
More likely to hurt your employer brand through word of mouth
On top of that, shortlisted candidates may altogether not consider carrying on with your application process or accepting your job offer, if they already have job offers available to them. Thirty-eight percent of applicants take their candidate experience into consideration before accepting a job offer!


Nurturing talent
If you think your applicants not applying again after a negative candidate experience is not a dire consequence, think again! Talent pooling is a recruitment practice that can transform your hiring by turning all your applicants into passive candidates for future hiring. The premise of talent pooling is to keep in contact with applicants that weren't fortunate enough to get the job offer. By doing this, you are creating and maintaining a relationship with candidates you would be happy to occupy future job positions. Securing such ties with job-seekers whom you have spent precious time previously reviewing and comparing with other applicants, you are maintaining relationships with people who you know will be fit for future job openings.
However, as magic as talent pooling is, it will not work unless you make it work. And making it work requires expanding your efforts into candidate relationship management and nurturing your talent pool.

Learn more about talent pooling >> Creating and managing talent pool – Hirebee

How candidate relationship management works
So how exactly does candidate relationship management work? In its simplest form, it just requires you to send emails when making changes to candidates' application status, and to send the occasional email to candidates in your talent pool. However, this approach is neither methodized, sustainable, nor scalable. Such an approach will fall flat on its face when the hiring team runs into time problems, needs to scale its hiring or makes the realization that it needs standardized processes to make its hiring more productive.
That is why hiring teams that want to keep things nice and tidy, as well as simple and productive, use recruitment software to manage their CRM. G2 reports that 98% of Fortune 500 companies use recruitment software in their hiring processes. It is indicative. Not only is recruitment software invaluable for CRM, but it helps completely transform the entire recruitment process on all fronts from top to bottom.
The rest of our guide has been written to completely demonstrate what the candidate relationship management process looks like with our recruitment software. From managing the applicants in your system to enhancing your candidate experience, our recruitment software is the perfect fit for any hiring team looking to implement a complete CRM solution to their recruitment funnel.

Learn more about how recruitment software can service your hiring needs >> Hirebee | The Modern Recruitment Software & ATS

Managing applications with a candidate database
The first way in which recruitment software will transform your candidate relationship management is by first improving your candidate management process. By leveraging a robust candidate database, hiring teams perform their tasks way more effectively with a candidate list that can be more easily used and managed.
A candidate database helps keep things in one place. You will no longer find yourself scouring through emails, documents and spreadsheets for applicant information. Nor will you ever struggle to document your decisions and keep track of your recruiting pipeline once again. The simple yet effective solution to all these problems is a candidate database with an interface that is tailor-made for recruitment.
With our candidate databases you will find that it is easy to:
Systematically review candidates
Store complete yet intuitively designed candidate profiles
Document your work to the whole team
Ratify decisions within just a few clicks
Group candidates together
Add notes to candidate profiles
Search, filter and sort through all your candidates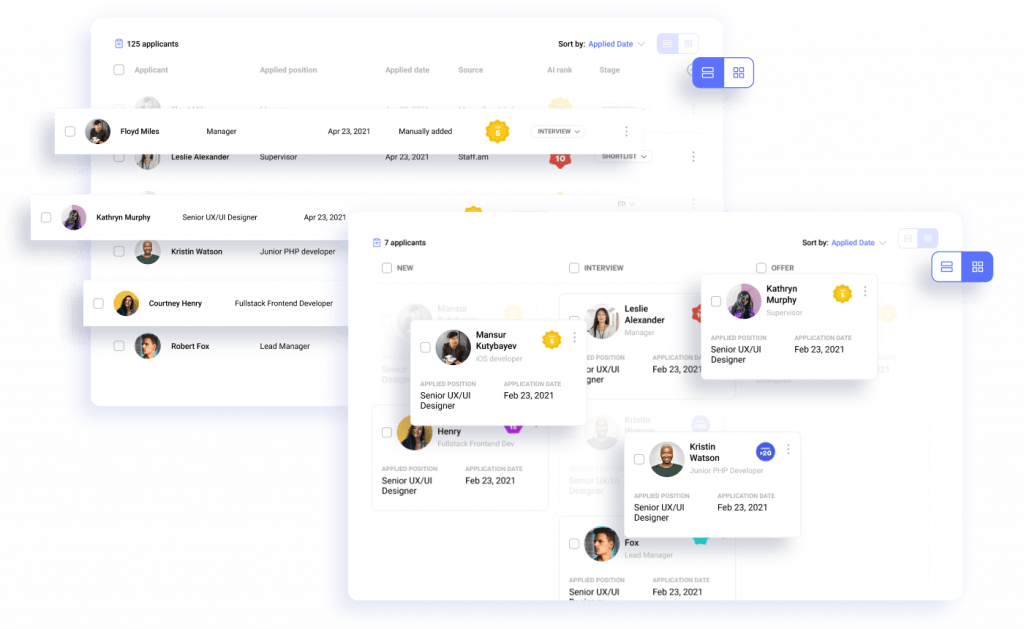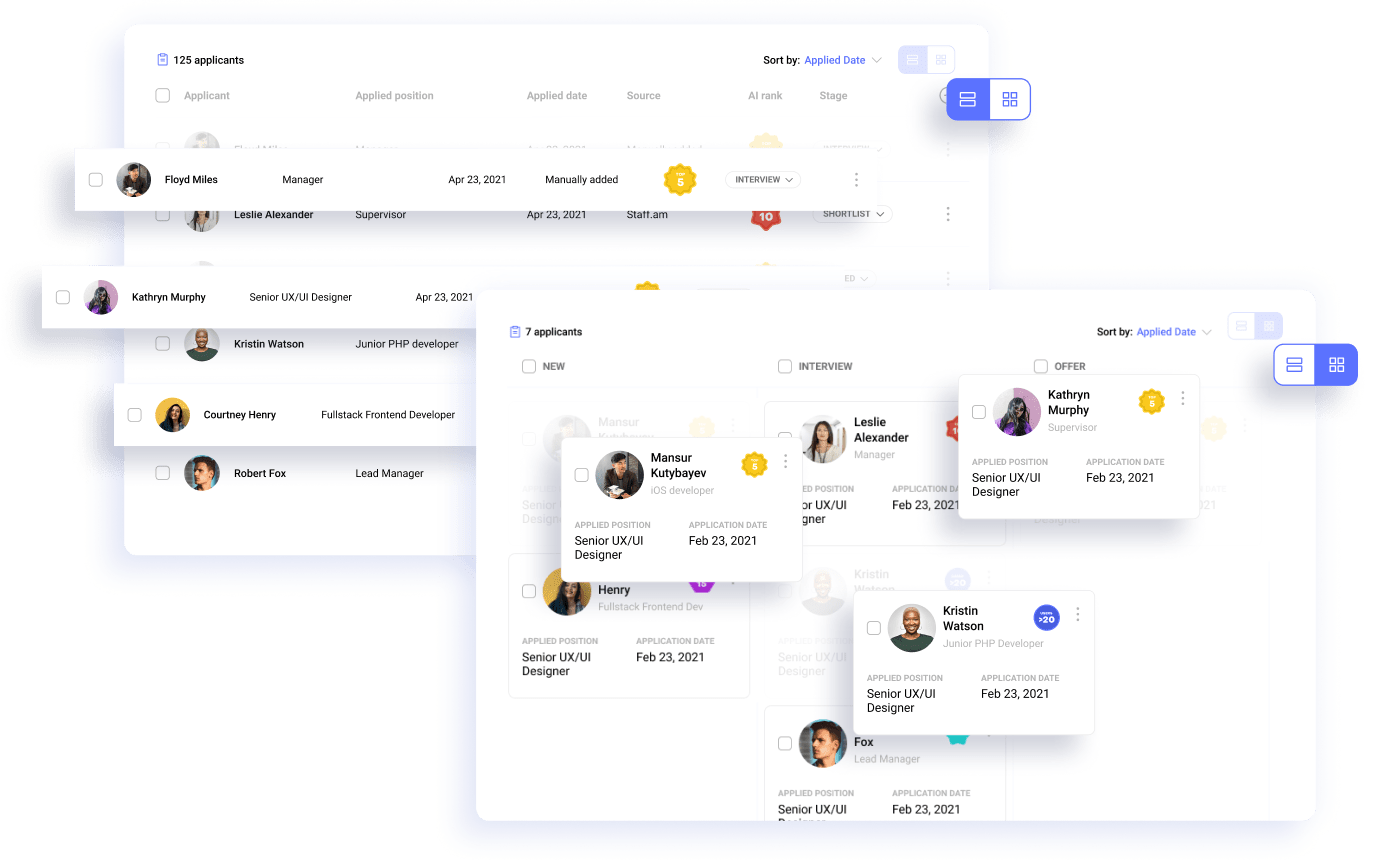 Candidate Profiles
Each candidate in your applicant list will have an actionable candidate profile, where all relevant information on the candidate will be stored. This information includes:
Where the applicant is in the pipeline. The application status or hiring stage of the candidate is visible and can be changed straight from the profile.
Their resume. Important details such as the work experience are highlighted and shown at the top of the profile.
Contact details. Including their provided phone number, email and social media links.
Their source of hire.
Feedback left by the hiring team. The team can leave feedback on candidates in the form of candidate scorecards.
A mailbox where you can directly contact the candidate.
Any files uploaded by the hiring team. Can include recorded job interviews or any other relevant file.
An activity log. Detailing all actions taken with the candidate profile by the hiring team.
With access to all the information relevant for hiring teams to review and manage the candidates in their database, the candidate management process is made quick and easy. Teams hardly need to ever leave the dashboard to gain access to needed information or to conduct their work.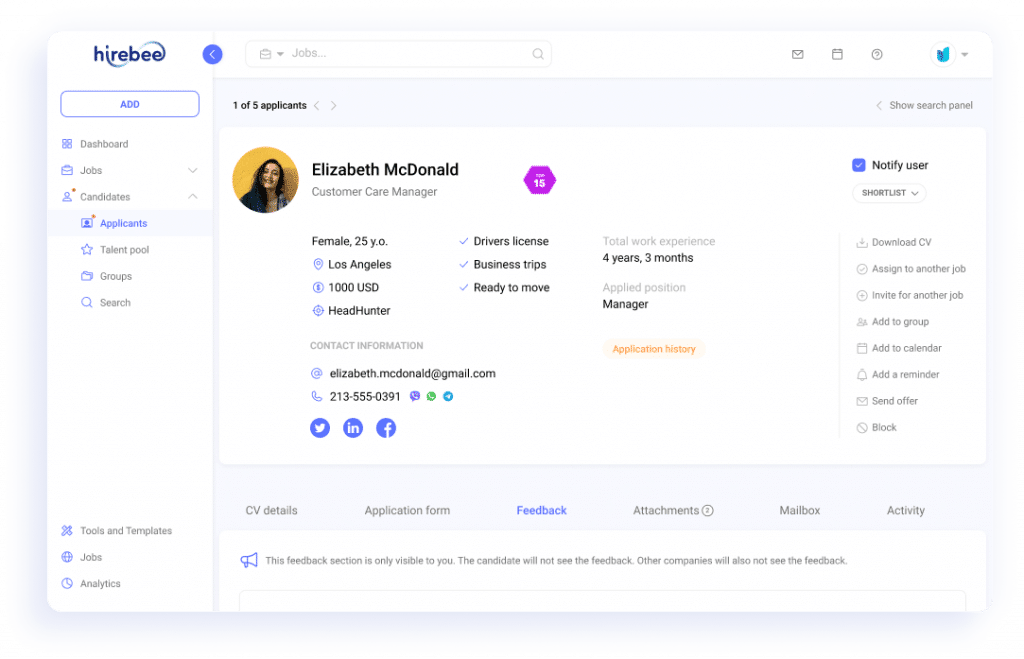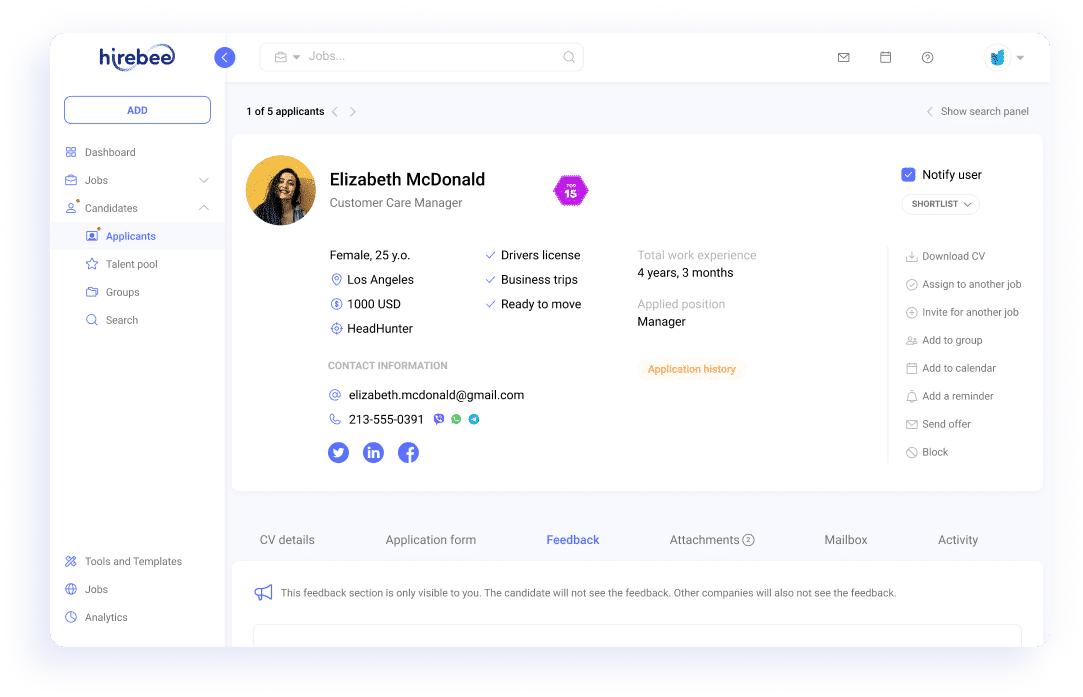 Searching, Filtering and Sorting
A candidate database makes it super simple to find what you are looking for. With advanced searching, filtering and sorting options, you can:
Easily find candidates you are looking for.
Filter your candidate database by: hiring stage, work experience, etc.
Sort candidates by: years of work experience, their AI ranking, etc.
The organization and ease of use of the applicant list you are working with will make the world's difference when reviewing candidates. Additionally, candidates can be grouped together or be tagged, which can add more organization to the applicant list and make it easier to navigate.
Candidate Experience Management
At the core of candidate relationship management, it is a candidate-centric process which aims to improve the candidate experience of all applicants. So enough of talking about how it benefits employers and let's get into the nitty-gritty of all the candidate-centric perks of CRM!
By prioritizing CRM, employers are essentially taking charge of customizing the full candidate experience. Here are all the positive ways in which an effective CRM process can influence your candidate experience:
Candidates go through a less painstaking application process
Candidates are routinely updated on their application status
Candidates are contacted more frequently throughout the process
These benefits really start to stand out when you consider that the top three causes for a negative candidate experience are: exasperating application processes, lack of communication from employers, and unprofessional interviews. With an effective CRM process you are solving at least 2 of those 3 issues.
Custom Application Forms
Creating an effective application process is no joke. If your application process is too tedious or lacks vital steps, the entire foundation of your recruitment funnel is defective. Ninety-two percent of candidates start but do not finish their applications, and if this statistic doesn't scare you, nothing else will. Such a component of the hiring process which seems so miniscule to prioritize can in reality be killing the effectiveness of your recruitment campaigns and repelling candidates from your job openings.
What, then, can be done to salvage your recruitment campaign? Well, the least you can do is to be in command of what your application process looks like. Your team should be in complete control of what your application form looks like and eliminate all bottlenecks which could be driving candidates away from your job opening.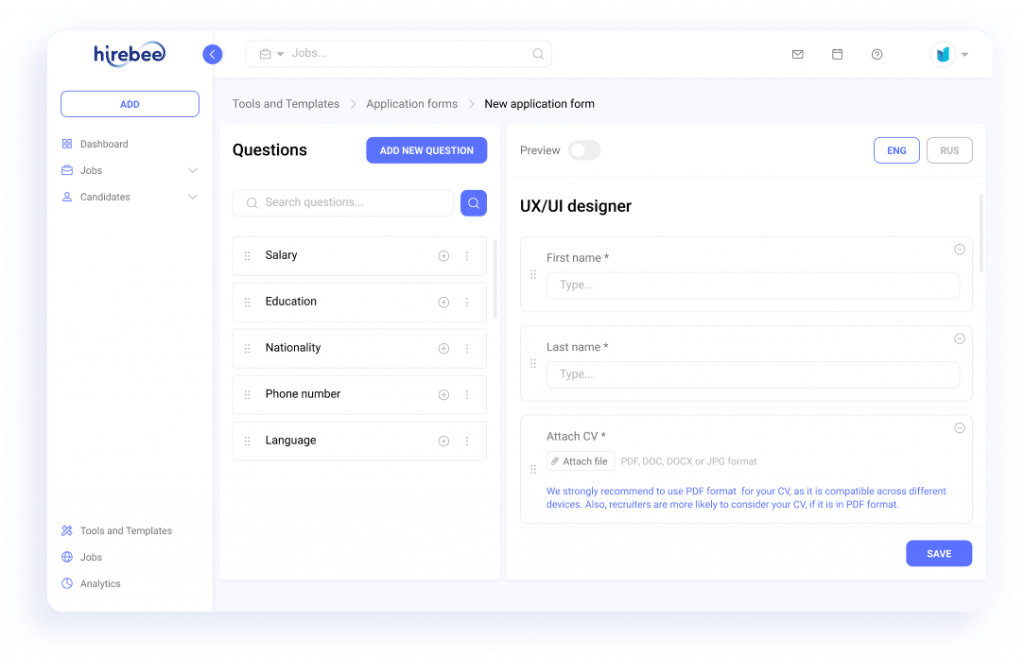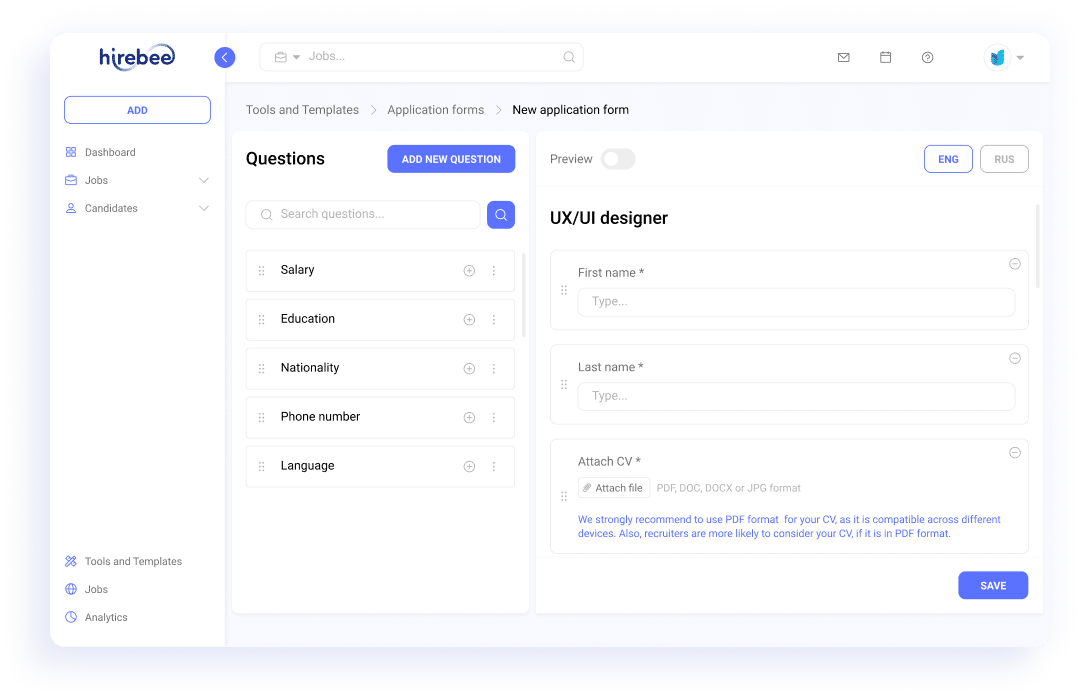 Learn how you can customize your application process and salvage your recruitment campaign >> Custom application forms – Hirebee

Automating Communication with Candidates
A staggering 75% of applicants don't hear back from employers after applying for a
position. This is a massive problem for employers and job-seekers alike. The reasons behind this are multifold. It can range from anything from time constraints, lack of proper systems to it being low in priority. But usually, it's a combination of all as they are interrelated.
That is why the focus of your CRM should be to implement a process that is not too time consuming and is easily applicable. What you need is to automate communication with candidates, making it more convenient for you and your team to improve your candidate experience.
Direct Link with Candidates
The first step to making the improvement of the candidate experience a convenient task is to make contacting candidates a seamless process. A simple yet effective solution which can make communication with candidates that much more convenient is to integrate email into the candidate database.
You might have noticed earlier that we mentioned how each candidate profile had a dedicated mailbox, where you could see email back-and-forths you have had with your candidates. Well, additionally, you can also send emails to candidates, straight from their candidate profiles, and can choose to make email templates for updating candidates on the status of their application.
Automated Emails with Workflows
After making your email templates, you can then automate your communication with candidates by making workflows. Workflows are made up of different hiring stages, with each having its own email template designated to it. After creating workflows, you can apply for your job positions, and you'll have all your applicants for that role moved throughout the hiring process with the logic of the workflow.
Every time you update your applicants' status, you'll have the option to immediately send them the email templates assigned to the applicant status. Alternatively, you can also choose to personalize the email by adding in a few details. Either way, using workflows and a candidate database with an email integration will greatly increase automation in your candidate relationship management process.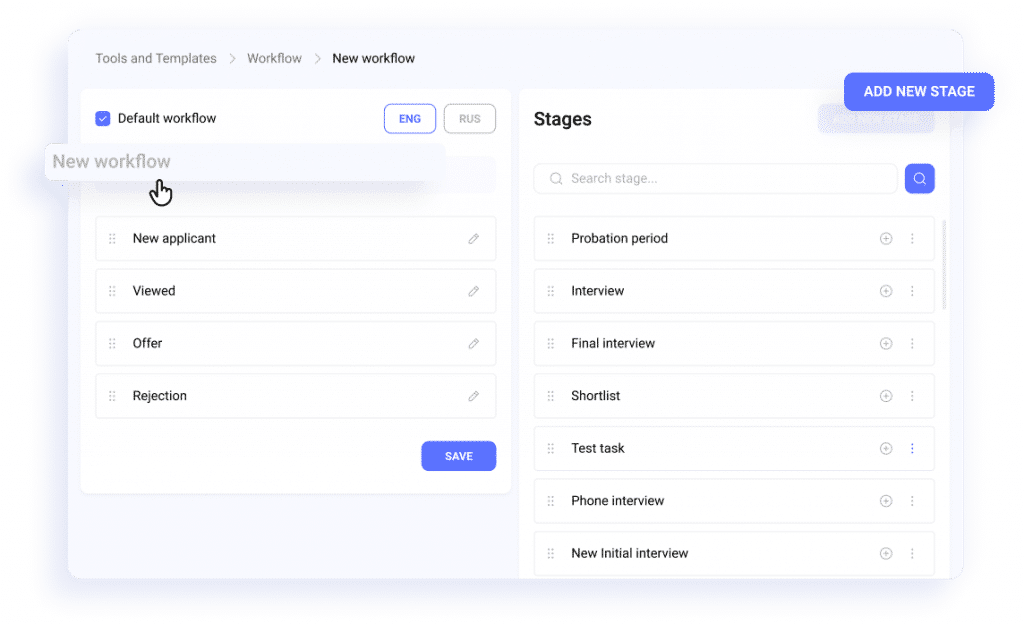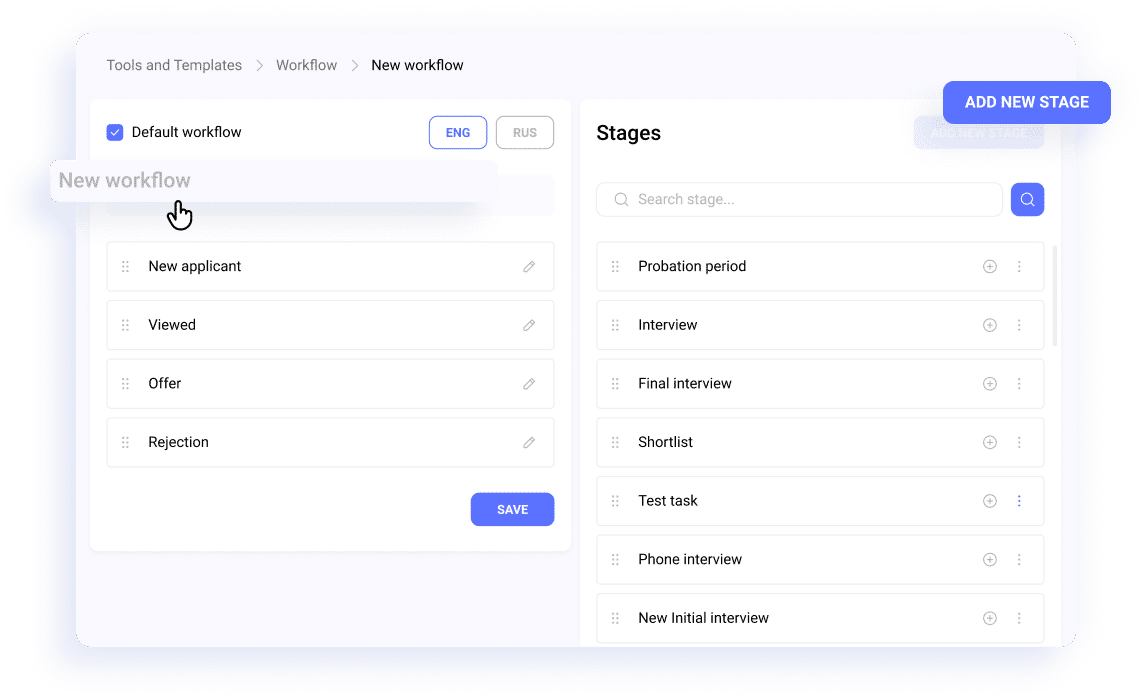 Bulk Emails
Another great way to facilitate communication with candidates is by sending bulk emails. Groups, shortlists, or even filters you have applied for your applicant list, can be gathered together for an email you want to send. This can be used for informing passive candidates in your talent pool of a new position open in your company, sending updates and follow-ups to candidates. Instead of going back and forth between copy/pasting email addresses and text, you can quickly select the group of candidates you would like to email and send them a bulk mail.
Interview Scheduling
Interview scheduling is one of the biggest time killers of the recruiting process. Recruiters report that they spend two thirds of their time on the interview process, with a single interview taking 30 minutes to two hours to schedule. This is a persistent problem in the recruiting industry and one which requires a simple fix. With calendar integrations, employers can fine-tune their interview scheduling process by making candidates "book" a time from the employer's available time slots. This way, you'll never find yourself in a game of ping-pong with applicants, going back and forth with times you think would be mutually available.

Find out how you can fine-tune your interview scheduling with Hirebee >> Interview scheduling – Hirebee

Conclusion
In conclusion, candidate relationship management is an important recruiting process which reflects on your candidate experience, employer brand, talent pool and time-to-hire. While it can be managed manually, it is preferable to leverage recruitment software to make the responsibilities of CRM as convenient as possible. With recruitment software, you will be automating communication with your candidates and leveraging tools which make your everyday recruitment productive.
Try Hirebee for 14 days free to get a glimpse of what you're missing >> Register for a demo – Hirebee