In the competitive realm of human resources and talent acquisition, gathering insights, understanding candidate needs, and streamlining HR workflows are not just 'nice-to-haves.' They're the differentiators that can set your organization apart. This is where surveys come into play. The Survey is an advanced tool designed to revolutionize the way you approach recruitment and to connect with candidates and enhance your HR processes. Surveys have long been a vital tool of recruiters, providing a platform for structured feedback, scaling candidate satisfaction, and improving internal processes. Below we will delve into the importance of surveys in the HR landscape and reveal how they can empower you to make data-driven decisions, elevate your candidate experiences, and increase your organization's recruitment strategies.
Overview of the Survey feature
Our Survey feature empowers you to effortlessly craft surveys tailored to your specific needs. Whether it's gathering post-interview feedback, measuring candidate satisfaction, or assessing the effectiveness of your recruitment strategies, you can easily create surveys that align with your objectives. The intuitive interface ensures that you don't need to be a master to design surveys that resonate with your audience. With the Survey, you'll gain access to real-time analytics that paint a vivid picture of your recruitment and HR landscape. Track response rates, measure candidate sentiment, and identify trends that inform your decision-making. Real-time analytics put the power of data at your fingertips, enabling you to make informed choices that drive your organization's success.
Creating Surveys from Scratch
Creating surveys from scratch has never been more accessible and customizable than with Hirebee's Surveys. Whether you're seeking feedback on candidate experiences, internal processes, or specific job-related aspects, you have the freedom to design surveys that precisely fit your requirements. Our intuitive interface allows you to incorporate a variety of question types, including text fields for open-ended responses, text areas for more detailed feedback, checkboxes for multiple-choice options, and dropdown menus for structured choices. This versatility empowers you to craft surveys that capture the exact data you need, ensuring that no aspect of your inquiry is left unexplored. With the ability to adjust question order, style, and format, you can make your survey a unique tool that aligns perfectly with your organization's objectives and the preferences of your audience.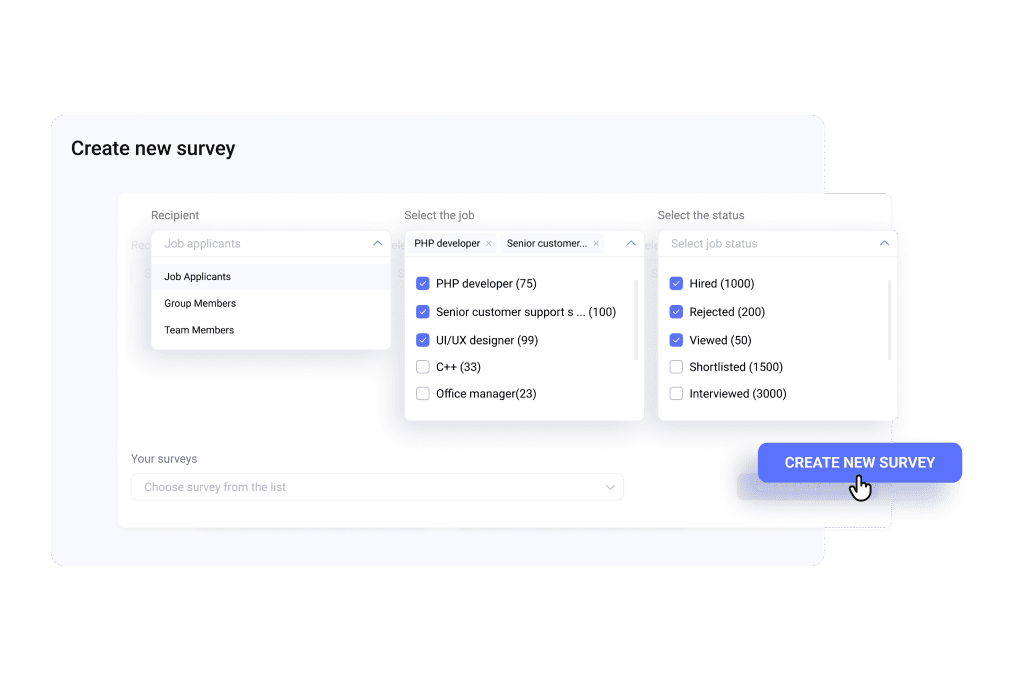 Sending Surveys to Your Database
Once you've masterfully crafted your survey, the next step is putting it to work. Our Survey feature allows you to seamlessly distribute surveys to your database with the flexibility to choose your audience. Whether it's applicants, your dedicated HR team members, or specific groups within your database, you have full control over who receives your survey. No more one-size-fits-all approaches; this is personalization at its finest.
But the power of choice doesn't stop there. You can opt to create a new survey on the spot, tailoring it to a particular set of circumstances or unique requirements. Alternatively, if you have a survey template that's proven its worth in the past, you can send it with ease. This combination of audience customization and survey flexibility ensures that your surveys are not only reaching the right people but are also finely tuned to elicit the most relevant and insightful responses. Whether you're looking to gather candidate feedback post-interview, collect internal insights from your HR team, or any scenario in between, our Survey feature offers a streamlined and adaptable solution to meet your diverse needs.
Sending Surveys to Uploaded Lists
The power of Survey extends beyond your internal database. Reaching out to candidates or groups who aren't part of your immediate network is often a necessity. With our Survey feature, you can effortlessly expand your outreach by sending surveys to lists of up to 1000 email addresses, uploaded directly into the system. The process is as convenient as it is effective: simply upload your email list, and you're ready to roll. Just as with your internal database, you retain the freedom to create a brand-new survey tailored to this specific audience or select from existing templates. This streamlined approach means that whether you're engaging with a larger pool of potential candidates or seeking insights from a target audience outside your organization, Survey feature offers the same level of customization and efficiency.
Real-Time Analytics
Data isn't just information; it's the key to informed decision-making. Our Survey feature doesn't just stop at distributing surveys; it empowers you with the invaluable tool of real-time analytics. For every survey you send, you gain access to a treasure trove of data that reveals precisely how your audience is engaging with your questions. This includes essential metrics such as the number of survey opens, submissions, and a wealth of other details that leave no room for guesswork.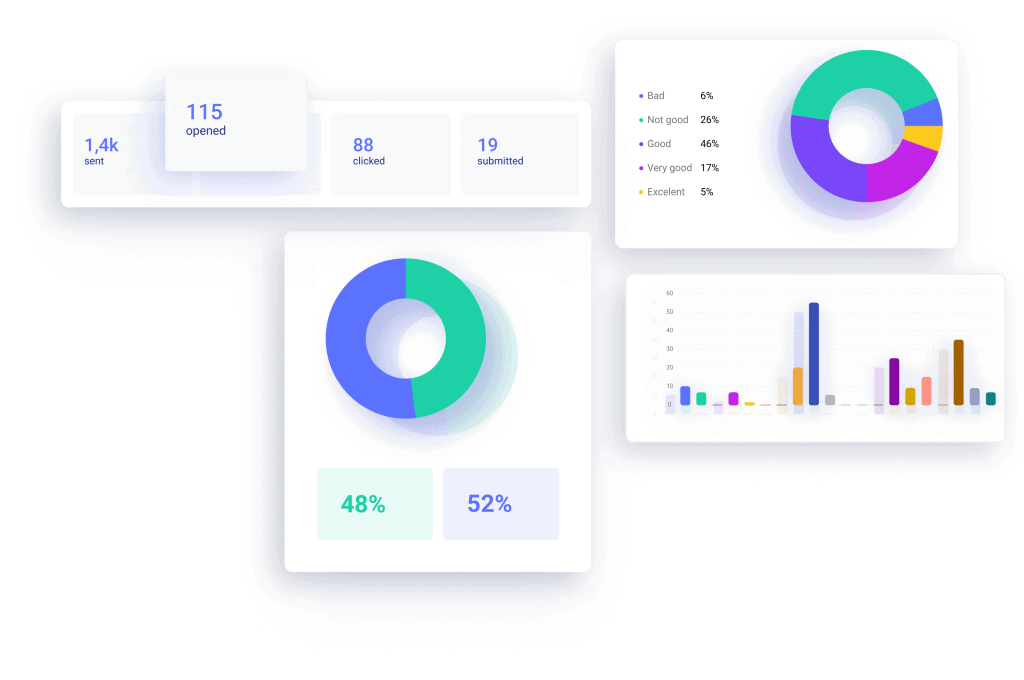 The importance of these analytics cannot be overstated. They transform surveys from mere questionnaires into powerful sources of insights. By tracking response rates, identifying trends in feedback, and understanding which questions resonate most with your audience, you can make analytical decisions that enhance your recruitment strategies. Real-time analytics don't just tell you how you're doing; they show you where you can improve.
But it doesn't stop at real-time monitoring. Survey takes it a step further by allowing you to download your analytics. This means you can take your data offline for in-depth analysis or share it with key stakeholders to inform strategic discussions. The benefits are clear: data-backed decision-making, improved candidate experiences, streamlined HR processes, and the ability to continually fine-tune your approach for even better results. With our Survey, you have a direct path to unlocking the full potential of your recruitment and HR strategies through actionable insights.
Security and Privacy Considerations
When it comes to collecting and managing data, security and privacy are paramount. Protecting data, particularly the email addresses and sensitive information collected through surveys, is unwavering. Survey feature incorporates robust security measures to protect the confidentiality and integrity of your data. This includes industry-standard encryption protocols to secure data both in transit and at rest. Your email addresses and survey responses are stored on secure servers with access controls, ensuring that only authorized personnel can access this information.
When you choose our Survey feature, your data privacy is a top priority. We've taken every precaution to ensure that your information remains safe and secure, allowing you to focus on making the most of the invaluable insights your surveys provide without worrying about data breaches or privacy concerns. Your trust in our commitment to data protection is the cornerstone of our service.
Conclusion
In conclusion, our Survey feature represents more than just a tool; it's a must-have in the world of recruitment and human resources. It offers you the power to gather invaluable insights, enhance candidate experiences, and make data-driven decisions that can set your organization apart in a fiercely competitive landscape. From creating surveys that align precisely with your needs to distributing them with unmatched flexibility, this feature streamlines the entire process, ensuring your surveys reach the right audience at the right time. Real-time analytics and downloadable insights put the data you collect to work, providing a roadmap for continuous improvement and strategic decision-making. Furthermore, commitment to security and data privacy ensures that your email addresses and sensitive information are handled with the utmost care, meeting the highest standards of confidentiality.
As you embrace the potential of our Survey feature, you're not just implementing a new tool; you're adopting a mindset of continual improvement and innovation in your recruitment and HR strategies. It's a journey that empowers you to connect with candidates, improve internal processes, and elevate your organization's approach to talent acquisition.