The emergence of virtual reality (VR) job fairs has revolutionized the landscape of recruitment and networking, offering a dynamic and immersive platform for both job seekers and employers to connect. As the first fully digital-native generation, Gen Z is a crucial demographic with distinct preferences and behaviors that shape their engagement in virtual spaces.
This study aims to delve into the realm of VR job fairs and investigate the intricate patterns of Gen Z's participation and interaction within these environments. By analyzing engagement metrics, exploring design factors, and uncovering underlying motivations, this research seeks to uncover valuable insights that can inform the optimization of VR job fair experiences.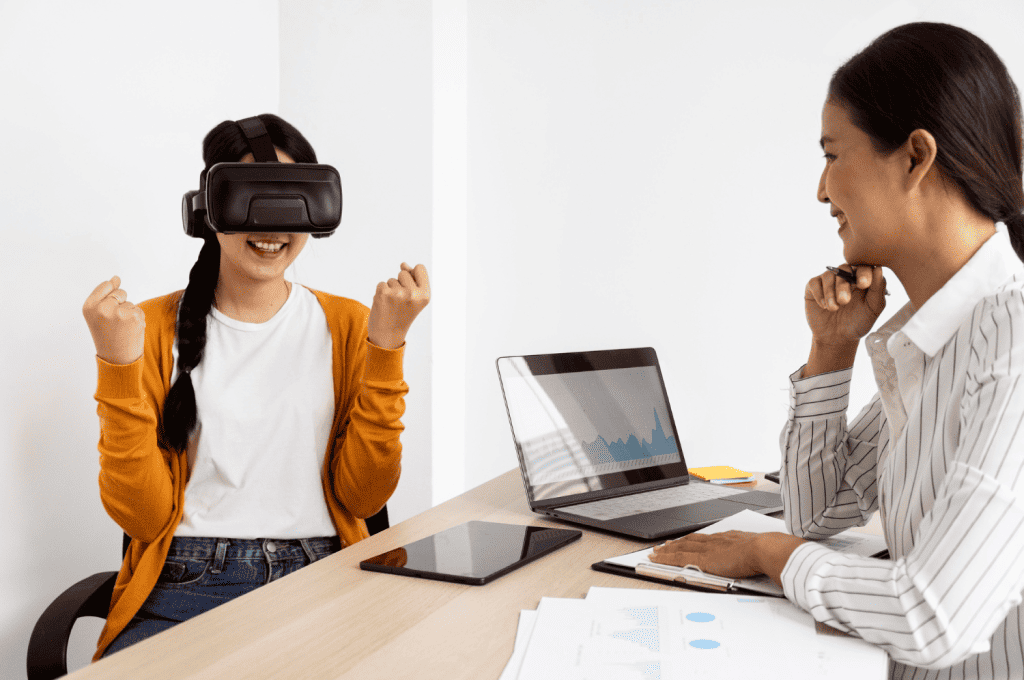 Understanding how Gen Z navigates and engages in virtual spaces can provide meaningful implications for recruiters, event organizers, and businesses seeking to attract and retain talent in an increasingly digitalized recruitment landscape.
Hirebee allows you to find the best candidates for your specific needs through recruitment marketing and job distribution features.
Literature Review
The landscape of recruitment and engagement has undergone a profound transformation with the emergence of virtual job fairs. These online events have evolved from traditional career expos into immersive virtual experiences, allowing job seekers and employers to connect and interact in virtual environments. This evolution has been particularly significant in light of the preferences and behaviors of Generation Z (Gen Z), the demographic cohort born between the mid-1990s and early 2010s. Gen Z, often referred to as digital natives, exhibit distinctive characteristics and preferences that have implications for their engagement in virtual spaces.
Gen Z is characterized by its innate familiarity with digital technology, having grown up in an era of smartphones, social media, and instant connectivity. Their unique attributes, such as a penchant for authenticity, personalized experiences, and social causes, influence how they navigate virtual environments, including virtual job fairs. Understanding these preferences is crucial, as virtual job fairs aim to provide efficient and meaningful interactions between candidates and recruiters, mirroring the values and expectations of this emerging workforce.
Prior research has explored various aspects of virtual event engagement, yet a focused analysis of Gen Z's participation and interaction within virtual job fairs remains relatively scarce. Existing studies have examined virtual events' overall effectiveness, interface design, and technological feasibility. However, a comprehensive exploration of Gen Z's engagement behaviors, motivations, and interactions within the context of virtual job fairs is lacking.
This literature review aims to bridge this gap by synthesizing existing knowledge on virtual event engagement, Gen Z characteristics, and recruitment preferences. By delving into these interconnected domains, this study seeks to uncover insights that inform the design of virtual job fairs tailored to Gen Z's expectations, thereby enhancing their engagement and ultimately contributing to more effective talent acquisition strategies.
Research Objectives
This study aims to comprehensively investigate Gen Z engagement within the realm of virtual reality (VR) job fairs. The primary objective is to quantify and analyze the level of engagement exhibited by Gen Z participants during these events. By measuring key engagement metrics such as dwell time, interaction frequency, and participation depth, this research seeks to provide a nuanced understanding of Gen Z's involvement in VR job fairs.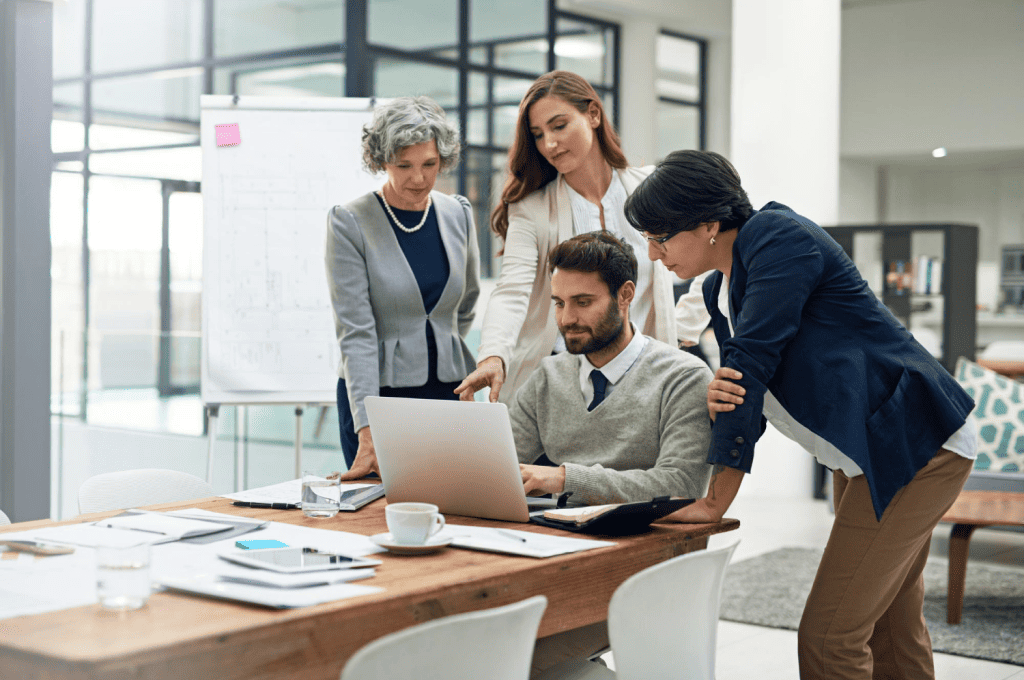 Additionally, several secondary objectives will enhance the depth of analysis. Firstly, the study aims to identify the critical factors that influence Gen Z's decision to participate actively in virtual job fairs. This includes exploring their motivations, preferences, and expectations related to such events. Secondly, an examination of the preferred interaction modes within VR job fairs, whether through text-based chats, voice communication, or other means, will shed light on the communication channels most effective in engaging Gen Z participants.
Furthermore, this research will assess how VR job fair design impacts Gen Z engagement. By evaluating aspects such as user interface, booth customization, availability of resources, and networking opportunities, the study seeks to ascertain which design elements contribute most significantly to sustained engagement.
Finally, the study will delve into potential correlations between Gen Z engagement levels during VR job fairs and subsequent job application submissions. By exploring whether heightened engagement directly translates into increased interest in job opportunities, the research aims to provide practical insights for recruiters and HR professionals seeking to optimize their virtual recruitment strategies.
In summary, this research endeavors to quantify and elucidate the multifaceted aspects of Gen Z engagement within VR job fairs, offering valuable insights that can shape the future of virtual recruitment practices and enhance the effectiveness of interactions with this pivotal demographic.
Methodology
This section outlines the methodology employed to analyze Gen Z engagement in virtual reality (VR) job fairs. A comprehensive approach was undertaken to gather data and derive insights into the patterns and factors influencing Gen Z participation within these immersive virtual spaces.
Data Collection: The study selected a representative sample of VR job fairs across various industries and platforms. Participant recruitment involved targeting Gen Z individuals through digital channels, obtaining informed consent, and providing them access to the chosen VR events. During the events, user interactions were meticulously tracked and recorded, capturing metrics such as dwell time within booths, interactions with avatars and objects, and communication modes utilized.
Data Analysis: The collected data underwent a two-fold analysis. Quantitative analysis focused on engagement metrics, utilizing statistical tools to quantify the extent of Gen Z interaction and participation. This involved calculating average dwell times, frequency of interactions, and mapping engagement patterns over the course of the event. Additionally, correlation analysis was performed to ascertain any relationships between engagement levels and subsequent job application submissions. Qualitative analysis involved examining participant feedback, including text and audio comments, to gauge sentiment, identify preferences, and uncover potential areas for improvement.
Ethical Considerations: Ethical guidelines were strictly adhered to throughout the study. Participants' privacy and data security were maintained, and informed consent ensured their voluntary involvement. Additionally, steps were taken to ensure the confidentiality of participant identities and any sensitive information.
Limitations: It is acknowledged that the study's scope is confined to the data and insights extracted from the selected VR job fairs and may not fully represent the entirety of Gen Z engagement trends. Variations in platform features, event dynamics, and participant demographics could introduce biases.
By employing a robust methodology encompassing both quantitative and qualitative analyses, this study aims to provide a comprehensive understanding of Gen Z engagement within VR job fairs and shed light on the intricate interplay between technological design, user preferences, and engagement outcomes.
VR Job Fair Design Factors
Virtual Reality (VR) job fairs offer a unique and immersive platform for connecting job seekers, predominantly from the Gen Z demographic, with potential employers. This section delves into the critical factors within VR job fair design that impact Gen Z engagement, shedding light on how these elements influence their interaction and overall experience.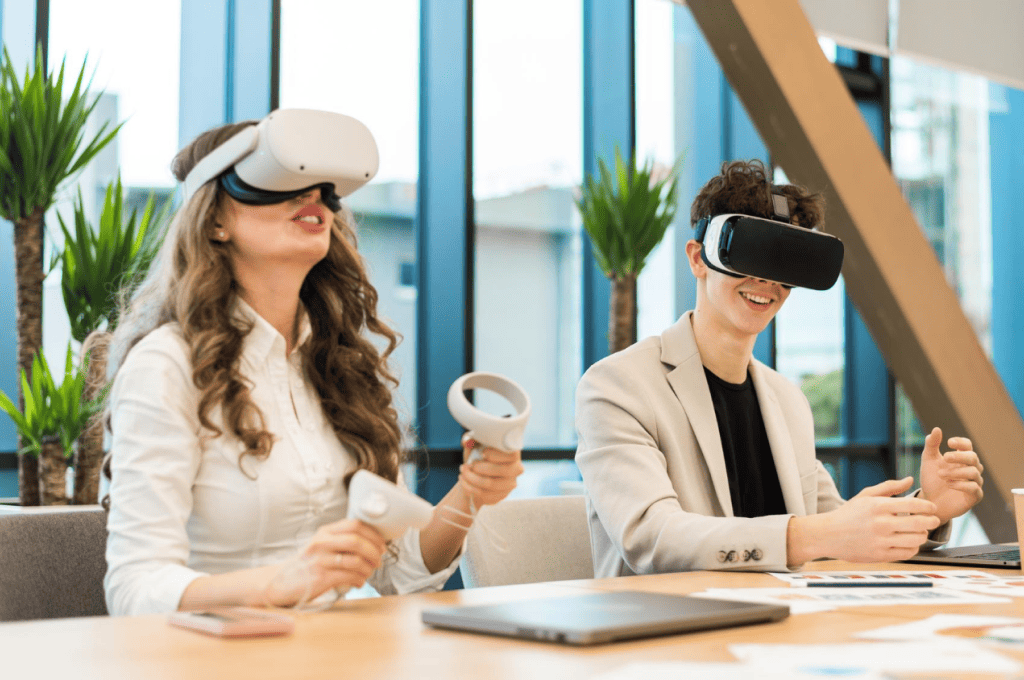 The user interface and navigation of the VR job fair platform play a pivotal role in shaping participant engagement. Intuitive navigation, ease of movement, and clear signposting to booths can enhance the overall user experience, ensuring that Gen Z attendees can effortlessly explore the event space and engage with exhibitors. A seamless and visually appealing interface contributes to a positive impression and encourages sustained participation.
Booth and avatar customization options add a layer of personalization, allowing Gen Z attendees to tailor their virtual presence to reflect their individuality. The ability to modify avatars and virtual surroundings not only empowers attendees to express themselves but also fosters a sense of ownership and investment in the event.
The availability of comprehensive informational resources is vital in providing Gen Z participants with the information they seek about companies, roles, and opportunities. Exhibitors should offer easily accessible multimedia content, ranging from videos and brochures to live presentations, to cater to different learning preferences and information consumption habits.
Networking opportunities and social interactions are cornerstones of any job fair, and VR environments are no exception. The design should facilitate real-time interactions through features such as text chat, voice chat, and even virtual handshakes, enabling meaningful conversations between job seekers and recruiters. Creating virtual spaces for casual networking or breakout sessions can encourage organic connections beyond formal interactions.
In conclusion, the design factors within VR job fairs significantly influence Gen Z engagement by shaping their interactions, personalization options, access to information, and networking experiences. By optimizing these design elements, virtual job fairs can effectively capture and sustain the attention of Gen Z job seekers, ultimately leading to enhanced participant satisfaction and increased success for both job seekers and employers.
Gen Z Engagement Patterns
Understanding how Generation Z (Gen Z) engages within virtual job fairs is crucial for optimizing recruitment strategies and enhancing their overall experience. This section delves into the patterns of Gen Z engagement, shedding light on key insights that can inform event design and promotion.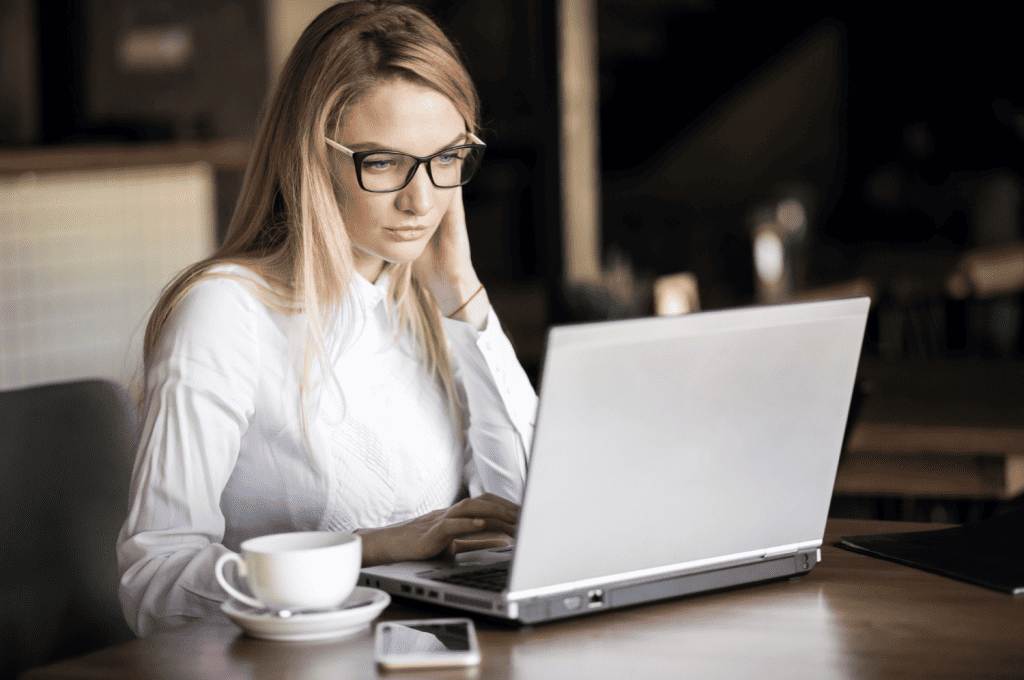 Comparing engagement metrics across diverse virtual job fairs reveals varying levels of participation and interaction. Through quantitative analysis of metrics like dwell time, booth visits, and content interactions, trends emerge, highlighting the moments and areas that capture Gen Z's attention most effectively. These insights are essential for tailoring event schedules, content offerings, and engagement prompts to align with peak interest periods.
Identification of peak engagement periods during virtual job fairs unveils when Gen Z participants are most active. This information aids event organizers in allocating resources, scheduling engaging sessions, and maximizing opportunities for meaningful interactions. Such insights also enable real-time adjustments to keep participants engaged throughout the event.
Analyzing interaction preferences, whether through text chat, voice chat, or other means, illuminates the communication modes that resonate most with Gen Z. Understanding these preferences enhances communication strategies, leading to more personalized and effective engagement.
Additionally, exploring differences in engagement based on factors such as industry or company type provides valuable granularity. This knowledge enables recruiters and organizers to tailor content and engagement strategies to specific interests, enhancing Gen Z's overall satisfaction and likelihood of pursuing opportunities presented during the virtual job fair.
In sum, dissecting Gen Z engagement patterns within virtual job fairs offers actionable insights for refining event design, content delivery, and communication strategies. Such insights contribute to fostering stronger connections between Gen Z talent and prospective employers while amplifying the impact of virtual job fairs in the modern recruitment landscape.
Conclusion
In conclusion, this study delved into the dynamic realm of virtual job fairs and their significance in engaging the Gen Z workforce. By analyzing engagement metrics, interaction patterns, and design factors within VR environments, valuable insights were gained. It is evident that Gen Z's participation is influenced by factors such as technological familiarity, event promotion, and perceived value. The findings underscore the importance of user-centric VR job fair design to optimize engagement. This research contributes to the evolving landscape of recruitment practices, offering practical recommendations for HR professionals and recruiters seeking to enhance Gen Z participation. As virtual experiences continue to shape the recruitment landscape, the study's implications hold the potential to redefine industry practices and establish more effective methods of engaging the emerging workforce.
Hirebee offers multiple recruiting solutions to businesses with job distribution features and very effective recruitment automation, which can make hiring much easier.
FAQs
Why focus on Gen Z engagement in virtual job fairs?
Understanding Gen Z's engagement in virtual job fairs is crucial because they represent the next wave of talent entering the workforce. Their preferences and behaviors in virtual spaces can shape the future of recruitment and networking strategies.
What are virtual job fairs, and how do they differ from traditional job fairs?
Virtual job fairs are online events where job seekers and employers interact in a digital environment. Unlike traditional job fairs held in physical locations, virtual job fairs take place within virtual reality platforms, enabling participants to engage from anywhere.
How is Gen Z different from other generations in terms of engagement?
Gen Z has grown up with technology, making them highly adept at navigating virtual spaces. Their expectations for seamless digital experiences and interactive engagement may differ from older generations, making it important to tailor virtual job fairs to their preferences.
What engagement metrics are being analyzed in this study?
This study analyzes various engagement metrics, including dwell time (time spent in the virtual environment), interactions with booths and avatars, chat interactions, and post-event actions such as job applications. These metrics provide insights into how actively Gen Z participants engage in virtual job fairs.
How is technological familiarity measured among Gen Z participants?
Technological familiarity can be assessed through self-reported surveys or observed behaviors within the virtual environment. This might involve asking participants about their prior experience with virtual reality or their comfort level with using digital tools.