Competitive advantages are the life source of businesses. A business with no competitive advantage is a business struggling to survive. At the very most basic level, businesses differentiate themselves from their competitors to provide a product offering which is more preferable to a certain demographic of customers. With how competitive the job market has become, the same should be held true for employers differentiating themselves from other employers. One of the many ways in which employers can do this is through leveraging the benefits of automating the recruitment process as competitive advantages.
It's no secret that some businesses are finding it harder than ever to attract and retain talent. Experienced workers are becoming a hot commodity, and the solution to the problem is for employers to start viewing job-seekers as customers, and their vacancies as products. With this change in perception, it becomes more clear as to exactly why businesses need competitive advantages in their recruitment processes.
Benefits of automating the recruitment process
Businesses can develop competitive advantages in recruitment in many ways; by providing prestige, employee benefits, flexible working hours, etc. These are all job offerings which present themselves as employee value propositions (EVP). Think of it as your unique selling point, but for your jobs. What makes your vacant position more valuable than other employers'?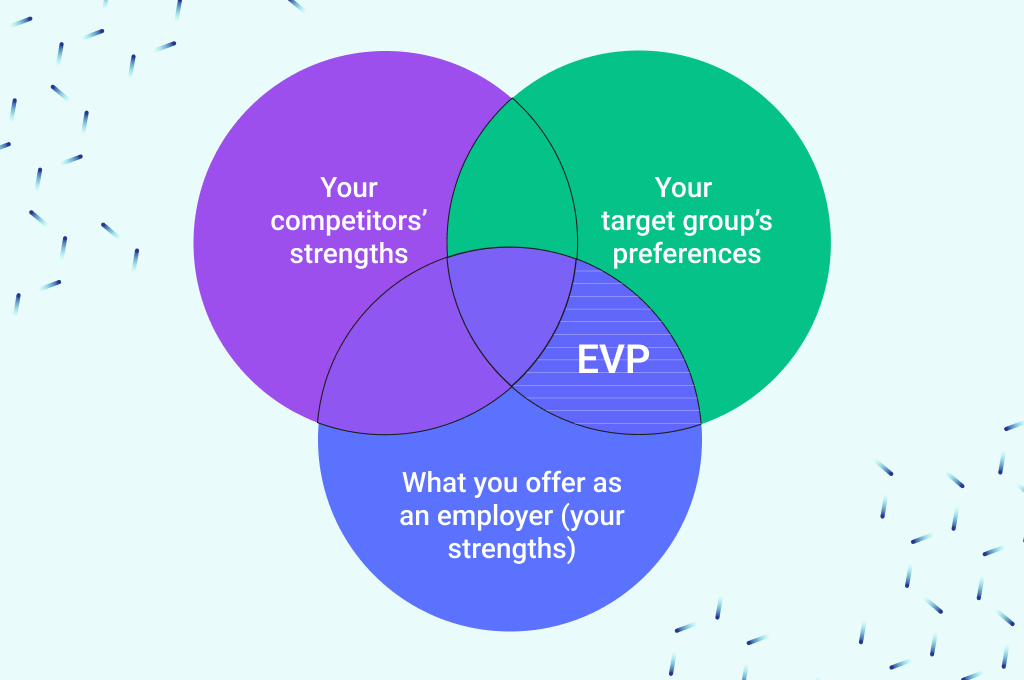 However, there are two ways in which businesses can develop competitive advantages for their recruitment process. One is by developing an EVP, and developing a clear advantage when it comes to attracting candidates. The other is by developing a more effective recruitment funnel, which does a better job at identifying and hiring the best candidates. The benefits of automating the recruiting process provide businesses with both types of competitive advantage, putting employers in a better position in the job market.
Developing a desirable candidate experience
For employers, the candidate experience is an all-important first step of the candidate journey, where they get their chance to leave a good first impression. The candidate journey begins way before the candidate has applied for the job position. It starts when the candidate first shows interest in the vacant job position, and the employer's role in improving the candidate experience is optimizing the job description and career page.
However, the role of recruitment automation in improving the candidate experience is in screening and evaluating candidates. During the candidate screening and evaluation process, candidates are eagerly waiting for updates on their application status, and different employers will respond at a different space. The way an employer can stand out from others is by providing faster updates on their application status and keeping the candidate engaged throughout the entire process.
Through recruitment automation software, communication with candidates can be facilitated with automated emails. Here's how this works.
First, users should set up hiring workflows, which are comprised of the different hiring stages applicants are moved through. Users can set up multiple workflow templates, which are then assigned to different vacancies. The applicants of those vacancies can then be moved through those different hiring stages.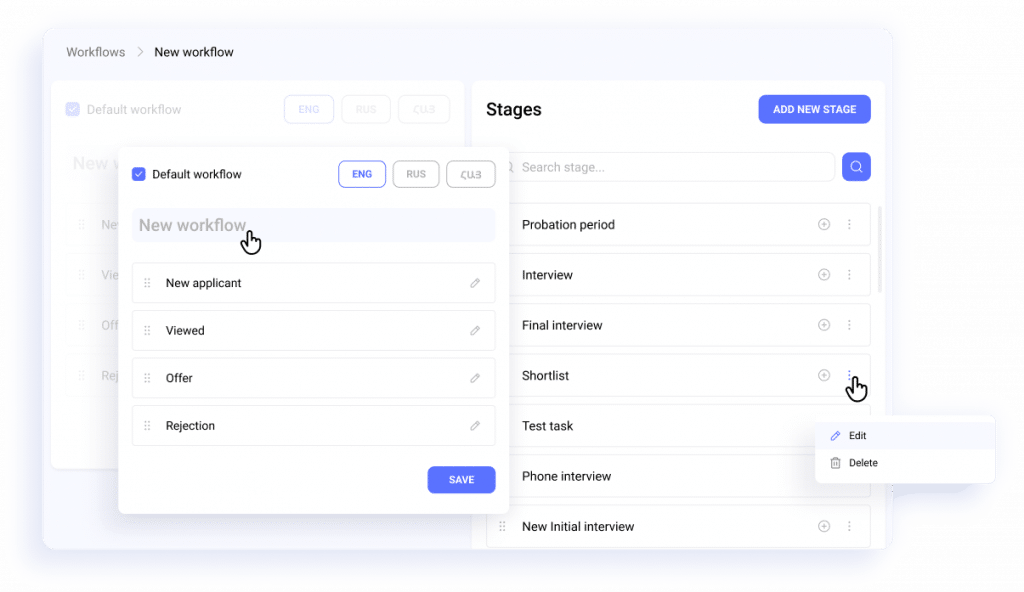 Then, each hiring stage will have an email template assigned to it. The purpose of these email templates is for users to be able to send them automatically as they change candidates' application status (hiring stage). Hirebee also offers default email templates for you to use, but your templates are fully customizable.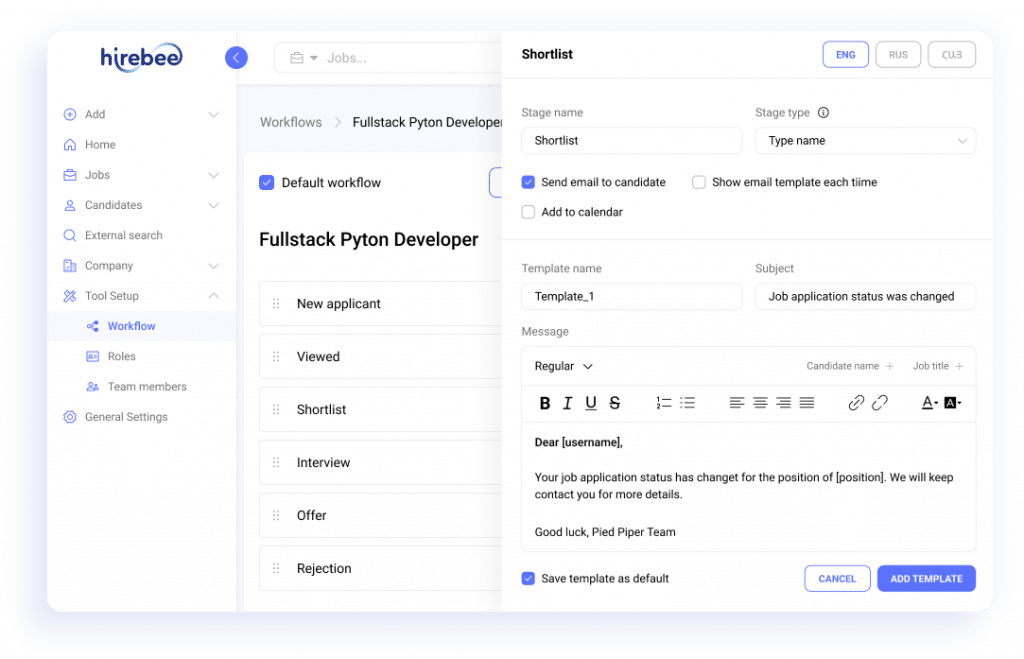 Finally, upon changing application status, emails can be automatically sent to candidates with a click of a button. Users can also choose to edit the email and personalize it if they wish. However, automatically sending emails to candidates without ever leaving their dashboard makes candidate relationship management extremely convenient for hiring teams, and gives them a competitive advantage by developing a recruitment process which keeps their candidates engaged.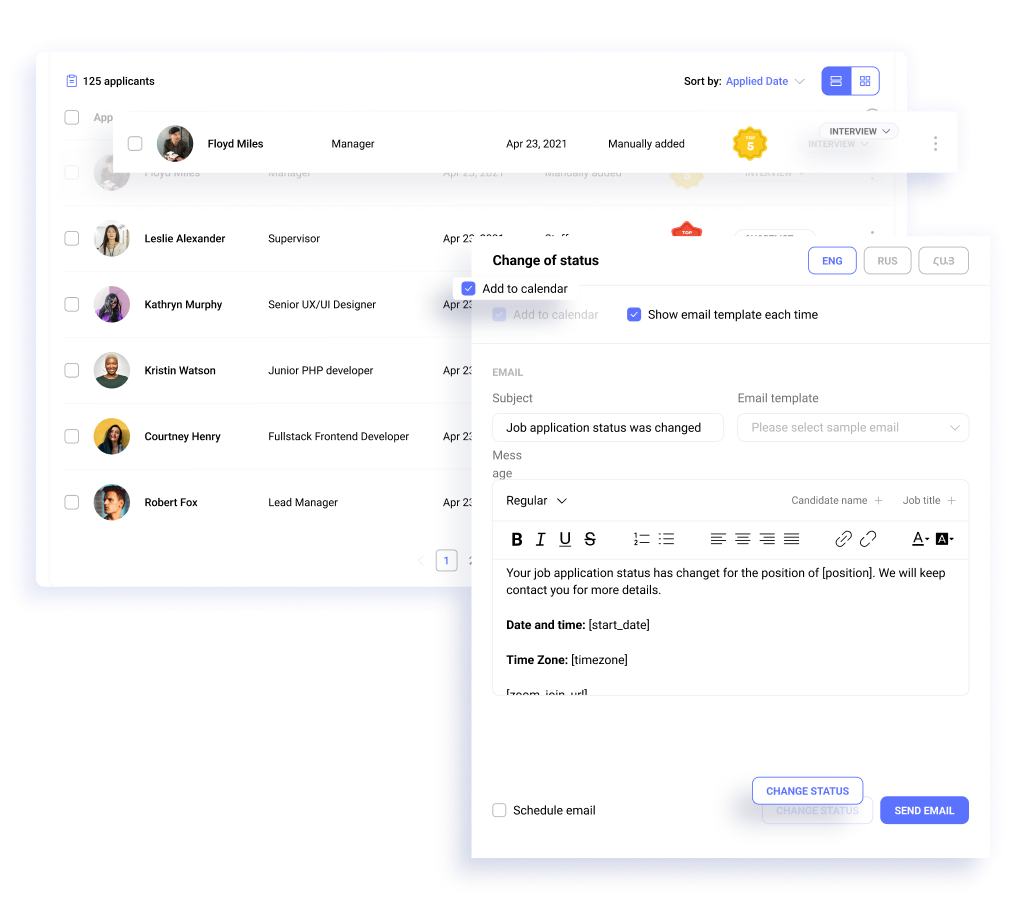 Learn how to automate communication with candidates with Hirebee >> Multiple workflows – Hirebee

More on why the candidate experience is important and using recruitment automation to improve candidate experience

Beating other employers to the first job offer
When it comes to beating other employers to a top candidate, a fast time to hire may be one of the most important performance metrics for your recruitment. Top candidates will not be on a job hunt forever, that is why it is monumental for businesses to be the first one to send a job offer to the best talent in the market.
Recruitment automation with a good applicant tracking system can decrease the time to hire by up to 20%, saving 33 hours per recruiter per week. Among the list of ways this is achieved, the most instrumental way is through automated candidate screening. With automated screening, businesses are able to automatically receive a ranking in their list of applicants from the most to the least relevant candidates. The ranking is based on an AI resume matching algorithm, which compares the contents of the resumes with the posted job description. Based on the relevant factors mentioned in the job description, the resume matching algorithm then estimates which resumes match the job description the best with a ranking.
Through automated candidate screening, businesses can immediately gain indication as to which applicants are the best ones, and prioritize their tasks in order to establish communication with the top candidates and from the get-go and personalize their candidate experience. With these insights, businesses gain a major competitive advantage by increasing the likelihood of beating other employers to the job offer.

Learn more about the list of ways recruitment automation reduces your time to hire >> The ultimate guide to recruitment automation – Hirebee

For a more in-depth read into automated candidate screening >> The ultimate guide to automated candidate screening – Hirebee

More effective recruitment funnel
Reducing the time to hire also significantly increases business' cost savings by increasing recruitment efficiency and productivity. Recruiters no longer have to waste time performing mundane tasks that could be easily automated. Instead, more of their time is dedicated to performing creative tasks and problem-solving to attract and identify the best talent out there.
Furthermore, recruitment automation also presents itself as a means of enhancing recruitment efforts and making the candidate screening and evaluation processes more effective. Automated candidate screening can help reduce bias from the hiring process and generally add valuable insights to the candidate screening process which can help yield a better result with higher quality shortlists.
Hirebee's recruitment automation software also includes a reporting and analytics package to help businesses review and optimize their recruitment funnel along the way, with key recruitment metrics and invaluable insights. By leveraging AI and data businesses can develop a perfectly optimized recruitment funnel and blow the competition out of the water.

See how automated candidate screening reduces hiring bias >> How to reduce candidate screening bias with these 5 hiring hacks – Hirebee

Check out our reporting and analytics package >> Reporting and Analytics – Hirebee

In conclusion
In conclusion, recruitment automation brings about tones of competitive advantages necessary for businesses to compete for the top talent. With automated CRM, candidate screening and process optimization, businesses can develop a desirable candidate experience, beat other employers to the first job offers, and develop a fully optimized and effective recruitment funnel which will make the best use of candidate information with data analysis and AI.