What is the first thing that comes to mind when imagining a structured hiring process? For us, it's a recruitment process where every member of the hiring team, and every stage of the hiring process has a clear task and purpose. Through structured hiring, handling vacancies is clearly mapped out as a set of tasks. The benefits of this are immense, yet what most employers struggle with is the implementation. So, what is the secret to forging an efficiently structured hiring process? Hint: it's in the title.
What standardization is and why you should strive for it
What is exactly meant by "standardization"? Simply put, standardizing the hiring process means applying the same hiring methods for all candidates in a hiring stage. This includes assessing them for the same merits, communicating with them the same way and advancing them to the same hiring stage. There are, of course, exceptions to this, such as sourced and referred candidates, but most applicants for a job should be put through the same recruitment funnel, where all processes are consistent.
The reason why standardization is so important for a structured hiring process is because of its role in eliminating inconsistencies and unproductive work. Of course, you need to trust your hiring process to standardize it, which is why it is necessary for the a clear strategy to be developed before implementation. Ultimately, optimization becomes the centerpiece in the structured hiring process, with constant refining of the recruitment funnel.
How to set up a structured hiring process with recruitment software
Most stages of the recruitment funnel can be fully standardized through the use of recruitment software. Hiring teams can fully set up their recruitment funnel by handling all stages of the recruitment funnel through one dashboard. This includes job distribution, candidate sourcing, candidate screening, CRM and recruitment marketing. Here is how recruitment software helps you standardize every stage of the recruitment funnel.
Candidate Experience
It is important to maintain a positive candidate experience through every step of the candidate journey. From your career page, application form, to your candidate relationship management, is every opportunity to better the candidate experience and maintain a reputable employer brand. Recruitment software gives hiring teams full control of the candidate experience, enabling customization and top-notch functionality.

Learn more about why the candidate experience is important >> Why the Candidate Experience is Important – Hirebee

Career Pages
Giving a good first impression kickstarts a more positive relationship with someone. For job-seekers their first impression of you is your career page. Nobody wants to stumble across a poorly designed, poorly written and empty career page when searching for a job. Starting off on the wrong foot can immediately stunt your recruitment efforts by significantly decreasing job-seekers' interest in your vacancy.
To avert this, hiring teams should build branded career pages which attract job-seekers and provide them with all the information they will need in one sitting. It is the ultimate landing page for employers, where you should include employee benefits, photo galleries, all available positions, and links to your social media and website.
To provide this ultimate candidate-converting experience for all your applicants, you can standardize your job posting process by connecting all of your job postings with your career page. Furthermore, standardizing the job posting process gives you the benefit of centralization, with the ability to collect all your applicants from all the different boards you've posted to, into one place.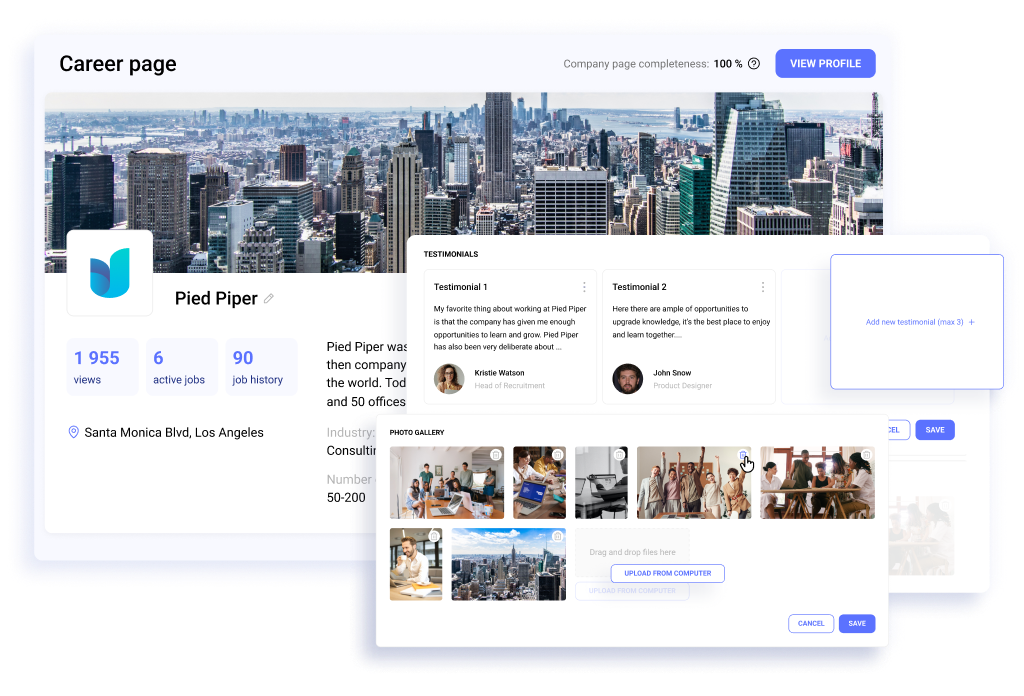 Connect your career page with all your job postings with Hirebee >> Recruitment Marketing – Hirebee

Custom Application Forms
An amazing career page is not quite the finish line for converting interested job-seekers into applicants. There's still plenty of running room to lose job-seekers along the way — way more than one would think. A jaw-dropping 9 out of 10 applicants drop out of application forms without submitting the application! So surely, improving this stage of the recruitment funnel can prevent all those exits and boost your conversation rates through the roof.
The reasons for this can be many, and there are plenty of pointers to crafting a smooth application process for candidates. Some of the key turn-offs for job-seekers are application forms which are too long, ask irrelevant questions, or include assessment tests or require too many documents. These are all bottlenecks in the recruitment funnel which prevent you from performing your very best.
Taking full control of the candidate experience also means creating custom application forms, and tracking their performance with advanced recruitment analytics over time for optimization. Put yourself in the shoes of your applicants and craft a process which reduces unnecessary work, while still garnering the information necessary to kickstart the recruitment process.

Optimize your candidate experience with Hirebee's custom application forms >> Custom application forms – Hirebee

Automated Emails
After successfully converting interested job-seekers into applicants, you should also keep your candidates engaged throughout the candidate screening and evaluation process. This means keeping them informed when disqualifying or qualifying them to the next hiring stage. Although this is optimal, it can take a lot of time if not done properly, which is why you should automate communication with candidates when you need to send bulk emails, or until you've reached the interviewing stages, where feedback needs to be more personalized.
Integrating your candidate database with email makes it extremely easy to reach out to candidates in any of the hiring stages. With email templates, built-in workflows and mail boxes, sending emails is ten times more convenient, making it easier to develop the good habit of sending all your applicants emails.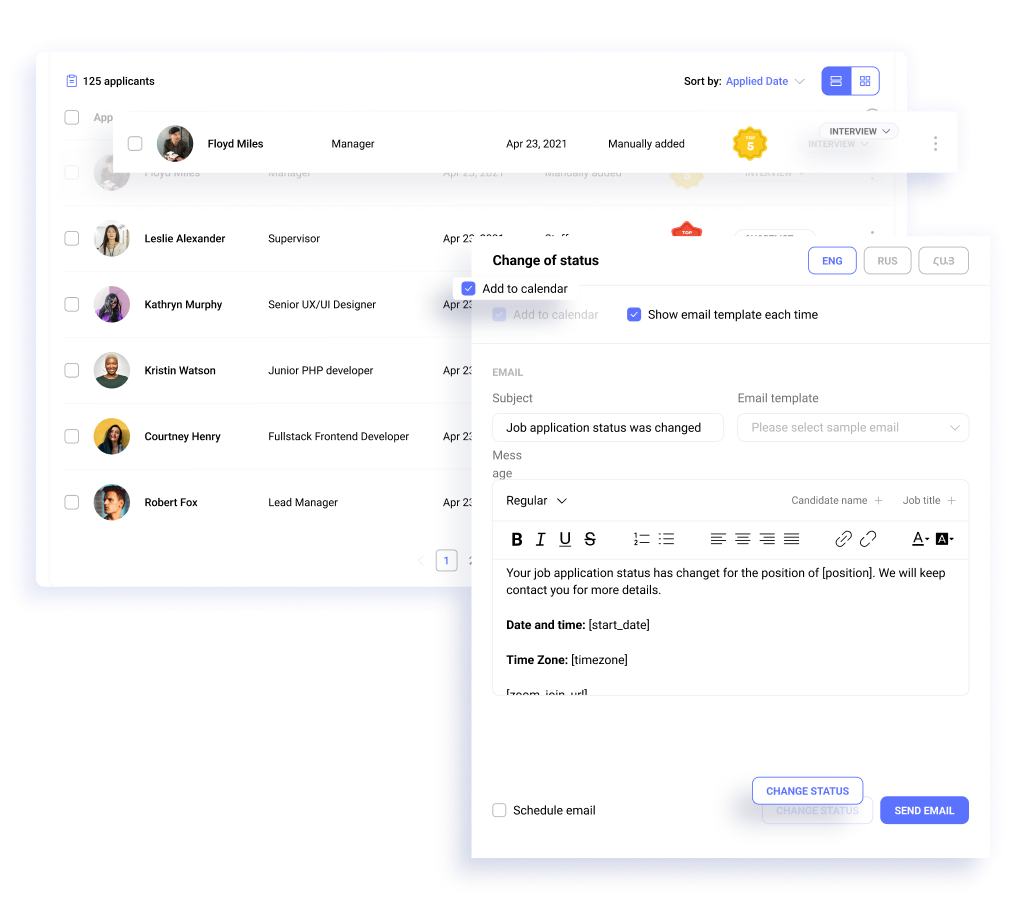 Find out how Hirebee makes candidate relationship management easier >> Candidate Relationship with Hirebee

Candidate Screening and Evaluation
Having concluded with the candidate experience, candidate screening and evaluation are other processes which hiring teams can standardize to boost results. Most hiring teams will divide their candidate screening and evaluation into several different stages, eliminating half of the applicants at each stage. The criteria for these eliminations can vary, and not applying the same criteria for all your applicants in a hiring stage can create a mess which puts into question the effectiveness of the entire hiring process.
Automated Candidate Screening
Screening for spelling mistakes, badly designed resumes and boring resume intros is one way to go about initial candidate screening. But the objectively better and more efficient way to conduct initial screening is through the use of recruitment AI. Nowadays, there is AI that can read the resumes of your applicants a hundred times over before you do, processing the most important information to determine the relevance of your applicants' resume with your posted job description.
By applying the same resume matching algorithm with all of your applicants in the initial stage of screening, you will be consistently advancing the technically relevant candidates into your next stage of screening, where you can take a more in depth look into your candidates.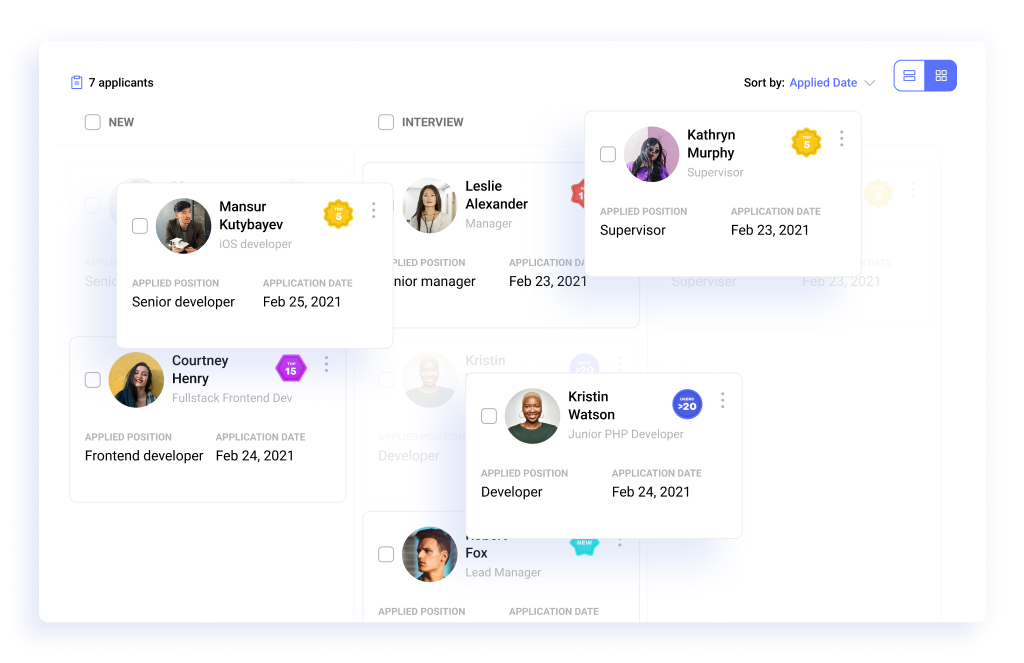 Learn more about automated candidate screening >> The ultimate guide to automated candidate screening – Hirebee

Assessments Integration
Great! Now we've advanced the most technically relevant candidates into the next candidate screening stage. However, we can't be too sure that the applicants haven't exaggerated their skills in their resumes. That is why it would be a good idea to test them on the relevant skills before relying solely on your applicants' resumes with skill assessments.
Integrating skill assessments into your candidate screening can be a cumbersome task. Keeping track of dozens of assessments and making sure applicants fill them out in time can give many hiring teams a headache. That is why simply using the best skill assessments out there is not enough to ensure a seamless candidate screening process. What hiring teams also need is a 360° view into their recruitment funnel, along with powerful candidate relationship management features to automate communication as much as possible and speed up the process.
Once you have finished with your technical assessments of the candidates, and are confident that all the remaining candidates are appropriate for the vacant position, it's time to begin the candidate evaluation process with interviews. The interviewing process is divided into separate stages as well, with each having a different purpose.
Interview Scheduling
What may seem like a simple and straightforward process which should seamlessly land hiring teams interviews with their top applicants, can in reality take more than a dozen hours a week to put together. Interview scheduling is surprisingly one of the most tedious tasks of a recruiter, with hiring teams struggling to schedule interviews for mutually convenient times. There is nothing rewarding about this task, and if hiring teams could bring back the time they have sunk into this process, they would do it in a heartbeat.
Luckily, interview scheduling doesn't have to be this ping-pong game of back-and-forth communication that it is. With digital calendars and video interviewing software like Zoom, hiring teams can ditch outdated methods of interview scheduling and move on to greener pastures for good. No more keeping track of unholy sequences of mail, no more losing out on candidates other job offers before you even get the chance to interview them, and no more spending more than a dozen hours a week on scheduling interviews.

Learn how Hirebee speeds up interview scheduling for employers >> Interview scheduling – Hirebee

Interview Scorecards
When evaluating candidates, hiring managers look for different positive and negative indicators from the interviews to base their decision making on. While the best of the best are able to pick up on and remember what these indicators are, it is a good idea to set out different criteria and assign a specific objective to every interview question. What are you hoping to achieve with this question? Are there any questions with which you will be able to decipher specific information you are looking to draw out from the interview?
That is why it is always good to plan ahead. The key to having a structured interviewing process is to make sure that all the different elements of the interview are planned ahead of time. One way to always make sure that your interviews are conducted productively and achieve the goals that are set out is to establish the criteria by which you want to distinguish your candidates, design interview questions which you think will give you the relevant information and keep notes of the interviewee's performance based on your established criteria.
If you are conducting your interviews virtually, the best way to develop a structured interviewing process is through integrating interview scorecards into your process. Interview scorecards let you keep ratings and notes for all your criteria. The best part of all, Hirebee's candidate profiles make it easy for all members of the hiring team to leave and have access to the feedback, enabling team collaboration. We have prepared our own default interview scorecard template, however all hiring teams are free to customize and prepare interview scorecards for themselves.

Structure your interview process with interview scorecards >> Advanced candidate scorecards – Hirebee

Reporting and Analytics
Having a structured hiring process isn't enough; you need to make sure the hiring process you've standardized performs well. That is why reporting and analytics plays an extremely important role in optimizing the recruitment funnel. With recruitment reporting and analytics, hiring teams gain full insights into their recruitment process, with which it's possible to implement structural changes that yield better outcomes.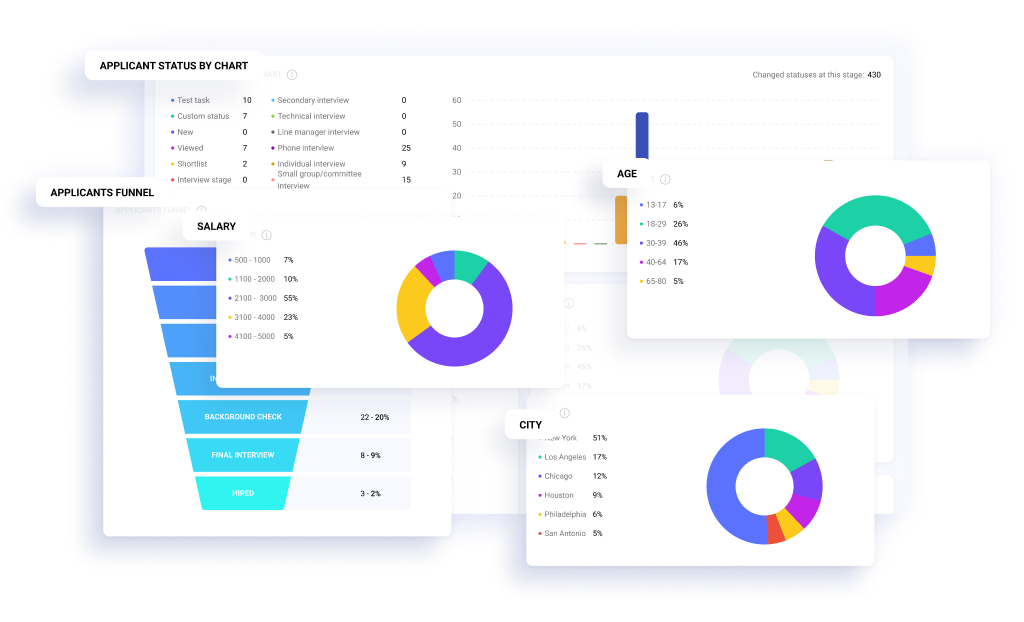 Reporting and analytics possibilities with Hirebee include applicants per job, time to hire, time per hiring stage, applicants by source and more. Reports on all analytics are readily available and can be exported in pdf format.
Conclusion
In conclusion, the key for a structured hiring process is standardization, which entails creating processes in the recruitment funnel with which all of the applicants for a job will be filtered through. Through standardization, you can eliminate inconsistencies and sunken time, while also drastically improving the candidate experience, and the candidate screening and evaluation process.
You can maintain a positive candidate experience for all your candidates with career pages, custom application forms and automated emails, while standardizing candidate screening and evaluation will ensure that you are advancing the right candidates through the hiring process, and that you are making an effective use of your time in the meantime.
All in all, recruiting with Hirebee's is the best solution for all hiring teams looking to better structure their hiring process. With real-time reports on recruitment metrics and analytics, you can leverage some of our best time-saving tools while maintaining the efficiency and integrity of your recruitment process.