Recruitment Marketing: A Must in a Changing World
At a time when companies now have access to a large and diverse talent pool owing to COVID-19 and remote working, recruitment marketing remains a significant tool within the talent acquisition arsenal.
As workplace practices and job landscapes continue to change, there is a need to find a feasible solution so that we might fill in some of the gaps in the current recruitment landscape. As a result, the power of virtual recruitment and associated tools remain significant for talent acquisition individuals and employers for turnover. Technology will prove highly beneficial in optimizing the HR function and managing through recruitment marketing.
HireBee's role in the evolving job market is to equip recruitment agencies and businesses with the necessary tools to increase their visibility and to streamline all the recruitment functions. Our users leverage a branded career page, branded job posting, social sharing and recruitment marketing analytics to achieve automation and a wider reach and appeal in the job market.
Branded Career Page 
Recruiters may create their own branded career page quickly and effectively. When they sign up for an account, they are able to leverage Hirebee's user-friendly interface to communicate their company stories through articles, videos, and photos. Companies are also able to back this up with relevant content to familiarize candidates with their company culture and visions. Companies can further increase their visibility by linking their social media pages such as their Twitter, LinkedIn, and Facebook, as well as by integrating their career website to reveal job opportunities to prospective candidates.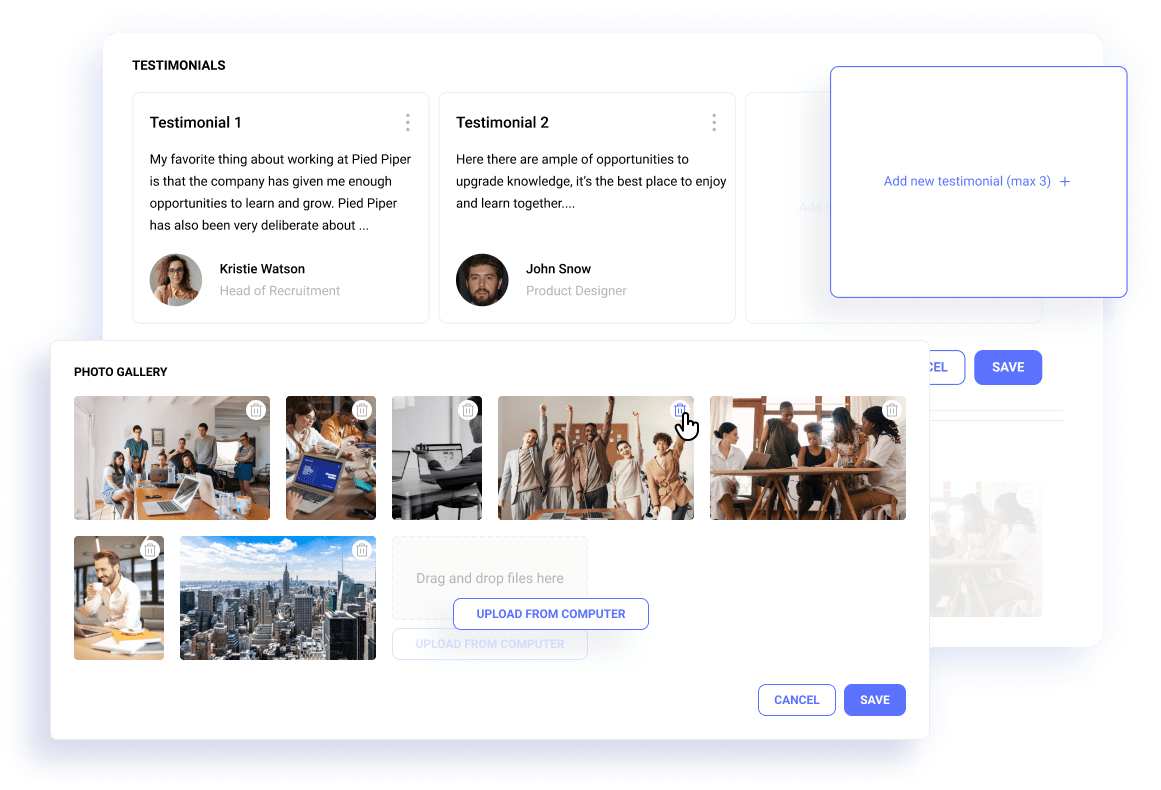 Branded Job Posting
Companies are able to go a step further with their visual and customizable tools and move past stereotypical job descriptions. Such branded postings can also help bolster the candidate experience as employers can use quizzes and gaming to engage prospective candidates through job postings.
With plentiful capabilities such as job requisitions and integrations with more than 50 thousand job boards, companies can distribute their vacancies across all the corners of the internet without ever leaving the platform! Once distributed, hiring managers and recruiters will be able to track and manage their distributes job postings, all through one platform, centralizing the entire recruitment process and making managing the recruitment process that much easier.
Social Sharing With Visuals
A big part of virtual recruiting today is the ability to use outreach to tap into a vast and diverse talent pool. By integrating a company's social media links with HireBee, you can start posting vacancies directly from the dashboard. The visual studio tool can help direct images from a company's gallery to their respective social media pages and further engage candidates.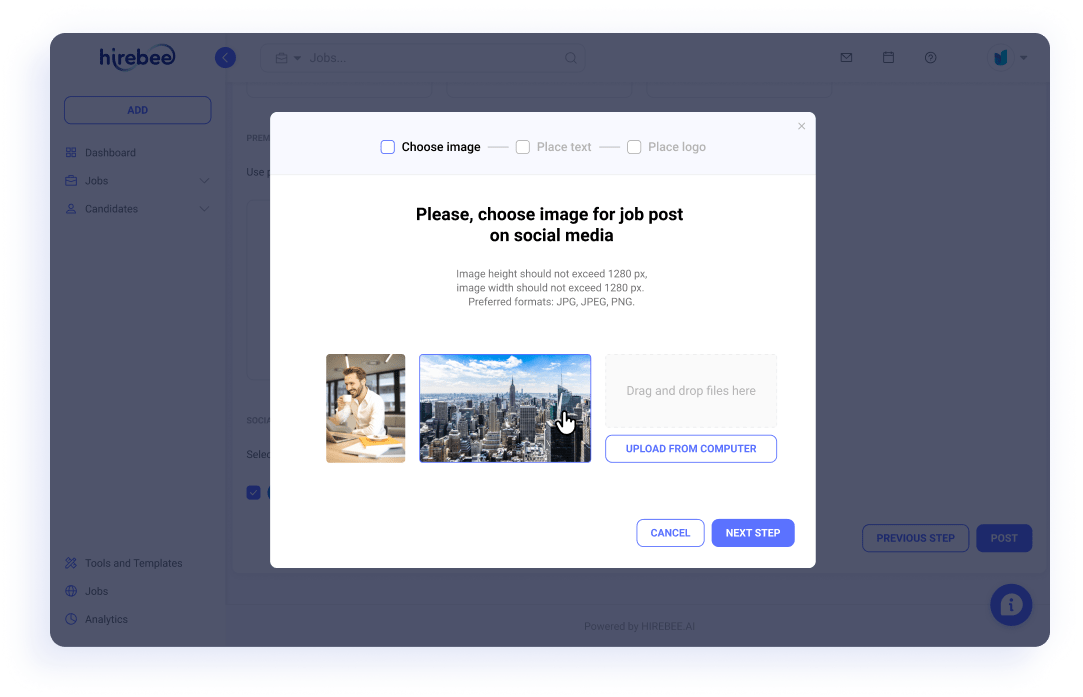 As social media continues to grow and engage with people from all walks of life, it presents a huge marketing opportunity not only for businesses, but also for employers developing an employer brand. In fact, 79 percent of job-seekers use social media in conducting their search for a job. Not being present in the spaces where your target audience is most present is staying out-of-touch, and HireBee is here to help you plug in and tap into potentially one of your most important recruitment channel.
Recruitment Marketing Analytics
Developing an employer brand may be hard, but it's even harder when you don't have key insights into your progress. With HireBee, you will be able to track and assess progress in your employer branding efforts with key recruitment marketing analytics which illustrate your visibility and success on your respective recruitment channels. Company page views, applicants by source, and other key recruitment marketing analytics are accessible with HireBee.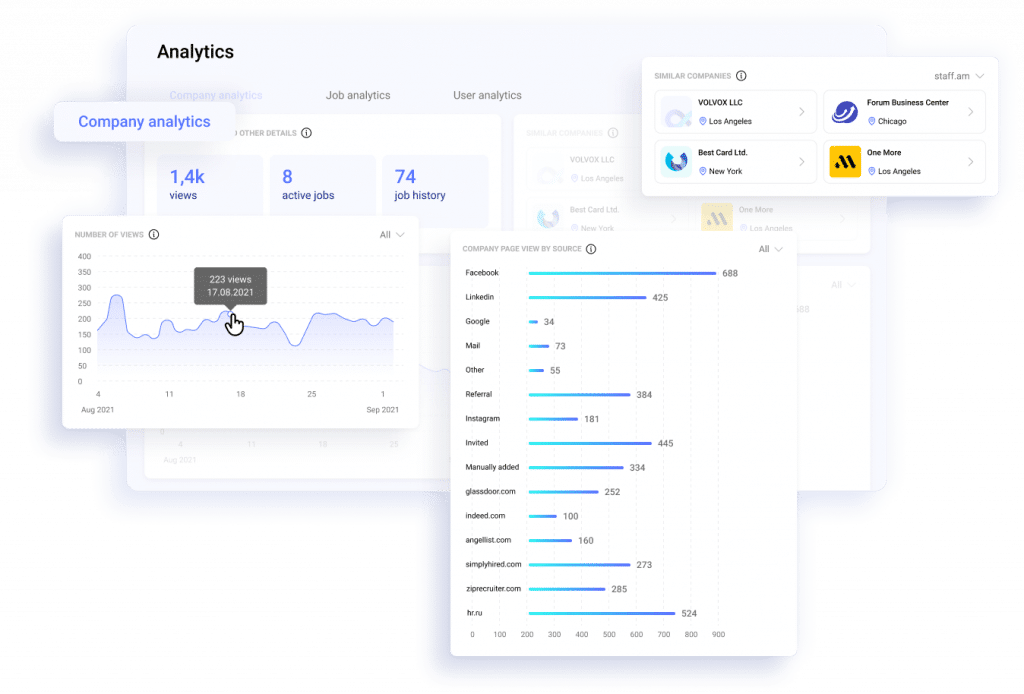 Recruitment marketing today is all about standing out from the crowd and presenting something different. Businesses need to adapt with these changing dynamics in the market and plug into the new reality.