Let's start with HRTech market overview
Recruitment software platforms, applicant management systems and other HRTech products have been around for more than a decade already. For the past several years, with the rise of cloud technologies, a new era began for the mid-market segment, which started to gradually emerge to take a tangible market share. In this new era of cloud technologies, companies with as small as 50 people, started to use applicant tracking and recruitment management software to automate manual tasks, to have a more structured and documented approach in human capital management (HCM).
Global HRTech market is quite established, well developed but not yet saturated. It is calculated at the level of $16.7B in 2019 and is predicted to grow to $26.5B in 2024. Some statistics for you to have a better idea how HRTech market spending has grown for the past several years, with geography breakdown.
(Source: https://www.marketsandmarkets.com/Market-Reports/human-capital-management-market-193746782.html)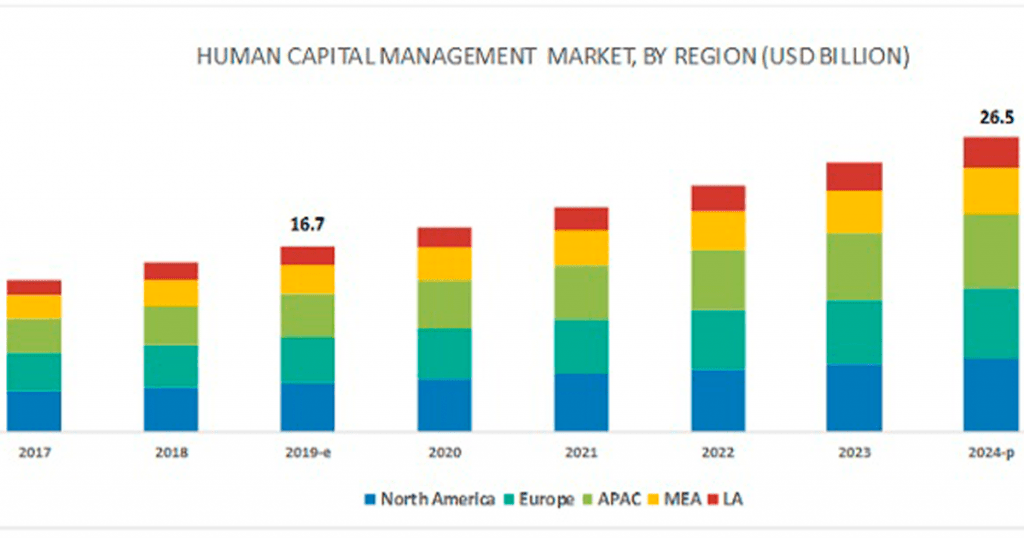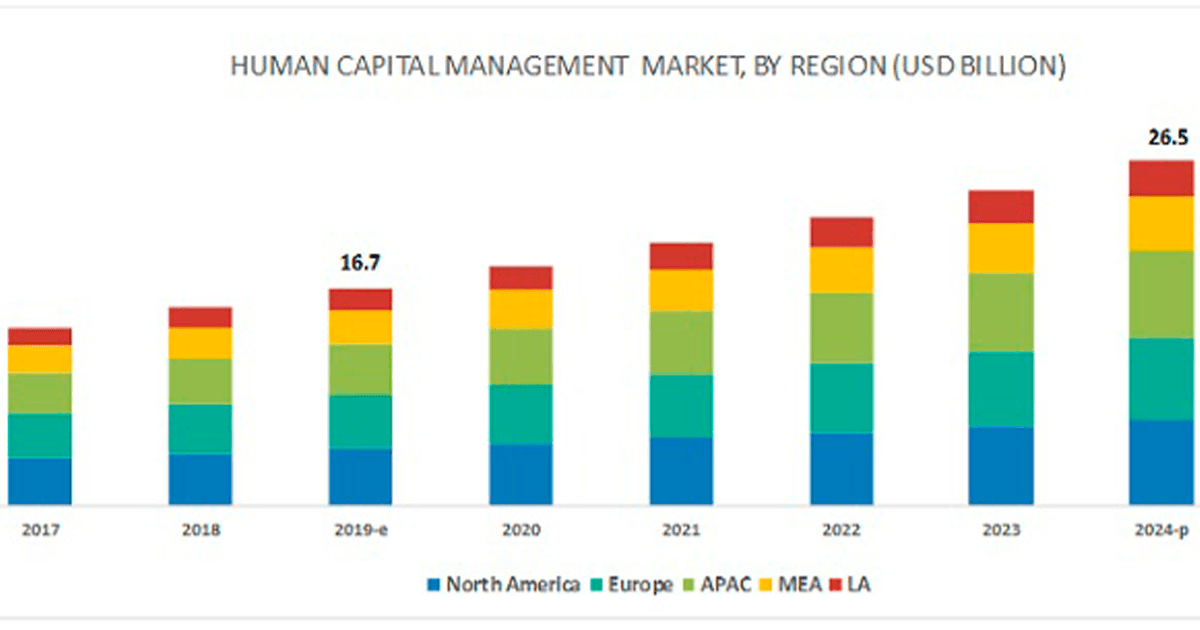 Some conclusions from this study, that I want to share with you.
Global HCM Market is expected to grow from $16.7B to $26.5B in 2024
Cloud deployment type is driving the market growth.
Asia Pacific region offers new opportunities for the HR market.
SMEs are adopting HR software at a faster rate.
HRTech Consumption in SMB (small and midsized) companies
Now that you have a better understanding of the recruitment software global market, its regional breakdown and growth trends, I want to draw your attention to the following.
As per SBE Council there are half a million companies in the US only, whose teams are ranging from 20 to 100 employees. However, according to a research conducted by Bernie Portal in 2019, only 36% of SMBs use recruitment software, the other 64% heavily rely on manual posting on job-boards, email communication and shared drives to source candidates and collaborate with the team on hiring decisions.
To find out why the level of digitalization is so low, even in quite digitized countries like the US, we surveyed some of our clients, to reveal the factors, which influenced their decision to switch to an applicant tracking and recruitment software. 50 interviews with leading talent acquisition specialists from SMBs helped us dig into the main obstacle in purchasing an ATS. And here it is. Human Resources is a cost center for companies (unless it's a staffing agency), so to justify any expenditure human resources function needs to provide a solid rationale and calculations on how the new software will help the company and what the ROI will be. The survey gave me an idea to calculate for myself how much time on average 1 recruiter, working in a company with 200 employees saves with a good ATS platform. The results were interesting and I need to share with you.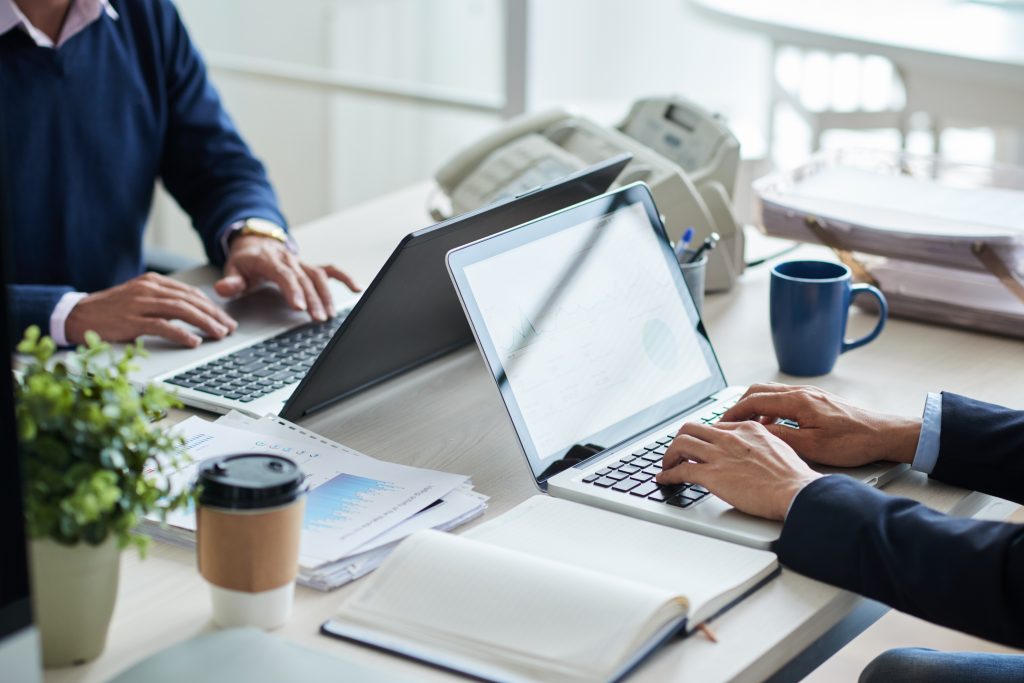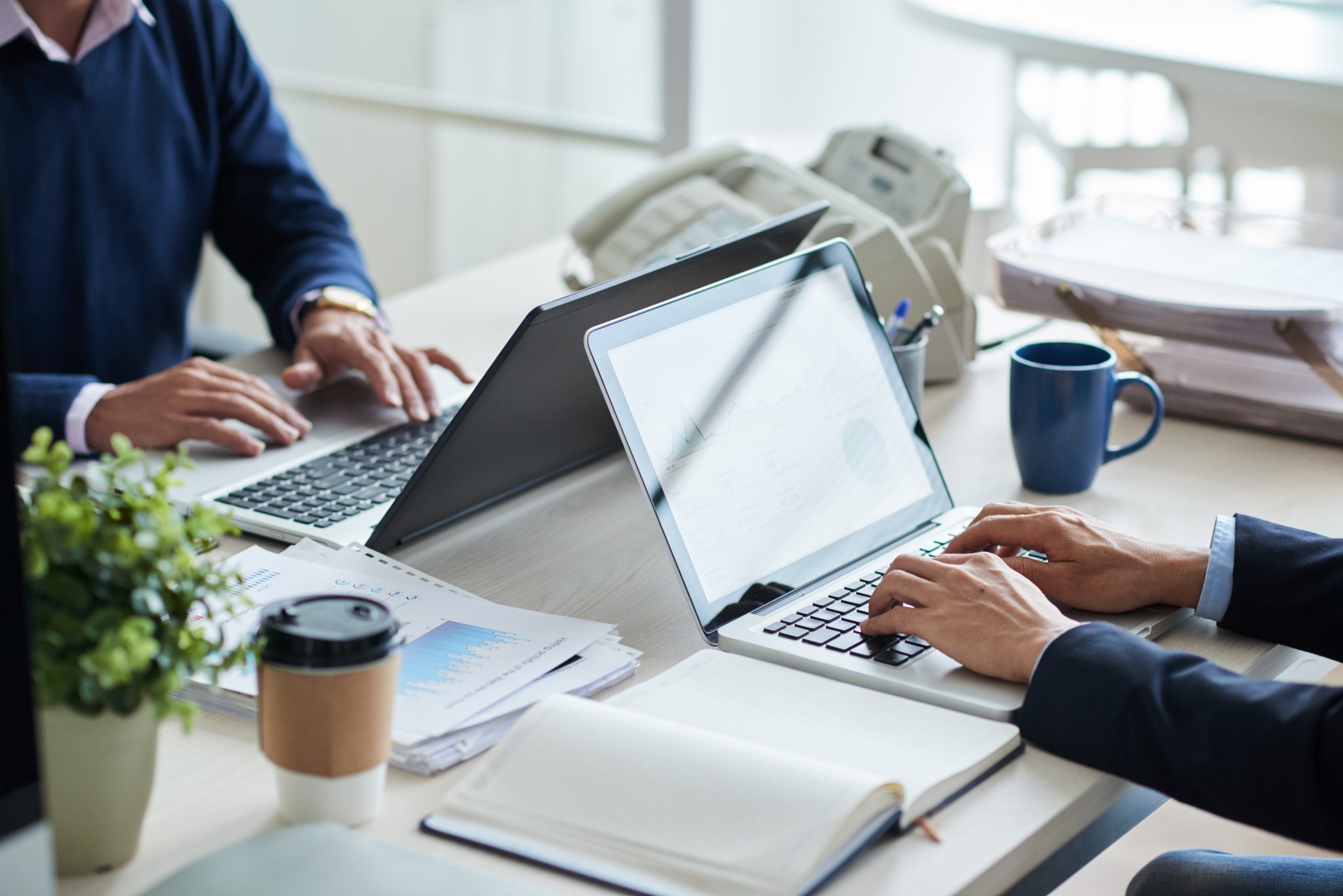 Some observations and assumptions before we start
In my calculations, I utilized estimated durations of individual activities taken from industry best practices, my own experience and from feedback received by my recruiter friends. Before we get to actual calculations, let's make some assumptions as well.
Average recruiter sources up to 400 candidates per open job position, this includes using social media, specialized career sites, company's internal database, etc.
On average jobs are advertised on at least 5 job boards, like Monster, Indeed, etc.
Average open job position has from 80-100 initial shortlisted candidates, the rest are being filtered out from the first screening stage.
Total number of regret letters sent at the end of each recruitment cycle is 395 out of 400 candidates.
And finally, the last assumption – each recruiter works 8 hours a day, with on average 20 work days a month. So total hours worked per week is 160.
Actual Calculations
Recruitment Activity/Action
Time spent on activity without use of software
Time spent on activity with use of software
Recruitment software features, which help to save time
Total savings
Composing job description and the requirements
40 mins
20 mins
Database of job description templates, job requirement suggestions, previous job descriptions saved in the system with easy-to-retrieve tools
20 mins
Posting the vacancy on third party job-boards
5 x 7 mins=35 mins
1 min – ticking and unticking from offered options
Most applicant tracking software are integrated with hundreds and even thousands of job hunt platforms, and automatically post vacancies there. Plus advanced ATS products have APIs to integrate with the company career page and arrange posting with a click of a button.
34 mins
Candidate sourcing
(career sites, social media, email database, etc).
400x1min=400mins
400×0.5mins=200mins
Many of modern ATS platforms have built in sourcing tools to search third party databases and establish contact directly from the ATS dashboard.
200 mins
Keeping candidate CVs organized.
400×0.5min=200mins
0 mins
ATS software platforms are built to solve all kinds of sorting and organizing problems. Recruiter can easily sort shortlisted applicants, create a group for part time remote working designers and easily access the CVs, just to name a few.
200 mins
Application consolidation and screening
400x2mins=800mins
400×0.5mins=200mins
Recruitment software allow to quickly consolidate all received CVs in one place. Parsing feature adds more convenience in searching the database. While advanced platforms like Hirebee.ai have AI powered screening, which ranks candidate CV and helps save even more time.
600 mins
Direct communication with the candidate, including sending tasks, scheduling interviews, etc.
100×1.5mins=150mins
100×0.1mins=10 mins
No need to open Outlook or G-Suite, you can integrate it to your ATS dashboard, and manage all recruitment related communication from one-central point. Saves a lot of time when sending tasks and collecting results.
140mins
Collaborating with the team of recruiters and/or hiring managers.
100x3mins=300mins
100×1.5mins=150mins
Modern applicant tracking software provide tools for team collaboration, like interview scorecards, where the recruiter and hiring team can input their feedback and collaborate more effectively.
150mins
Creating a list and sending regret letters to candidates who were not selected.
395x2min=790
1minute
Applicant Tracking software platforms have a number of cool features to automate personalized regret letter sending in bulk. Recruiters can send hundreds of emails automatically with just a click of a button.
789 mins
Total minutes saved per job per recruiter
1,988mins=33hours=20% of recruiters time
33 hours, impressive , huh? Moreover, the above calculations are done for general purpose tasks and for simple job positions. In case if the team is bigger, more screening and interview stages are required, or the company receives more than 400 applications, then the figure can go up to double.
Summing up calculations
By using a designated recruitment software, on average an SMB company:
Saves up to 20% on recruitment time, which is 2.4 months a year per each recruiter
Saves money, equivalent to 2.4 times the recruiter's salary. According to salary.com, average Recruiter salary as of February, 2020 is $56,000. So your annual savings per recruiter is $11,200. If you have a team of 200 people and at least 2 recruiters, your annual savings will comprise $22,400.
Now let's calculate the ROI (return on investment). For a company of 200 people, the average annual cost of mid-market applicant tracking and recruitment software will range from $3,000 to $4,000 depending on recruitment volume in the company. ROI=($22,400/$4000)*100%=560%. So, we are talking about 560% ROI here. Impressive isn't it?
Before you go and start looking for the right applicant management software…
I hope you are thinking about getting an applicant management software right now, but before you go there is something you should know. In my table above, I have put just the basic ATS features, which help recruiters save time. Modern ATS platforms have a lot more to offer. So for you to have a better idea how advanced today's applicant software are, I have selected 5 cool features from Hirebee.ai that will take your recruitment to a new level.
Artificial Intelligence in recruitment – our in-house data scientists team has gone the extra mile so Hirebee.ai users can utilize all the power of machine learning to screen candidate CVs and cultivate unbiased hiring within the company. Artificial intelligence is an emerging technology in HR, and our platform heavily utilizes its advantages.
Collaborative hiring – having good collaborative practices within a company is vital in today's workplace. Hiring decision is a serious business, it is not a one-man-show. Hirebee sets a new edge in collaborative hiring. You can invite your team to collaborate on candidate selection process, create job specific candidate scorecards, create candidate history with ease and customize your team's user hierarchy and structure.
Advanced integrations – these guys are real time savers, here is what we provide. Direct integrations to 50,000+ job and career sites worldwide, from indeed.com to more niche oriented platforms like healthcare or agriculture. In addition to multi-platform posting, Hirebee offers a targeted database of potential candidates, which can cut in half the time a recruiter on average spends on sourcing.
Employer brand and recruitment marketing – today's recruitment market is candidate-centric, meaning talent acquisition leaders need to take care of the company's employer brand to attract the best talent. Hirebee utilizes the power of social media, and takes recruitment marketing to a new level with an appealing built-in visual studio, well designed and structured career page and other cool tools. We provide the platform, you bring creativity.
Advanced customization – Hirebee is well designed to solve all your hiring needs from one central dashboard. Not only can you do a lot of customization right from your dashboard, but you can request an individual quote for developing new features or customizing existing flow tailored for your company. We provide very affordable pricing and skilled business analysts, to build a customized solution for your team.
READY TO START YOUR FREE TRIAL NOW?
You get to use all our features free of charge for a whole month. By the way no credit card is required to register. Want to learn more about the product before taking an action, view our Product Guide now. REGISTER FOR FREE TRIAL