Challenges of Virtual Job Interviews
Both virtual and in-person job interviews have their advantages and their disadvantages, however the former is rapidly taking speed and at the expense of the latter. With Covid-19 having largely amplified the trend of getting things done remotely, virtual job interviews are on the rise. And as the trend of remote working has gained speed, more companies have started hiring globally, making virtual job interviews necessary for some looking to expand their talent pool to foreign labor markets.
Today we look at some of the challenges that may arise when conducting a face-to-face interview vs online interview.
Limited Body Language Evaluation
Probably one of the biggest challenges in virtual job interviews is the limited body language that the interviewer can evaluate. Body language can say a lot about the candidate's personality, confidence levels, focus, their attitude and many more traits which can be important in determining whether they're the right organizational fit.
Very important indicators are missing during virtual job interviews, indicators which make the job interview process lucrative. The posture of the candidate, eye contact, their clothes, hand movements, the way they greet the interviewers, their handshake and even their departing farewell, are all things that the best job interviewers pick up on and take note of. Not having these indicators can hurt the decision-making process, and could potentially lead to the company not always hiring the right person
Building Rapport
Another problem that may come with virtual job interviews, which is connected with limited body language expressions through video interviews, is building rapport. Through the web, it may be harder to connect with the job candidate because the interaction is not face-to-face. Smiles, nods, head tilts and other social cues may be harder to pick up on and empathize with. It's just more difficult to remember these things which come to us naturally when we socialize in-person. However, candidates and interviewers alike will need to make active efforts to remember to transmit and pick up on social cues.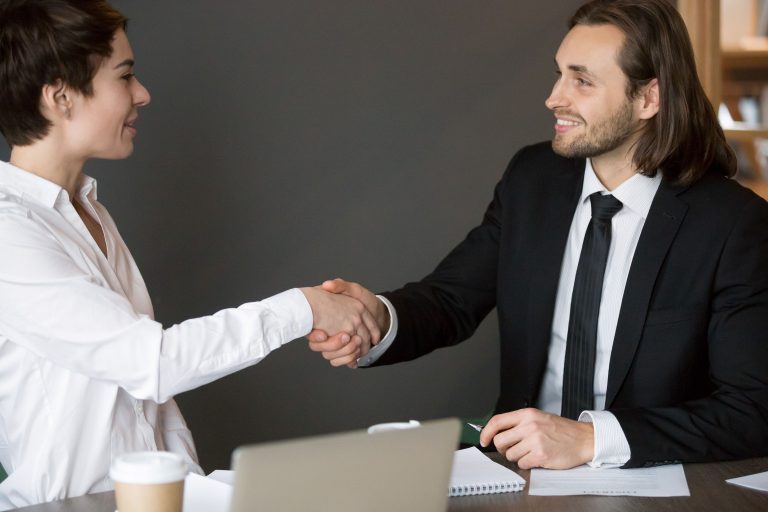 Demonstrating Company Culture
With in-person interviews, candidates enter the office, are greeted by staff, and can examine the area and the people within. It is equally as important for the candidate to be able to acquire a first impression of the working place and the company culture in-person. This can't be done with virtual job interviews.
This challenge is not only posed with remote job interviews, but also with many different remote activities, such as remote working. Remote connections with people are weaker than personal connections and this may get in the way of work-life integration. This alone however shouldn't be of great concern if the business successfully establishes team building practices, where remote co-workers can get to know each other better. This may be particularly important, since work-life integration will not go smoothly without better connectivity.
Technical Issues
Last but not least, there may be technical issues standing between the way of virtual job interview success. In-person interviews are pretty standard, the only issue of accessing the interview may be locating the office where it will be held. Whilst for virtual job interviews, unclear instructions of how and when the interview will be conducted may result in some confusion.
This is why it would be useful to standardize the video interviewing process, where the interviewer will know through what platform the interview will be conducted, how the interview will be conducted and how the candidate will be alerted. And video interview scheduling is made easier with recruitment software like Hirebee. Customized workflows, email templates, candidate communication automation, and integrations with Zoom and Google/Outlook Calendars allow you to easily create and send interview links with the scheduled date and time in an automated manner, adding the meeting to your calendar.
Other technical issues such as bad internet latency, broken equipment (microphone, webcam, computer, etc.) or just bad audio or camera quality may also deteriorate the interviewing process.
Benefits of Virtual Interviews to Compensate
It would be unfair to end this article with such negativity. As mentioned, in-person and virtual job interviews both have their upsides and downsides. The purpose of this article is to mainly shed light on some of the challenges faced by virtual job interviews, as to debunk misconceptions that they are always better than in-person interviews. However, it feels necessary to also include the main advantage of virtual job interviews, which can be so huge for some that these challenges don't even matter.
This advantage is saving time. Virtual job interviews are conducted faster, without any transportation needs, and can hence increase the availability of both parties for an interview, making interview scheduling faster and easier. Furthermore, Zoom and other video conferencing tools allow users to record meetings, which can then be reviewed later by the team.
Virtual job interviews can also be asynchronous, which means that it is pre-recorded by both parties. This further eliminates interview scheduling needs, and empowers recruiters to review interviews at their own time, making the process faster. Although this in itself has its disadvantages, such as not being able to build rapport, not being able to be spontaneous, and making the process feel less like a conversation and less human.
In conclusion, conducting job interviews remotely has challenges that you should be ready to take on if you want to reap its time-saving benefits. Evaluate thoroughly whether you'll be ready to face these challenges, and if you are going to be expanding your talent pool and remotely hiring globally, you'll have no other choice!