In today's interconnected world, the dynamics of office culture have emerged as a pivotal factor in shaping organizational success and employee well-being. As businesses expand globally, an understanding of the diverse nuances that define office cultures becomes essential.
This exploration delves into a comparative analysis of office cultures between the United States and Europe, two influential regions with distinct historical, societal, and cultural underpinnings. By examining the divergent approaches to communication, work-life balance, organizational structure, professional relationships, and more, this study aims to shed light on the multifaceted ways in which cultural factors impact workplace norms and interactions.
Through this exploration, we gain insights into the contrasting values, practices, and expectations that define work environments on both sides of the Atlantic. As the global workforce becomes increasingly interconnected, this analysis underscores the importance of cross-cultural understanding for fostering productive, harmonious, and inclusive workplaces in an ever-evolving professional landscape.
Hirebee includes all of the tools that you need to improve your ATS system, such as automated recruitment features like job distribution, candidate relationship management, and recruitment analytics.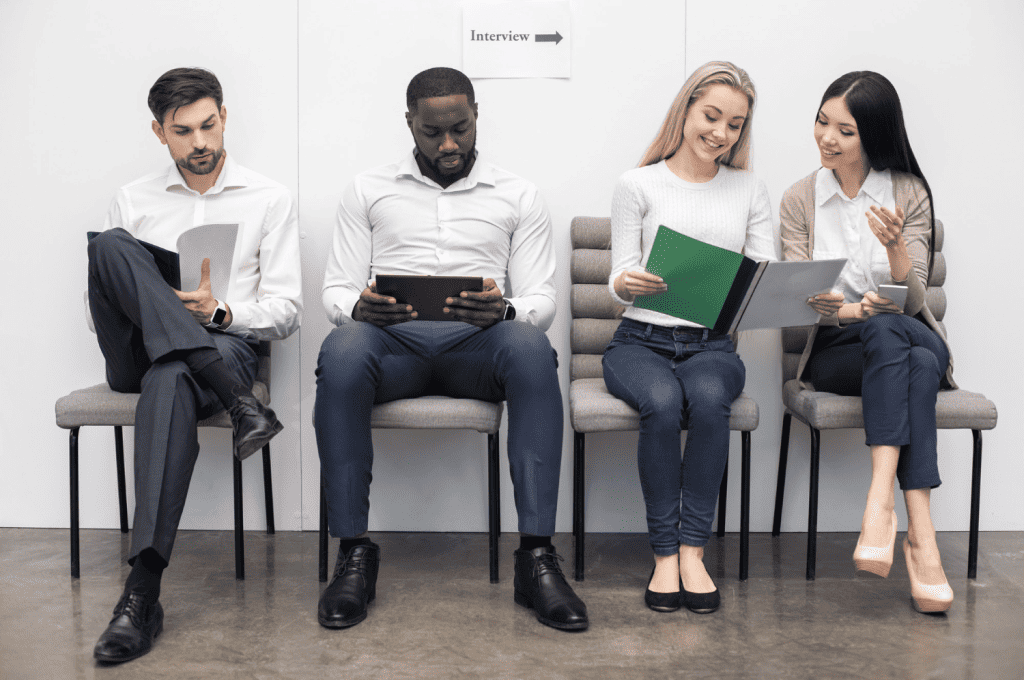 Cultural Factors Shaping Office Cultures
The distinctive office cultures found in the United States and Europe are deeply influenced by a complex interplay of cultural dimensions and historical contexts. Cultural factors play a pivotal role in shaping workplace behaviors, norms, and values. Four primary cultural dimensions – individualism-collectivism, power distance, masculinity-femininity, and uncertainty avoidance – significantly impact the divergent office cultures between these two regions.
In the United States, a strong emphasis on individualism fosters an environment where personal achievement, initiative, and self-expression are highly valued. This cultural inclination aligns with a relatively low power distance, where hierarchies are flatter, and communication is more direct and participative. The American office culture reflects a balance between task-oriented assertiveness and fostering interpersonal relationships.
In contrast, European office cultures often manifest a more collective orientation, prioritizing group cohesion and shared goals. The varying degrees of power distance across European countries give rise to distinct communication dynamics. While certain European nations embrace more egalitarian communication styles, others maintain a formal hierarchy with a pronounced power gradient.
Masculinity-femininity influences work values, with the United States emphasizing assertiveness, material success, and competition, while parts of Europe emphasize quality of life, work-life balance, and social responsibility. Additionally, differing levels of uncertainty avoidance contribute to varied approaches to risk-taking and adaptability in both regions' workplaces.
These cultural dimensions, shaped by historical, societal, and regional factors, interact to form the foundational elements of office cultures in the United States and Europe. Understanding these dimensions provides a nuanced lens through which we can dissect the diverse behaviors, norms, and practices that define the professional landscapes on either side of the Atlantic.
Communication Styles
Effective communication is a cornerstone of successful workplace interactions, and the divergent communication styles between the United States and Europe significantly impact office cultures. These differences stem from varying cultural norms, historical contexts, and social expectations, shaping how individuals convey ideas, collaborate, and build relationships within the professional sphere.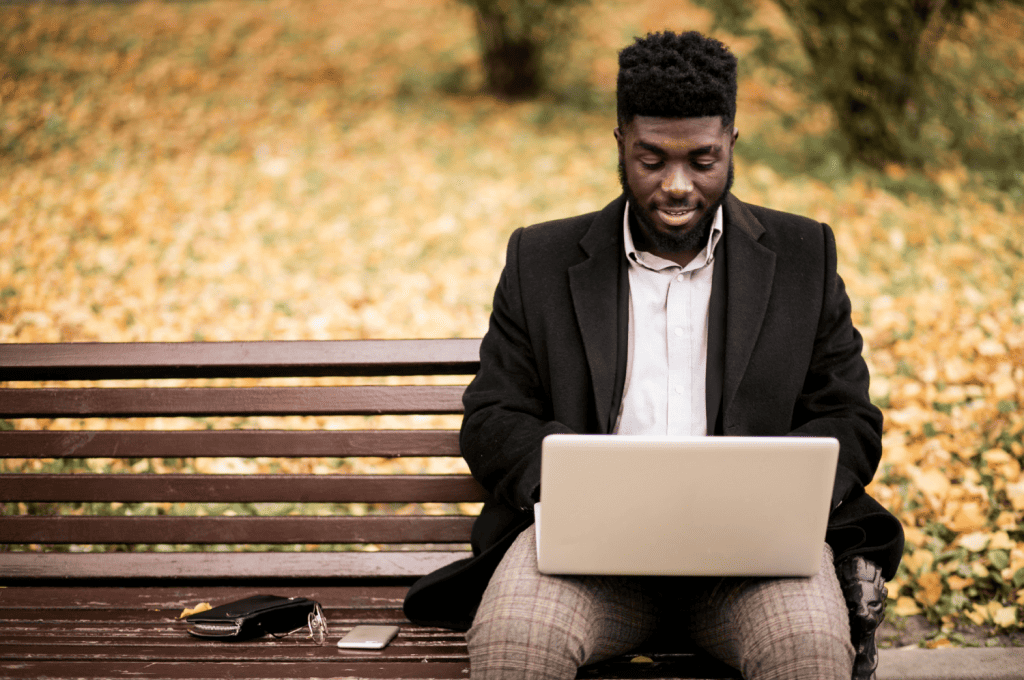 In the United States, direct communication is highly valued, reflecting the culture's emphasis on efficiency and clarity. Expressing ideas succinctly and forthrightly is the norm, enabling quick decision-making and goal-oriented discussions. Openness to voicing opinions and challenging ideas, regardless of one's position in the hierarchy, is considered a positive attribute. This communication style contributes to a dynamic and innovative work environment, fostering adaptability and responsiveness to change.
Contrastingly, European communication styles often lean towards indirectness and nuance. A rich tapestry of cultural histories and languages has cultivated an appreciation for subtlety and context. People prioritize maintaining harmonious interactions and avoiding potential conflicts, which may lead to diplomatic phrasing and reading between the lines. Hierarchical structures influence communication patterns, with formal language and respect for authority playing a significant role in dialogues.
Moreover, the approach to hierarchical vs. egalitarian communication diverges. In the U.S., interactions tend to be egalitarian, with a strong inclination toward informal, approachable conversations. This contributes to a collaborative atmosphere where ideas can flow freely across various levels of the organization. In Europe, respect for hierarchical distinctions might lead to more structured interactions, with formalities observed when addressing superiors or colleagues of differing ranks.
In conclusion, the communication styles in the United States and Europe are rooted in cultural values and historical legacies. Directness and efficiency characterize American communication, while Europe's nuanced and hierarchical approaches emphasize context and respect. Understanding these differences is crucial for effective cross-cultural collaboration and can enhance global business relationships. Both styles offer unique strengths, and recognizing their nuances can lead to more inclusive and successful communication strategies in today's interconnected world of work.
Work-Life Balance
Work-life balance is a fundamental aspect that showcases significant disparities between office cultures in the United States and Europe. Both regions approach this concept differently, reflecting broader cultural values and societal priorities.
In the United States, a strong emphasis is often placed on productivity and individual achievement. The prevailing sentiment revolves around a robust work ethic, where longer working hours and a diligent commitment to one's career are often celebrated. This perspective, however, can sometimes lead to a blurring of boundaries between professional and personal life. Many American professionals find themselves struggling to disconnect from work, leading to potential burnout and stress-related issues. While recent trends have seen increased recognition of the importance of work-life balance, the cultural inclination towards valuing work achievement remains ingrained in the American office culture.
Conversely, European office cultures, influenced by a more holistic approach to life, tend to prioritize work efficiency and personal well-being. European countries, known for their generous vacation allowances and legally mandated breaks, encourage employees to take ample time off to recharge and maintain a healthy work-life equilibrium. This approach not only contributes to individual well-being but also boosts overall workplace morale and productivity. The European model, however, may occasionally result in longer decision-making processes and a slower pace of work due to its focus on maintaining personal time and leisure.
In conclusion, the varying approaches to work-life balance in the United States and Europe reflect deeper cultural attitudes towards career, individuality, and overall well-being. While the United States emphasizes career-driven achievement, Europe values a more comprehensive approach that promotes personal welfare alongside professional success. As the global workforce continues to evolve, understanding and appreciating these nuanced differences will contribute to more effective cross-cultural collaboration and enhanced workplace satisfaction.
Organizational Structure and Decision-Making
Organizational structures and decision-making processes offer revealing insights into the contrasting office cultures between the United States and Europe. These differences are emblematic of broader societal norms and historical influences.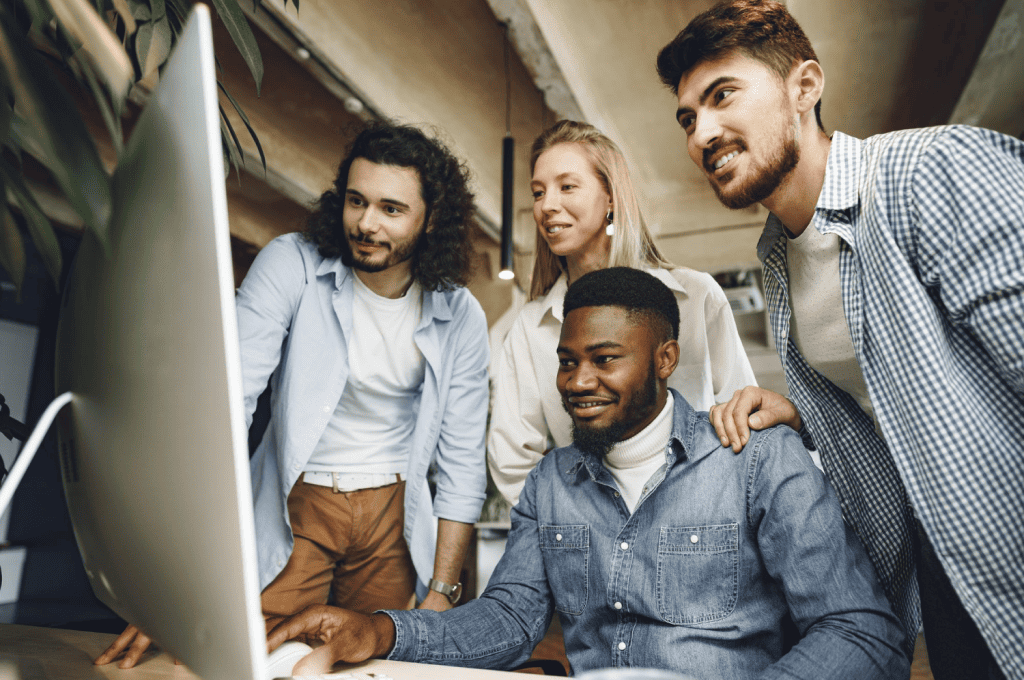 In the United States, a penchant for autonomy and decentralized decision-making prevails. Fostering a culture of innovation and individuality, organizations often exhibit flatter hierarchies and embrace cross-functional teams. The ethos of empowering employees to make decisions encourages creativity and rapid problem-solving. This approach aligns with the American emphasis on self-determination and personal initiative, wherein professionals are encouraged to voice their ideas and contribute to decision-making processes. Flexibility and adaptability are cherished attributes, allowing companies to navigate dynamic market landscapes with agility.
Conversely, Europe's office culture leans towards more centralized decision-making and a clearer hierarchy of authority. This approach stems from historical roots, where monarchies and traditional social structures shaped the organizational landscape. Collaborative consensus-building is valued, reflecting the region's collective and community-oriented values. Decision-making processes are often deliberate and inclusive, with an emphasis on maintaining harmony within the organization.
Furthermore, European workplaces tend to maintain distinct role demarcations and specialization. This approach enhances clarity in responsibilities, which can contribute to stability and effective execution of tasks. The hierarchical structure allows for a sense of order and discipline, with individuals relying on established authority for guidance.
In conclusion, the differing organizational structures and decision-making approaches in the United States and Europe reflect their unique cultural underpinnings. The USA's emphasis on individual autonomy and adaptable structures contrasts with Europe's reverence for hierarchy and collective decision-making. These distinct paradigms significantly influence office dynamics and interactions, revealing the intricate interplay between cultural norms and professional practices. As workplaces continue to evolve, understanding and appreciating these diverse approaches become paramount for effective cross-cultural collaboration.
Professional Relationships
In the intricate tapestry of office cultures, the dynamics of professional relationships serve as a focal point of distinction between the United States and Europe. These divergences reflect the broader social and cultural disparities that shape how individuals interact within the workplace.
Collegial vs. Professional Relationships:
In the United States, the demarcation between professional and personal spheres is often blurred, giving rise to a collegial atmosphere where work relationships frequently extend beyond the confines of the office. Conversations may seamlessly oscillate between work-related matters and personal anecdotes, fostering a sense of camaraderie. This informal camaraderie can contribute to enhanced teamwork and collaboration.
Conversely, Europe tends to uphold a clear demarcation between work and personal life, leading to more compartmentalized professional relationships. Interactions are more formal and focused primarily on work matters, fostering a sense of professionalism and delineation between personal and work spheres. While this approach may uphold a higher degree of decorum, it could potentially limit the depth of personal connections within the workplace.
Networking and Relationship-Building Practices:
Networking in the United States is not merely an activity; it's a culture. Professionals actively engage in networking events, seeking to establish connections that can fuel career progression. This proactive networking aligns with the American ethos of self-promotion and leveraging relationships for personal advancement.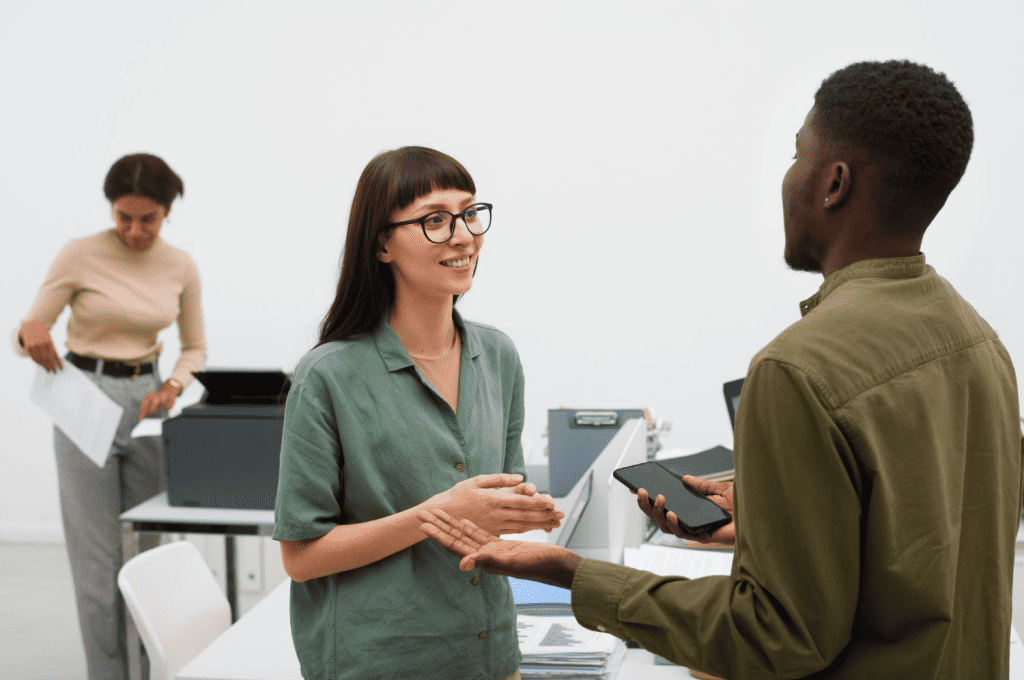 In Europe, networking tends to center around building long-term, trust-based relationships. Connections are formed gradually, often through mutual acquaintances, and are nurtured over time. The emphasis on trust and credibility underpins a more reserved approach to networking, as relationships are considered valuable assets requiring careful cultivation.
In conclusion, the realm of professional relationships in the workplace underscores the contrasting values and norms between the United States and Europe. While the United States embraces a collegial and open approach, Europe maintains a more formal and reserved demeanor. These nuanced differences reflect the broader societal attitudes towards work and personal boundaries, shaping the interactions and collaborations within their respective office cultures.
Conclusion
In conclusion, comparing office cultures between the USA and Europe reveals fascinating distinctions rooted in cultural dimensions, historical legacies, and societal norms. While the USA prioritizes direct communication, individual achievement, and extensive networking, Europe values nuanced interaction, work-life balance, and hierarchical decision-making. Both approaches have strengths and considerations, fostering diverse workplace dynamics. As globalization continues, understanding these differences becomes crucial for effective cross-cultural collaboration. By appreciating the unique attributes of each culture while embracing the potential for mutual learning, organizations can navigate the complexities of a globalized workforce and cultivate inclusive, innovative, and harmonious work environments.
Hirebee makes it much easier to optimize your trading process through improved job distribution and automated recruitment marketing.
FAQs
Why is understanding office culture differences between the USA and Europe important?
Understanding office culture differences between the USA and Europe is crucial for fostering effective communication, collaboration, and productivity in a globalized business environment. Recognizing and respecting these differences can help avoid misunderstandings, enhance cross-cultural interactions, and promote successful professional relationships.
How do cultural dimensions influence office cultures in the USA and Europe?
Cultural dimensions such as individualism vs. collectivism, power distance, masculinity vs. femininity, and uncertainty avoidance significantly shape office cultures in both regions. For instance, the emphasis on individual achievement and direct communication in the USA contrasts with Europe's tendency towards hierarchical structures and nuanced communication patterns.
What are the key differences in communication styles between the two regions?
Communication styles differ notably between the USA and Europe. The USA places emphasis on direct and informal communication, valuing clarity and open discussions. In contrast, Europe tends to value formal and hierarchical communication, often utilizing indirect and nuanced language to convey messages.
How do work-life balance approaches differ between the two regions?
The USA typically prioritizes productivity and individual achievement, sometimes leading to longer working hours and limited vacation time. In contrast, Europe places a stronger emphasis on work efficiency and personal well-being, with more generous vacation allowances and a focus on maintaining a healthy work-life balance.
What are the distinctions in decision-making and organizational structures?
Decision-making approaches vary, with the USA favoring decentralized decision-making and flatter hierarchies, promoting autonomy and innovation. Europe tends to employ more centralized decision-making and defined hierarchies, often seeking consensus and stability.