The rapid advancements in technology have given rise to immersive experiences that extend beyond entertainment, infiltrating the realm of professional pursuits. Among these groundbreaking developments, Virtual Reality (VR) and Augmented Reality (AR) have emerged as transformative forces, reshaping industries and redefining conventional practices for recruitment marketing.
One domain profoundly impacted is the job interview process, a pivotal stage in every candidate's career journey. This essay delves into the intriguing fusion of VR and AR with job interviews, unraveling the ways in which these technologies revolutionize how employers evaluate, engage, and select candidates.
As traditional in-person interviews contend with limitations of time, distance, and objectivity, VR and AR promise to transcend these barriers, offering immersive environments for skill assessment, interactive simulations, and overcoming geographical constraints. Through this exploration, we unveil the captivating potential of VR and AR to not only modernize job interviews but also usher in a new era of inclusivity, accuracy, and enriched candidate experiences.
Hirebee includes all of the tools that you need to improve your ATS system, such as automated recruitment features like job distribution, candidate relationship management, and recruitment analytics.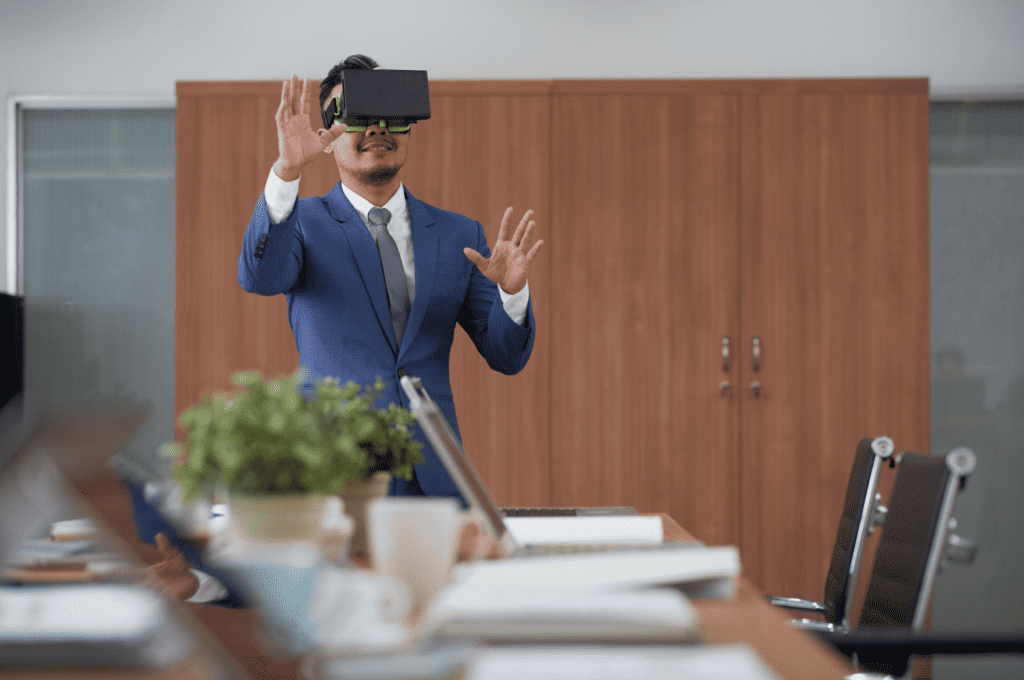 The Traditional Job Interview Process
The traditional in-person job interview has long been a cornerstone of the hiring process, providing employers with valuable insights into a candidate's qualifications, personality, and potential fit within the organization. Typically conducted in an office or conference room, these interviews involve face-to-face interactions that allow both the interviewer and the candidate to gauge each other's non-verbal cues, communication skills, and overall demeanor. However, the conventional approach presents several limitations and challenges.
Firstly, the physical constraints of in-person interviews can be restrictive, particularly when candidates are located in different cities or countries. This geographical limitation may hinder the ability to access a diverse talent pool and result in increased costs and time associated with travel. Moreover, the pressure and anxiety often experienced by candidates in unfamiliar settings can potentially lead to suboptimal performance, making it difficult to accurately assess their true capabilities.
Additionally, the consistency and fairness of traditional interviews can be compromised due to variations in interviewers' behavior, biases, and personal preferences. This can inadvertently result in unequal treatment of candidates and undermine the overall integrity of the hiring process. Furthermore, the conventional setting may not accurately reflect the day-to-day work environment, potentially leading to mismatches between candidate expectations and the reality of the job.
In light of these challenges, it is essential to explore innovative solutions that enhance the interview process, addressing issues of accessibility, fairness, and accuracy. Virtual Reality (VR) and Augmented Reality (AR) technologies offer promising avenues for transforming job interviews by creating immersive and customized experiences that better simulate real-world scenarios and enable more accurate assessments of candidates' skills and attributes.
Virtual Reality (VR) in Job Interviews
Virtual Reality (VR) technology has emerged as a groundbreaking tool in the realm of job interviews, revolutionizing the way candidates are assessed and selected. VR offers a unique and immersive experience by creating artificial environments that closely replicate real-life scenarios, enhancing the traditional interview process in several compelling ways.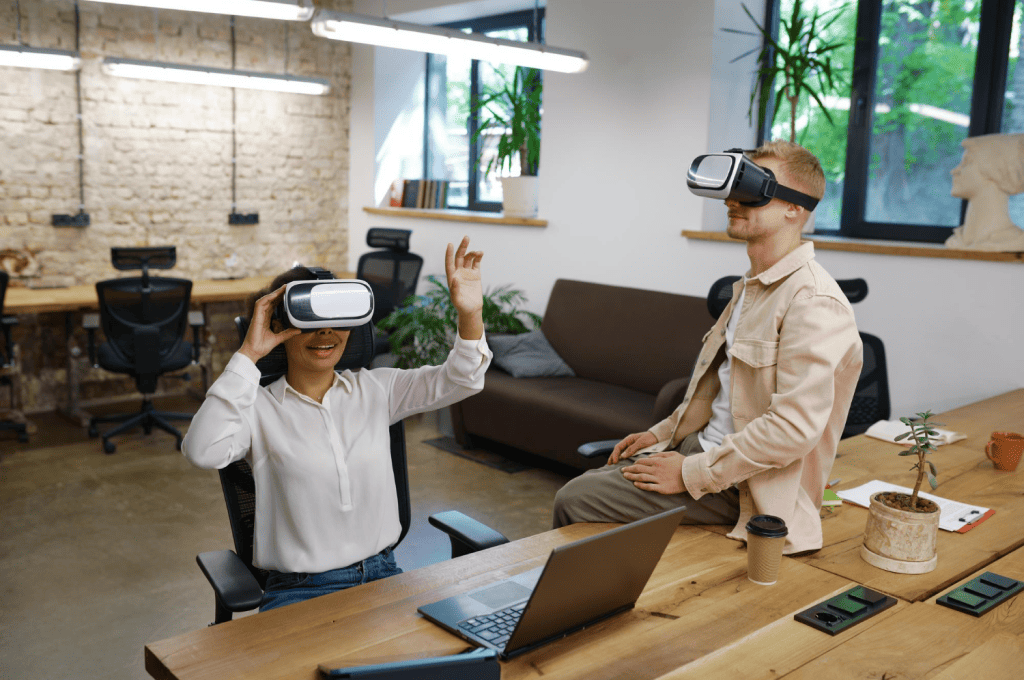 One of the key advantages of incorporating VR into job interviews is the creation of immersive interview environments. Candidates can be transported to simulated workplaces where they can interact with tasks, challenges, and scenarios that mirror the actual job responsibilities. This allows interviewers to evaluate not only a candidate's qualifications and responses but also their practical skills and problem-solving abilities in a more authentic context.
Furthermore, VR enables the assessment of skills through realistic simulations, transcending the limitations of traditional question-and-answer sessions. For instance, a software developer can demonstrate coding proficiency, an architect can showcase spatial understanding, and a customer service representative can handle simulated customer interactions. These simulations provide a comprehensive understanding of a candidate's capabilities and potential fit within the organization.
In addition, VR-driven interviews overcome geographical constraints, enabling organizations to connect with candidates regardless of their physical location. This is especially advantageous for companies seeking to hire talent from diverse geographical backgrounds or when travel is impractical. By eliminating the need for costly and time-consuming travel arrangements, VR interviews streamline the hiring process and extend opportunities to a wider pool of candidates.
However, it's important to consider potential drawbacks, such as technical challenges that might arise during VR interviews, including connectivity issues or hardware limitations. Moreover, some candidates may experience discomfort or simulation sickness, which could affect their performance. Despite these considerations, the transformative potential of VR in job interviews is undeniably promising, offering a glimpse into a future where interview assessments are dynamic, interactive, and remarkably reflective of real-world demands.
Augmented Reality (AR) in Job Interviews
Augmented Reality (AR) is a technology that overlays digital information onto the real world, enhancing our perception of the environment. In the realm of job interviews, AR offers a unique and innovative approach to transforming the traditional interview process.
AR's potential lies in its ability to seamlessly integrate digital elements into real-world settings, creating interactive and dynamic interview experiences. Imagine a candidate entering a physical interview room and, through AR-equipped glasses or a mobile device, instantly accessing relevant information about the company, job role, and even the interviewer. This real-time augmentation can facilitate more engaging conversations and enable candidates to demonstrate their knowledge and adaptability.
Furthermore, AR can be leveraged to assess a candidate's problem-solving skills and creativity. By presenting candidates with interactive scenarios and challenges that blend the virtual and real world, interviewers can gain insights into how candidates approach complex tasks in unfamiliar situations. For instance, an architect might be asked to visualize and redesign a physical space using AR tools during the interview.
However, integrating AR into job interviews comes with challenges. Ensuring a seamless experience, where digital overlays accurately align with the physical environment, is crucial to prevent distractions or frustrations. Moreover, interviewers must strike a balance between leveraging AR's capabilities and maintaining a fair and standardized evaluation process for all candidates.
As organizations explore AR's potential, it's essential to consider the accessibility and inclusivity of these technologies. Providing alternative options for candidates who may not have access to AR devices or who have disabilities is vital to ensure a level playing field.
In conclusion, Augmented Reality has the power to revolutionize job interviews by creating immersive, interactive, and insightful experiences for both candidates and interviewers. While challenges exist, the potential benefits of integrating AR into the interview process make it an exciting avenue for reshaping how organizations identify and engage with top talent.
Ethical and Legal Considerations
As virtual reality (VR) and augmented reality (AR) technologies continue to reshape various aspects of modern life, their integration into job interviews raises important ethical and legal considerations. These immersive technologies offer unprecedented opportunities for creating engaging and realistic interview experiences, but they also bring to light concerns that need careful examination.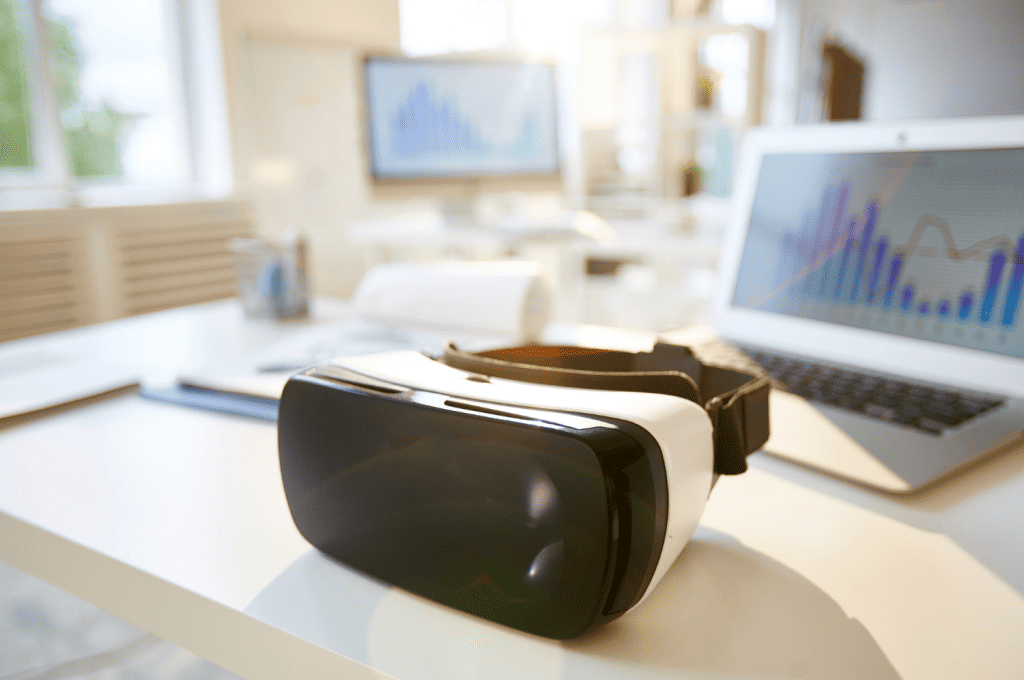 One primary concern revolves around privacy. VR and AR interviews often require candidates to share personal information and interact within virtual environments. This raises questions about data security, consent, and the potential for unauthorized access to sensitive information. Striking a balance between gathering relevant insights about candidates and safeguarding their privacy becomes paramount.
Moreover, the use of VR and AR in interviews has the potential to introduce biases. The design of virtual scenarios or the way information is presented could inadvertently favor certain candidates or disadvantage others. Ensuring that these technologies are programmed and calibrated to provide equal opportunities for all candidates is imperative to maintain fairness and prevent discrimination.
Accessibility and inclusivity are also vital considerations. VR experiences, for example, might be challenging for candidates with disabilities or those who lack access to the necessary hardware. Special attention must be given to making VR and AR interviews accessible to all candidates, potentially by offering alternative methods or accommodations.
From a legal standpoint, organizations must navigate the evolving landscape of labor and technology laws. Clear guidelines need to be established to address issues such as ownership of interview data, informed consent, and adherence to anti-discrimination regulations. The cross-border nature of many job interviews also raises jurisdictional challenges, necessitating a thorough understanding of international legal implications.
Incorporating VR and AR into job interviews holds great promise, but careful consideration of these ethical and legal dimensions is crucial. Striving for transparency, fairness, and compliance will be essential to harnessing the full potential of these immersive technologies while upholding the rights and dignity of job candidates.
Future Trends and Implications
The integration of Virtual Reality (VR) and Augmented Reality (AR) technologies into job interviews heralds a promising era of transformative possibilities. As these immersive technologies continue to evolve, several significant trends and implications are poised to shape the landscape of recruitment and candidate assessment.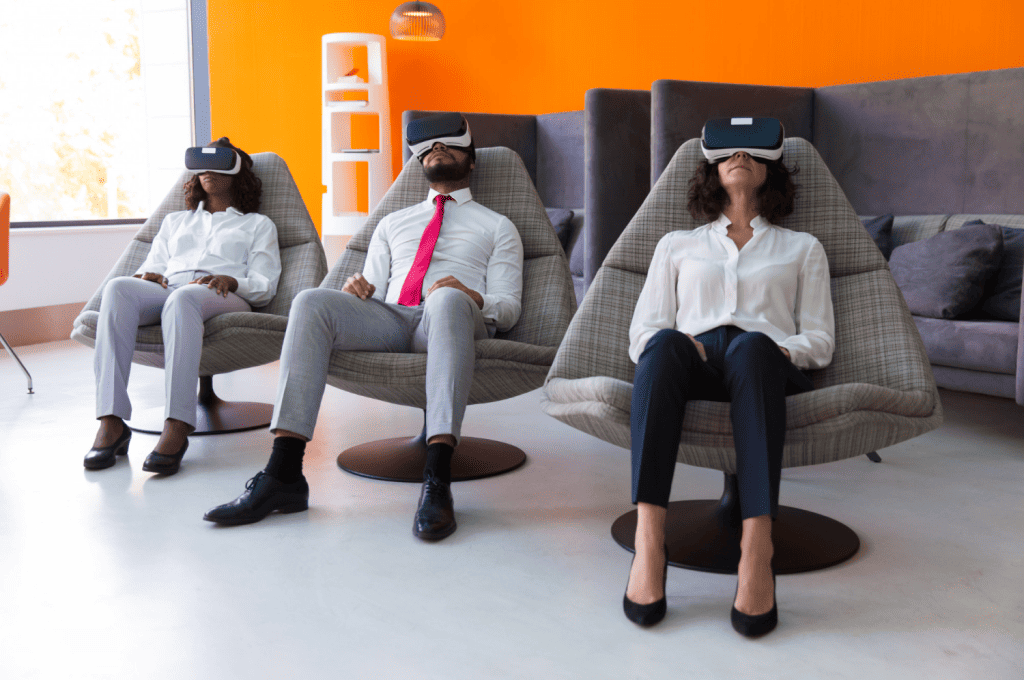 Advancements in Artificial Intelligence (AI) and machine learning are expected to play a pivotal role in interview simulations. These technologies can facilitate real-time analysis of candidate responses, enabling interviewers to gain deeper insights into behavioral traits, problem-solving abilities, and communication skills. Customization will be a cornerstone of this transformation, tailoring interview experiences to match individual candidate preferences and the specific demands of diverse roles.
The integration of VR and AR could have profound effects on diversity and inclusion efforts. These technologies can potentially mitigate unconscious biases by standardizing the interview process and focusing on skills and competencies rather than personal characteristics. Additionally, VR and AR interviews could level the playing field for remote candidates, enabling them to participate in immersive interview experiences without geographical constraints. This globalization of interviews could lead to a more diverse talent pool and a richer, cross-cultural workforce.
Furthermore, the convergence of VR, AR, and remote work practices is set to reshape the hiring landscape. Organizations could tap into a global talent pool without incurring extensive travel costs, facilitating a more efficient and environmentally friendly recruitment process.
In embracing VR and AR for job interviews, organizations must remain attentive to the ethical and privacy considerations associated with these technologies. Ensuring accessibility for candidates with disabilities and safeguarding sensitive data will be paramount.
As we peer into the future, the harmonious integration of VR and AR into job interviews holds the potential to revolutionize candidate assessment, drive diversity, and reshape traditional hiring paradigms. Embracing these technologies with a thoughtful and ethical approach could lead to more comprehensive, equitable, and insightful hiring practices.
Conclusion
In conclusion, the integration of VR and AR into job interviews holds remarkable promise for revolutionizing the hiring landscape. These immersive technologies offer the potential to create dynamic, inclusive, and customized interview experiences, transcending geographical boundaries and biases. However, their implementation necessitates careful consideration of ethical, privacy, and accessibility concerns. As organizations adapt to this transformative wave, they must prioritize training, equity, and user comfort. By embracing these advancements responsibly, we can usher in a future where interviews not only assess skills but also foster innovation, diversity, and meaningful connections between candidates and employers.
Hirebee makes it much easier to optimize your trading process through improved job distribution and automated recruitment marketing.
FAQs
What is the significance of VR and AR in the context of job interviews?
Virtual Reality (VR) and Augmented Reality (AR) offer immersive technologies that revolutionize job interviews by creating realistic, interactive environments for candidates. VR immerses candidates in simulated scenarios, while AR overlays digital information onto the real world, enhancing interview experiences and allowing for better assessment of skills and capabilities.
How do VR and AR enhance traditional job interviews?
VR and AR enhance job interviews by providing a dynamic, interactive platform that goes beyond the limitations of traditional face-to-face interviews. They enable realistic simulations, allowing candidates to showcase their abilities in context, providing interviewers with deeper insights into a candidate's suitability for the role.
Can you provide examples of companies using VR and AR for interviews?
Certainly. Several companies are already utilizing VR and AR for interviews. For instance, Company X employs VR to assess a candidate's problem-solving skills through a virtual escape room challenge. Company Y uses AR to overlay technical diagrams and instructions on real-world objects during engineering interviews, enabling candidates to demonstrate their expertise.
Are there any potential drawbacks to using VR and AR in job interviews?
While VR and AR offer numerous benefits, there are potential challenges. Technical issues, such as hardware and connectivity problems, might disrupt the interview process. Additionally, some candidates might experience discomfort or simulation sickness during VR experiences, and integrating AR seamlessly with physical environments could be a concern.
How do VR and AR address bias and diversity in job interviews?
VR and AR have the potential to address bias and promote diversity by standardizing the interview process and focusing on skills rather than personal attributes. These technologies can help create fairer assessments and mitigate unconscious biases that may occur in traditional interviews.