Recruitment Automation and AI in Recruiting
AI & automation in recruitment, just as in many other lines of work, have revolutionized the industry by boosting productivity and creating new opportunities for businesses, ultimately saving time and costs. So what can recruitment automation and ai in recruiting do for you? Here are some of the recruitment processes you will be automating with HireBee.
Automated Candidate Communication
It reflects poorly on your candidate experience if you're not keeping your candidates informed throughout their application process, but it may also seem too time consuming to update every single candidate with their progress. With Hirebee's custom workflows, email templates and email integration, your applicants are automatically updated with their progress as they move along the pipeline.
Here is how this works. You create customized workflows, which include your hiring stages, and email templates for when candidates are moved through these stages. As you review your candidates from our platform and move candidates through the process, you trigger the automated mail upon changing the status of your applicant.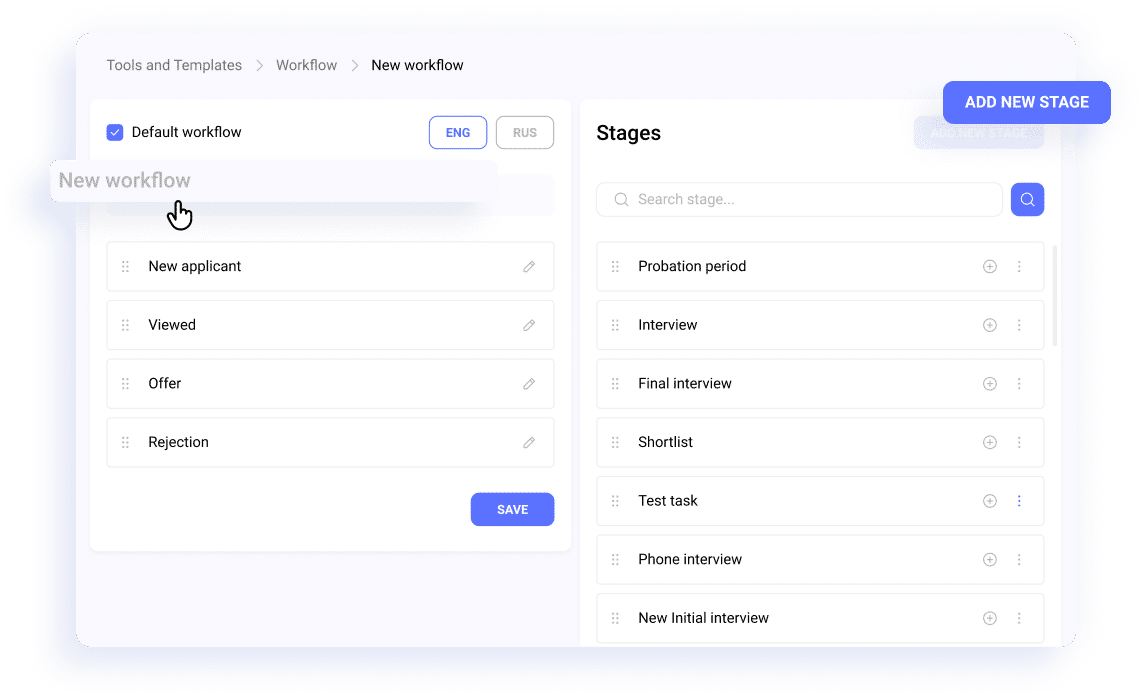 Manual candidate communication is also made easier and faster, as you can email candidates through the platform, directly through their candidate profile. Human Capital Institute claims that lack of response from employers is the number one cause of a negative candidate experience, with 60% of candidates never hearing back from employers after an interview; an unnecessary mistake which hurts your employer brand. Hirebee makes your candidates happier and maintains the integrity of your employer brand, all while saving time and money.
AI Powered Candidate Screening
Hirebee uses AI to give users a ranking on their candidates. The ranking indicates who the best fits for the posted job are. Recruiters can use this tool to manage and review their candidates in order of best fit, to introduce priorities to your recruitment.
Also, as job application has increasingly become easier, many job-seekers may apply to multiple jobs without properly looking through the job description and the qualifications required, to submit a large amount of applications. Depending on your sources, this may result in the reception of irrelevant applications. Hirebee's AI powered candidate screening helps weed out the irrelevant applications and enables you to hire with focus.
Candidate Management
Hirebee's features for sorting, filtering and searching through your centralized database of candidates facilitate the reviewing process. With Hirebee's purpose-built database, you'll find that reviewing candidates and moving them through the process is super easy. Bulk-action, previews and extensive candidate profiles with storage of everything about the candidate make Hirebee the optimal platform for candidate management.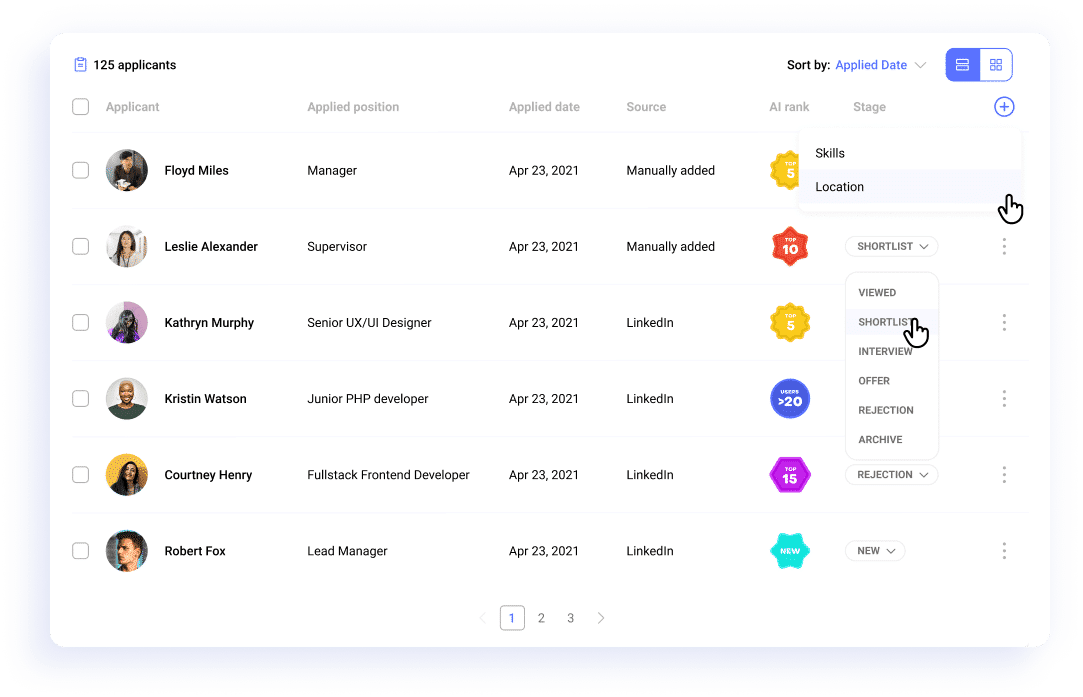 Besides its ease-of-use, the platform ensures that the interface is pleasant to look at. The interface doesn't intimidate the user with an overwhelming cluster of data to read through. Instead, it makes the experience more pleasant with a vibrant aesthetic, photo profiles of the candidates, and clearly formatted information.
Enjoy other Automation Features
Outlining all automation features in Hirebee would require the mention of every feature, since one of Hirebee's core purposes is to ease the amount of manual work which has to be done by recruiters, and virtually every function within Hirebee contributes to this purpose. So we instead listed the automation tools which are built specifically for automation purposes.
To learn more about how Hirebee can ease your recruiting team's workload in an optimal manner, check out our other awesome features which automate your work load, such as our automated reporting and analytics, and the other features listed on our home page.