In an ever-evolving job market, the process of connecting candidates with their ideal roles has become a challenge that demands innovative solutions. Enter the realm of Artificial Intelligence (AI), which is fundamentally reshaping the landscape of talent acquisition, job matching, and recruitment marketing.
As traditional methods struggle to keep pace with the dynamic demands of today's workforce, AI's potential to revolutionize this process is unmistakable. This paper delves into the pivotal role of AI in the art of job matching, where data-driven insights and predictive analytics combine to create personalized connections between candidates and positions.
By addressing limitations of manual processes, mitigating biases, and enhancing efficiency, AI-powered solutions offer a transformative pathway to not only streamline recruitment but also facilitate meaningful alignments between individuals and organizations. As we navigate this juncture of human capital and technological advancement, understanding the implications, benefits, and ethical considerations of AI in job matching is crucial for both job seekers and employers alike.
Hirebee includes all of the tools that you need to improve your ATS system, such as automated recruitment features like job distribution, candidate relationship management, and recruitment analytics.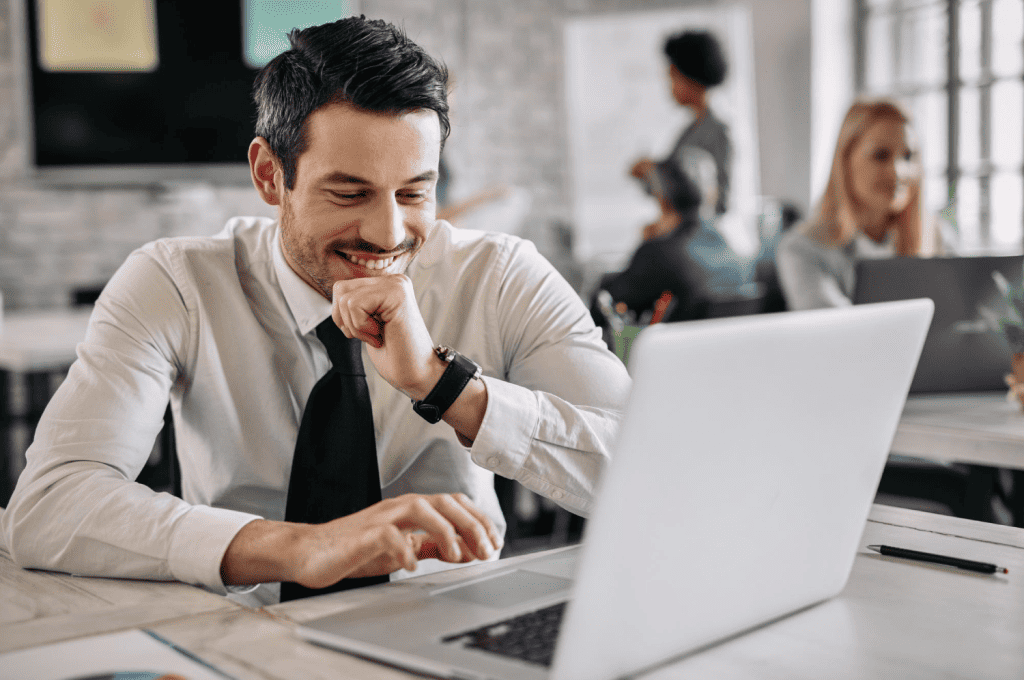 Understanding Job Matching
In today's dynamic job market, the traditional approaches to matching candidates with suitable roles have become increasingly inadequate. Manual processes often lead to inefficiencies, resulting in mismatches and lost opportunities. This has prompted the emergence of AI-driven solutions that are revolutionizing talent acquisition.
Traditional job matching primarily relies on subjective evaluations of resumes and applications, leading to time-consuming and error-prone outcomes. These methods struggle to comprehensively assess a candidate's skills, experiences, and potential, often missing crucial nuances that could indicate a perfect fit for a particular role. This limitation is further exacerbated when dealing with a large volume of applications.
AI's involvement in job matching offers a paradigm shift. By leveraging vast datasets, AI algorithms can analyze resumes and applications with incredible speed and accuracy. These algorithms can automatically extract relevant information, such as skills, certifications, and past experiences, and match them to specific job requirements. This data-driven approach significantly streamlines the candidate screening process, allowing recruiters to focus their efforts on evaluating the most suitable candidates.
Moreover, AI enables the creation of personalized candidate profiles that delve beyond surface-level qualifications. Behavioral assessments and cultural fit analysis, powered by AI, offer insights into a candidate's potential compatibility with a company's values and work environment. This multidimensional evaluation ensures a holistic understanding of a candidate's suitability for a given role, reducing the risk of mismatches that might lead to high turnover rates.
In essence, AI's role in job matching transcends the limitations of traditional methods. It empowers recruiters with tools to make more informed decisions, enhances efficiency, and increases the likelihood of successful candidate-company alignments. As the job market continues to evolve, embracing AI-driven job matching is crucial for staying competitive and fostering a more effective and satisfying recruitment process.
The Role of AI in Job Matching
In the modern landscape of talent acquisition, the role of Artificial Intelligence (AI) in job matching has emerged as a pivotal innovation, revolutionizing how candidates are aligned with their ideal roles. AI's transformative capabilities have propelled recruitment beyond traditional methods, addressing long-standing challenges and inefficiencies. This section delves into the multifaceted role that AI plays in job matching, highlighting its data-driven candidate assessment, personalized profiling, and predictive analytics.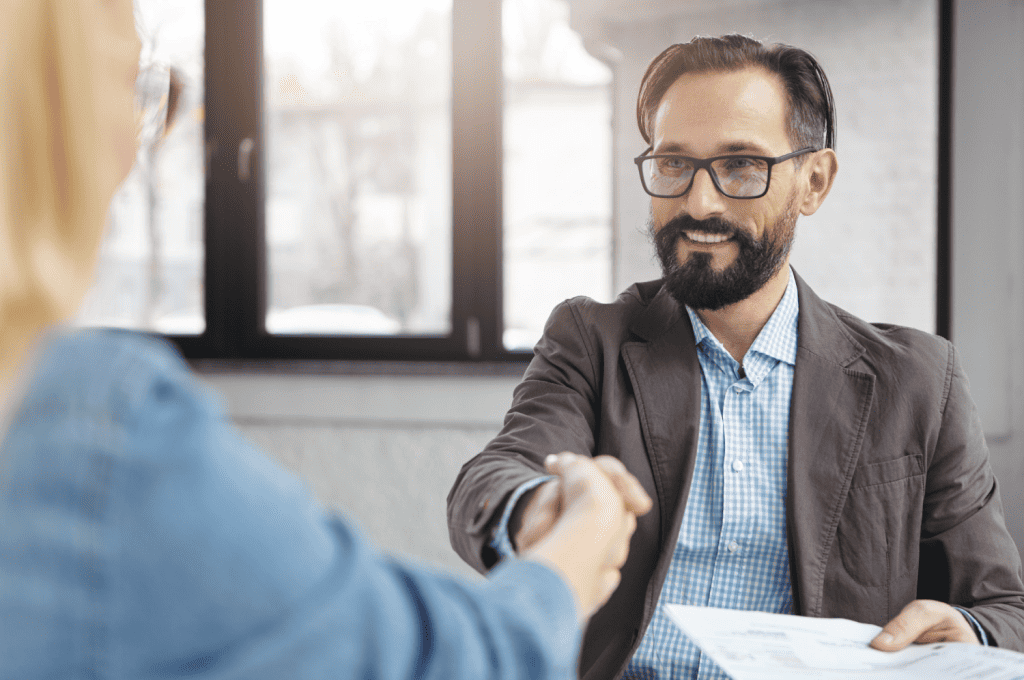 AI-powered job matching begins with data-driven candidate assessment, encompassing comprehensive analyses of resumes, applications, and qualifications. Through natural language processing (NLP) algorithms, AI rapidly scans and interprets candidate documents, discerning relevant skills and experiences. This automated approach eliminates the arduous and time-consuming manual screening process, enabling recruiters to focus on more strategic aspects of talent acquisition.
Moreover, AI fosters personalized candidate profiling by delving beyond mere qualifications. Behavioral assessments, driven by AI-powered tools, delve into a candidate's personality traits, work habits, and cultural alignment. These insights transcend traditional metrics, facilitating a nuanced understanding of a candidate's potential fit within a specific company's culture and team dynamics.
Predictive analytics stand as another hallmark of AI's involvement in job matching. By amalgamating historical performance data, AI algorithms discern patterns and correlations between candidates' attributes and job success. This empowers recruiters with insights into a candidate's potential job compatibility, aiding in selecting individuals who not only possess the necessary qualifications but also exhibit traits that forecast success.
In essence, AI's role in job matching is multifaceted and transformative. By automating candidate assessment, enabling personalized profiling, and harnessing predictive analytics, AI expedites the recruitment process while facilitating more accurate matches. As the nexus between technology and human resources evolves, AI's influence in job matching is poised to shape the future of talent acquisition.
Advantages and Benefits
Incorporating AI into job matching processes offers a plethora of advantages and benefits that revolutionize the recruitment landscape.
Firstly, AI-driven job matching significantly enhances the efficiency and speed of the recruitment process. Traditional methods involving manual resume screening and candidate evaluations are time-consuming and resource-intensive. AI algorithms, on the other hand, can swiftly analyze vast amounts of data to match candidate profiles with job requirements, thereby expediting the entire hiring process. This efficiency not only saves valuable time for recruiters but also ensures that job openings are filled promptly, reducing potential disruptions to business operations.
Secondly, the integration of AI in job matching contributes to the reduction of bias and discrimination in hiring. By focusing solely on candidates' qualifications, skills, and experiences, AI algorithms can minimize human biases that may unconsciously influence decision-making. This fosters a more inclusive and diverse workforce, where candidates from various backgrounds and demographics have equal opportunities to secure roles best suited to their abilities.
Moreover, AI-powered job matching facilitates improved candidate-company alignment. By analyzing not only technical skills but also behavioral traits and cultural fit, AI algorithms can identify candidates who align with a company's values and work culture. This leads to higher job satisfaction, stronger employee engagement, and decreased turnover rates, ultimately contributing to a more stable and harmonious work environment.
Lastly, the utilization of AI enhances the user experience for both candidates and recruiters. Candidates benefit from a more streamlined application process, receiving job recommendations that align with their career aspirations. Recruiters, in turn, can focus their efforts on engaging with high-potential candidates and conducting in-depth interviews, as AI narrows down the initial pool of applicants.
In conclusion, the advantages and benefits of AI-driven job matching encompass efficiency, reduced bias, enhanced alignment, and an improved user experience. As technology continues to advance, businesses that embrace AI-powered recruitment stand to gain a competitive edge in securing top talent and fostering a more inclusive work environment.
Ethical Considerations
As the integration of artificial intelligence (AI) into job matching processes becomes more prevalent, a range of ethical considerations come to the forefront. While AI holds promise in optimizing candidate-employer alignments, it also introduces potential challenges that demand careful scrutiny.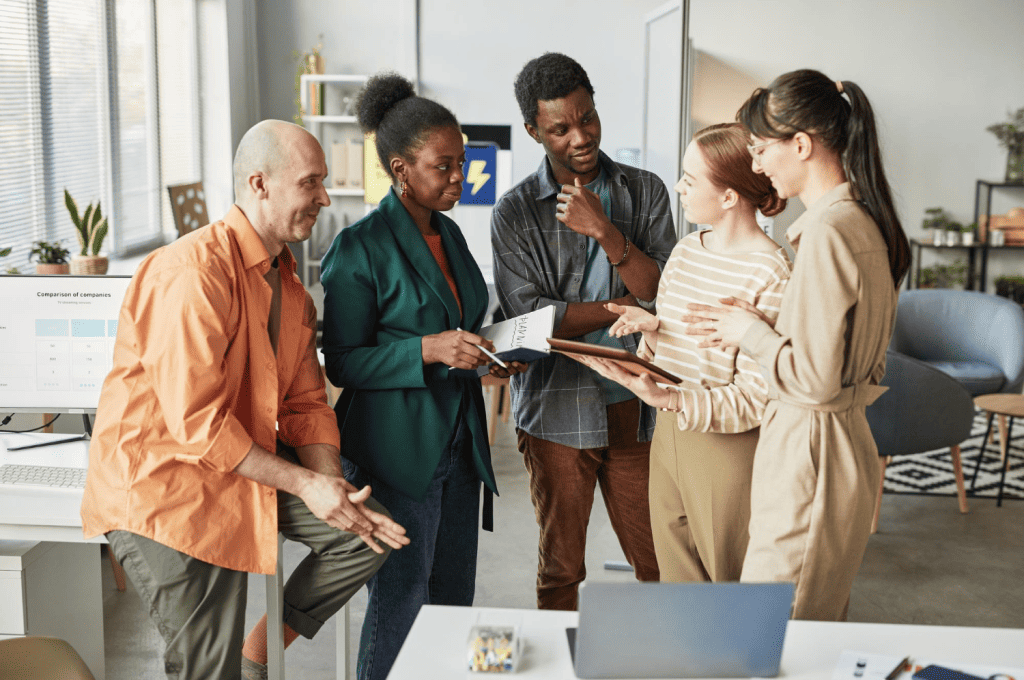 One primary concern is data privacy and security. AI-driven job matching relies heavily on collecting and analyzing vast amounts of personal data from candidates. Ensuring that this data is handled with the utmost privacy and security is imperative to maintain trust and compliance with regulations such as GDPR. Striking a balance between utilizing candidate information to enhance matching accuracy and safeguarding their sensitive details is a delicate task that requires robust safeguards.
Moreover, algorithmic bias presents a critical ethical dilemma. AI algorithms may inadvertently perpetuate existing biases present in historical data, leading to unfair treatment and discrimination. Recognizing and addressing these biases demands ongoing efforts, including thorough data cleaning, bias detection, and the development of equitable algorithms. Transparency in algorithmic decision-making is paramount, enabling candidates and stakeholders to understand how decisions are reached and allowing for proper oversight.
As organizations embrace AI for job matching, accountability becomes a key consideration. Establishing clear lines of responsibility for AI-driven decisions is essential to ensure that human oversight remains integral to the process. Transparency in decision-making, along with mechanisms for recourse and explanation, helps maintain the human touch that is crucial in matters of recruitment.
In navigating these ethical considerations, stakeholders must proactively collaborate to design AI systems that are not only efficient and accurate but also fair, transparent, and respectful of candidate privacy. By doing so, the potential benefits of AI-driven job matching can be harnessed while upholding the values and ethical standards that underpin effective and responsible recruitment practices.
Real-world Applications
In the realm of modern recruitment, the integration of Artificial Intelligence (AI) into the job matching process has ushered in a new era of efficiency and precision. Several successful AI-powered job matching platforms have emerged, demonstrating tangible benefits for both candidates and recruiters alike.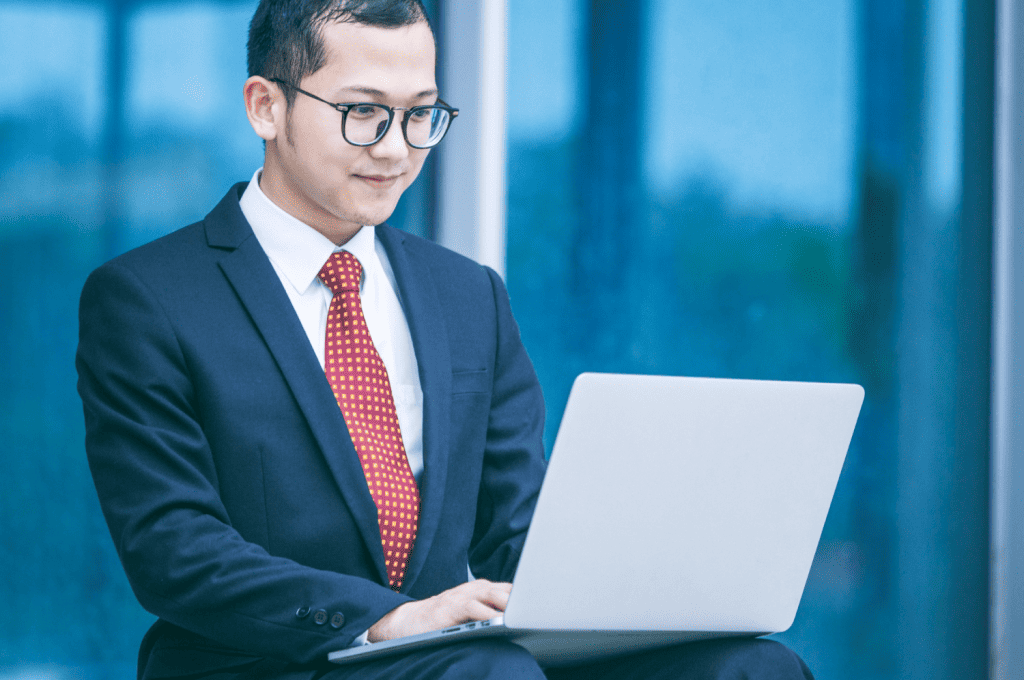 Case studies reveal how AI-driven job matching has revolutionized the way organizations identify ideal candidates for specific roles. By analyzing extensive data sets from candidate resumes, applications, and online profiles, these platforms leverage machine learning algorithms to swiftly match candidates with job openings that align with their qualifications and skills. This expedites the recruitment process, saving time and resources for companies while simultaneously enhancing the experience for job seekers.
Testimonials from candidates and recruiters provide compelling evidence of the positive impact of AI-driven job matching. Candidates report receiving more relevant job recommendations and experiencing a streamlined application process, resulting in increased engagement and satisfaction. Recruiters, on the other hand, emphasize the reduction of manual efforts required for candidate screening and the ability to focus on higher-value tasks like assessing cultural fit and soft skills.
Moreover, AI-powered platforms have been linked to improved employee retention and performance. By evaluating historical performance data and correlating it with job compatibility factors, these systems can make insightful predictions about a candidate's potential future success within a particular role.
While these real-world applications showcase the transformative potential of AI in job matching, they also underscore the importance of ongoing innovation and collaboration between technology and human expertise. As AI continues to evolve, it holds the promise of even more refined and accurate job matches, ultimately contributing to the growth and success of businesses and individuals in the dynamic landscape of employment.
Conclusion
In the rapidly evolving landscape of recruitment, AI's transformative influence on job matching is undeniable. It has ushered in a new era of efficiency, objectivity, and candidate-company alignment. As we navigate the ethical challenges and refine algorithms, the call to action is clear: Embrace AI as a powerful ally in talent acquisition. By synergizing technology with human insight, we can unlock unprecedented potential for matching candidates with their ideal roles. This dynamic harmony promises not only enhanced recruitment outcomes but also a more inclusive and fulfilling job market for all stakeholders involved. The future of recruitment is here, and it's built on the foundation of AI-enabled compatibility.
Hirebee makes it much easier to optimize your trading process through improved job distribution and automated recruitment marketing.
FAQs
What is AI's role in job matching?
AI plays a pivotal role in job matching by utilizing advanced algorithms to analyze candidate data and job requirements. It efficiently identifies the best-fit candidates for specific roles based on skills, qualifications, and other factors, improving the recruitment process.
How does AI-driven job matching work?
AI-driven job matching involves analyzing vast amounts of candidate information, such as resumes and application data, to identify relevant skills and qualifications. Machine learning algorithms then compare this data with job descriptions, enabling precise and personalized candidate-role matches.
What are the benefits of AI-powered job matching?
AI-powered job matching offers enhanced efficiency, reduced bias, and improved candidate-company alignment. It accelerates the recruitment process, increases the quality of matches, and enhances the overall candidate experience.
Can AI help reduce bias in hiring?
Yes, AI has the potential to mitigate bias in hiring by focusing on objective data and qualifications rather than subjective factors. However, ethical considerations and ongoing monitoring are essential to ensure AI algorithms do not inadvertently introduce new biases.
How does AI handle soft skills and cultural fit?
AI can incorporate behavioral assessments and cultural fit analysis to evaluate soft skills and alignment with company culture. These assessments, combined with data analysis, contribute to a more holistic understanding of candidate suitability