Candidate Relationship Management with Hirebee
The candidate is at the center of everything, you can't build a recruitment strategy without prioritizing the candidate experience. It's like neglecting the customer and the product quality when selling a product. But it would be unfair to blame yourself for letting candidates down if you're not recruiting with recruitment software. Doing all the hard work and keeping everything afloat all by yourself is unreliable. What hiring teams need is a system which makes the process easy both for them and the candidates. What hiring teams need is Hirebee to manage their candidate relationship management.
How Does Hirebee Help You Manage Your Relationship with Your Candidates?
Hirebee is a recruitment platform with which you can easily set up your candidate relationship management. Its many capabilities enable hiring teams to create an organized, customized and automated communication process with job applicants, as well as manage other important responsibilities which would otherwise be a pain in the neck. By making your hiring less mundane and freeing up more time to focus on what the human does best, you will see tremendous results in both your talent acquisition and your sanity!
Here are some of our features and capabilities which make managing your candidate relationships with Hirebee a no-brainer!
Workflows & Integration with Mail
What seems to frustrate candidates the most is that often they'll be applying to jobs and will never be hearing back from the employers! And what sucks most is that the majority of the time this is done unintentionally! Due to improper workflows in place, lack of centralization of the operations, loss of information, lack of time to go through all the resumes, or for any other reason. Integrating with mail to keep all your communications in one place will concentrate and bolster your communications. Automating communication with candidates along their progress and a mailbox for only your recruitment are available!
Automating candidate communication starts with setting up workflows accordingly with your recruitment needs. Each stage in the workflow is accompanied by a an email template which can be easily customized. Upon applicant status change, recruiters can choose to automatically send this email to the candidate. Additionally, you can also choose to have the mails be sent each time without verification, and also tweak the mail to include details personalized to the candidate.
In addition, communications with candidates are made easier and more organized, with a candidate mailbox, from where you have an inbox of all mails received from candidates, and can send mails to candidates. In addition to this, you can mail candidates directly from their profile, and make communication convenient and fast.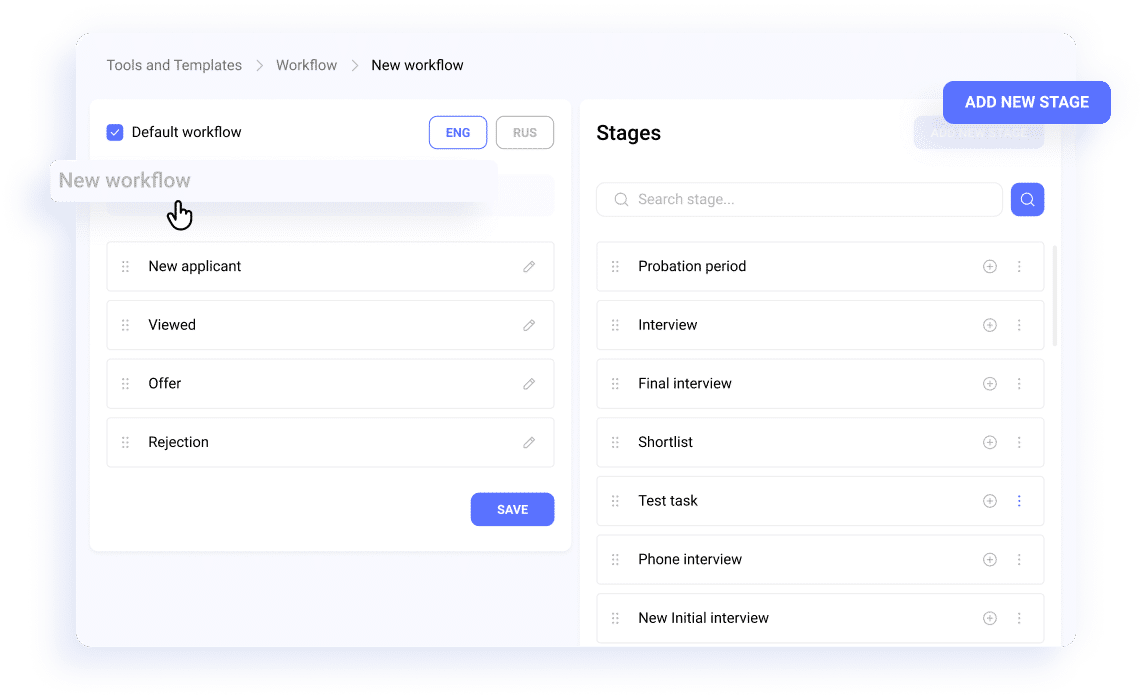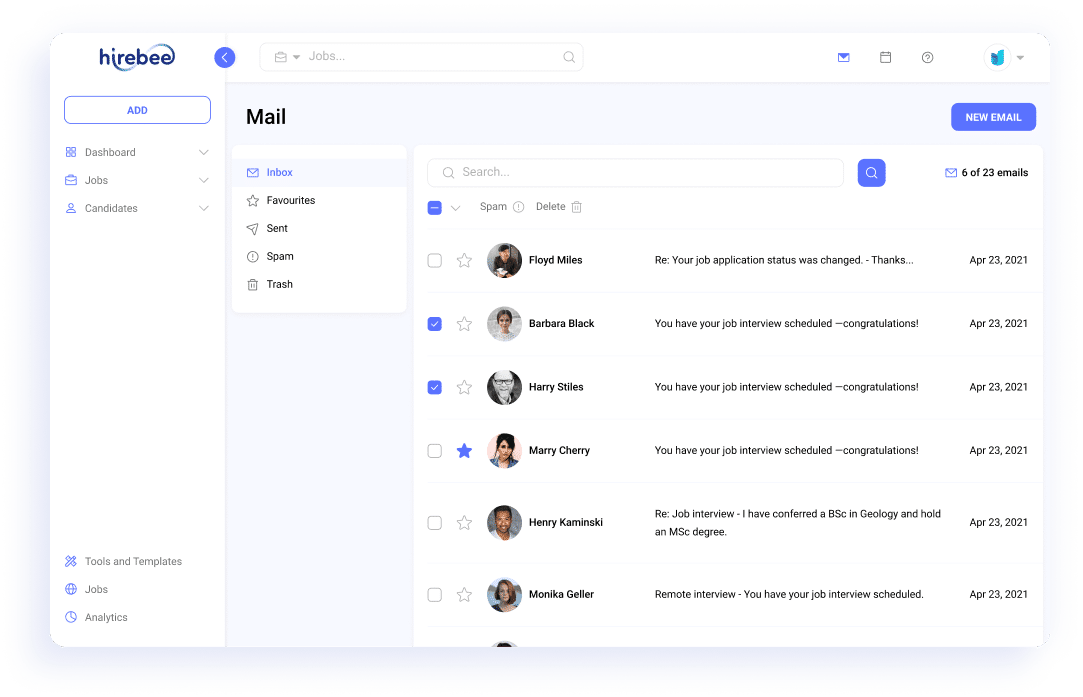 Custom Application Forms
One of the most important things when recruiting with Hirebee is that you retain wide control of your candidate experience. That includes application forms and deciding how you want the candidate to apply for your vacancy. Limited customizability is available directly through the platform, whilst more detailed customizations can be provided to users on-request.
Forgetting interactions and progression with candidates is unnecessary in the modern age. Hirebee's candidate profiles log the full history of interactions with candidates. Everything from communication, job application, applicant status change, job invitation, and much more is logged and easily accessible on the candidates' profiles.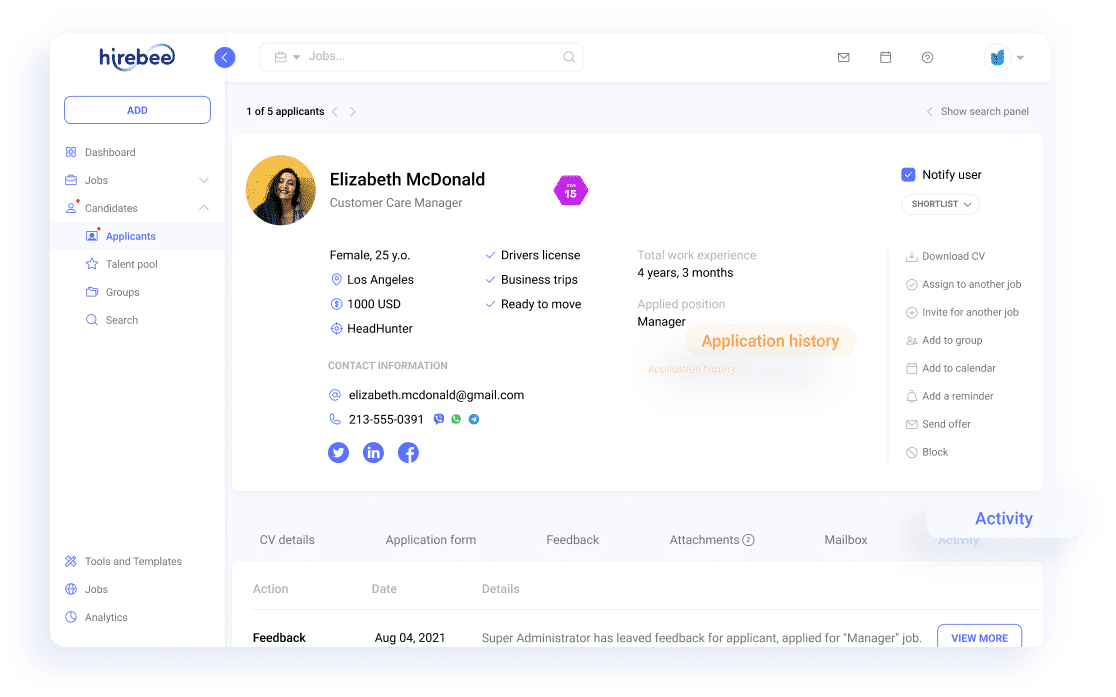 Additionally, all your candidates can be archived after moving through the pipeline. Saving your past active candidates in your database and being able to invite them is a great way to make use of some of your most favorite talent in your pipeline which couldn't be given a job previous.
For hiring teams, it cannot go understated how important it is to have a proper procedure in place when you are collecting feedback from your team. Not only does feedback need to be communicated properly, but the criteria for reviewing candidates should be standardized, and made easily visible and accessible. Hirebee's feedback forms allow hiring teams to rate candidates based on professional and personal traits, give an overall ranking and add additional comments. All feedback forms submitted are available to the team on the candidate profile. As such, reviewing candidates based on multi-level feedback and making collaborated decisions is easy and efficient.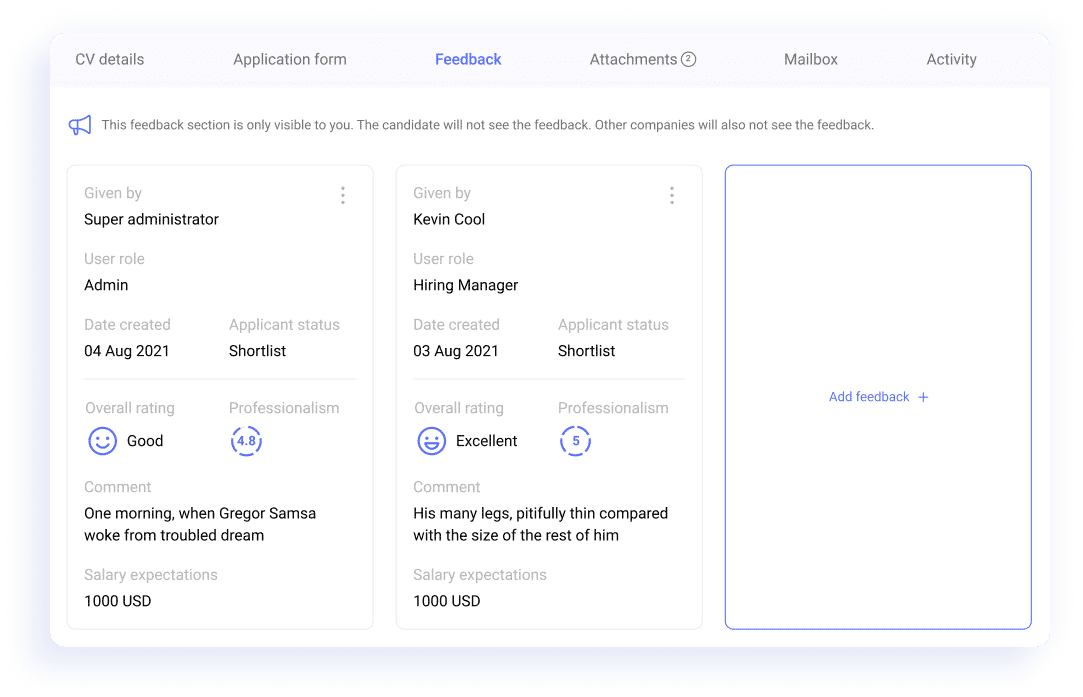 Video Interview Scheduling with Zoom Integration
Covid-19 has seen the need for video interviews explode out of the water. And as hiring teams have outweighed the benefits vs the draw-backs of conducting virtual job interviews, video interviews have grown in popularity and are here to stay. Hirebee's Zoom and Calendar integrations make video interviewing scheduling easy and organized.
If you're tracking your metrics and realize that you've been spending way too much time stuck in the interviewing stage, trying to schedule your interviews with no overlaps; chances are you need to revamp your process. Hirebee's interview scheduling is just one of the many features which enable hiring teams to manage their time properly and streamline their hiring.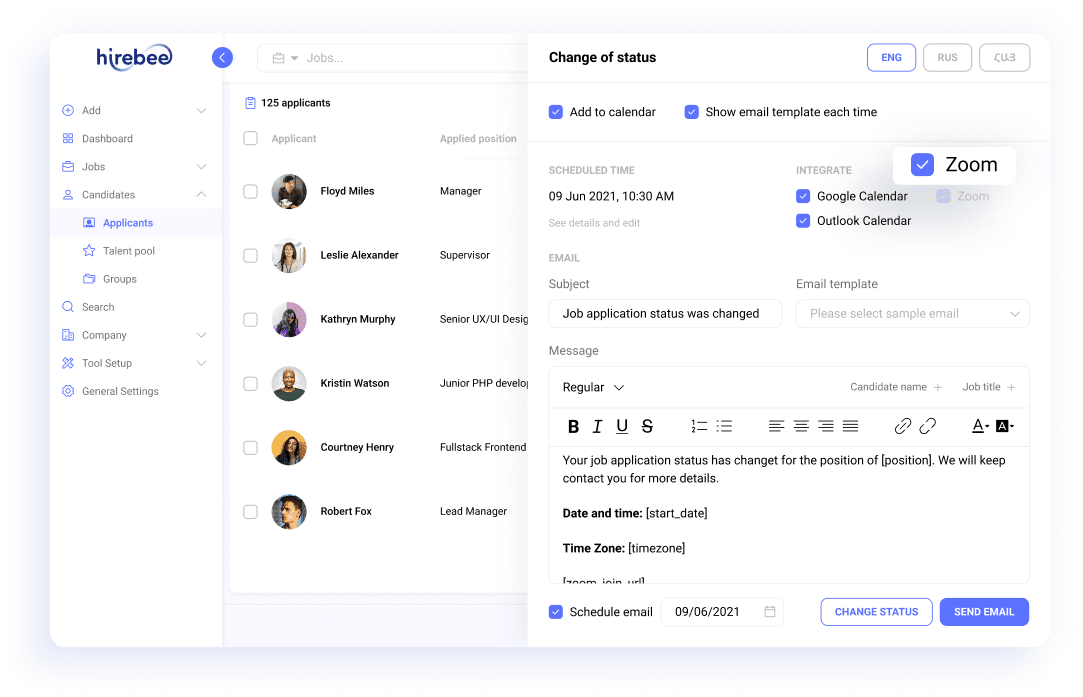 Regain control of the hiring process and make time for all of your candidates with Hirebee's all-in-one hiring platform